Sunday, November 26, 2017
Providence College Defeated By Cornell, 4-2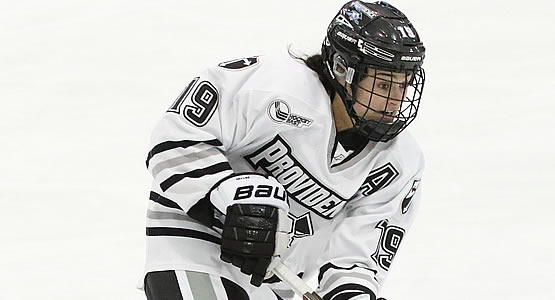 Senior forward Brooke Boquist scored a goal for the Friars
| | | | | | | |
| --- | --- | --- | --- | --- | --- | --- |
| Prd | Time | Team | Score | Type | Scored By | Assists |
| 1st | 2:15 | COR | 1-0 | EV | Diana Buckley (4) | Pippy Gerace/1 |
| 1st | 4:53 | PRV | 1-1 | EV | Maureen Murphy (10) | Avery Fransoo/9, Ariane Julien/3 |
| 1st | 10:16 | COR | 2-1 | EV | Kristin O'Neill (5) | Maddie Mills/4, Brianna Veerman/5 |
| 2nd | 7:49 | PRV | 2-2 | EV | Brooke Boquist (7) | Meaghan Rickard/7, Kate Friesen/9 |
| 2nd | 18:54 | COR | 3-2 | EV GW | Maddie Mills (8) | - |
| 3rd | 2:42 | COR | 4-2 | EV | Kristin O'Neill (6) | - |
| | | | | |
| --- | --- | --- | --- | --- |
| Scoring | 1st | 2nd | 3rd | Final |
| Cornell | 2 | 1 | 1 | 4 |
| Providence | 1 | 1 | 0 | 2 |
| | | | | |
| --- | --- | --- | --- | --- |
| Shots on Goal | 1st | 2nd | 3rd | SOG |
| Cornell | 11 | 11 | 10 | 32 |
| Providence | 5 | 14 | 6 | 25 |
| | | | |
| --- | --- | --- | --- |
| Team Stats and Records | PP | PIM | SHGF |
| Cornell (7-3-1) | 0/4 | 3/6 | 0 |
| Providence (9-5-3) | 0/3 | 4/8 | 0 |
| | | | | | | |
| --- | --- | --- | --- | --- | --- | --- |
| Cornell Goaltending | MIN | GA | 1 | 2 | 3 | Saves |
| Marlene Boissonnault (W, 7-3-1) | 60:00 | 2 | 4 | 13 | 6 | 23 |
| | | | | | | |
| --- | --- | --- | --- | --- | --- | --- |
| Providence Goaltending | MIN | GA | 1 | 2 | 3 | Saves |
| Clare Minnerath (L, 1-1-0) | 57:35 | 4 | 9 | 10 | 9 | 28 |
| Empty Net | 2:25 | 0 | | | | |
PROVIDENCE, R.I. - The No. 10 Providence College women's hockey team fell to No. 8 Cornell University, 4-2, on Sunday afternoon (Nov. 26) at Schneider Arena.
SCORE
No. 10 Providence - 2 | No. 8 Cornell - 4
RECORDS
Providence: 9-5-3 (6-1-1 HE) | Cornell: 7-3-1 (5-1-0 ECAC)
VENUE
Schneider Arena - Providence, R.I.
GAME FLOW & NOTES
- Diana Buckley opened the scoring just 2:15 into the game. Pippy Gerace slapped the puck ahead after a neutral zone turnover and sent Buckley in on a partial breakaway. She was able to beat Clare Minnerath (Sartell, Minn.) low and to the left.
- Maureen Murphy (Buffalo, N.Y.) tied the game just over two minutes later. Ariane Julien (Saint-Hyacinthe, Quebec) played a pass across the blue line to Avery Fransoo (North Battleford, Saskatchewan) who found Murphy in the slot. She then roofed a wrist shot over Marlene Boissonnault's glove for her team-leading 10th goal of the year.
- Midway through the first period, Kristin O'Neill scored her second goal in as many days. Brianna Veerman played a cross-ice pass to Madlynne Mills, who dropped it off for O'Neill. Her quick- release shot made it 2-1 in favor of the Big Red.
- Providence leveled the score once again on a goal 7:49 into the second period. Brooke Boquist (Thunder Bay, Ontario) scored from the slot after a nice breakout play in the defensive zone. Kate Friesen (Altona, Manitoba) and Meaghan Rickard (Coventry, R.I.) picked up assists on the goal.
- With just over one minute remaining in the second period, Madlynne Mills scored an unassisted goal to give Cornell back the lead.
- O'Neill scored her second of the game at 2:42 of the third period, giving Cornell a 4-2 lead. She skated the puck into the zone, took a shot which was saved by Minnerath and then scored on her own rebound.
- The Friars killed off three penalties during the game, including a 5x3 opportunity for the Big Red. The kills push Providence to 21-for-21 on the penalty kill in the last five games.
- Minnerath made a career-high 28 saves in the game.
HOW THEY SCORED
1-0 (Cornell) - 2:15/1st - EV - Diana Buckley, assisted by Pippy Gerace - Partial breakaway
1-1 (Providence) - 4:53/1st - EV - Maureen Murphy, assisted by Avery Fransoo and Ariane Julien - Wrist shot from the top of the right circle
2-1 (Cornell) - 10:16/1st - EV - Kristin O'Neill, assisted by Madlynne Mills and Brianna Veerman - Shot off a drop-pass in the slot
2-2 (Providence) - 7:49/2nd - EV - Brooke Boquist, assisted by Meaghan Rickard and Kate Friesen - Shot from the slot
3-2 (Cornell) - 18:54/2nd - EV - Madlynne Mills (unassisted) - Breakaway goal
4-2 (Cornell) - 2:42/3rd - EV - Kristin O'Neill (unassisted) - Goal off her own rebound
GOALTENDERS
Providence: Clare Minnerath, 1-1-0: 28 saves, 4 goals against
Cornell: Marlene Boissonnault, 7-3-1: 23 saves, 2 goals against
STAT COMPARISON
Providence-
Shots: 25
Face-off percentage: 59.6% (34/57)
Power plays: 0-4 (0%)
Penalty kill: 3-3 (100%)
Cornell-
Shots: 32
Face-off percentage: 40.1% (23/57)
Power plays: 0-3 (0%)
Penalty kill: 4-4 (100%)
PC GAME HIGHS
Shots: Maureen Murphy (6)
Goals: Maureen Murphy and Brooke Boquist (1)
Assists: Four different players (1)
Points: Six different players (1)
LOOKING AHEAD
The Friars return to Hockey East play with a home-and-home series against UCONN next weekend. On Friday (Dec. 1) the game is at the University of Connecticut at 7:00 p.m. and on Saturday (Dec. 2) the game is at Schneider Arena at 7:00 p.m.