Sunday, February 25, 2018
Snodgrass Scores Twice As UConn Defeats Providence, 2-1, In Quarterfinal Finale
Freshman forward Natalie Snodgrass scores two goals for Huskies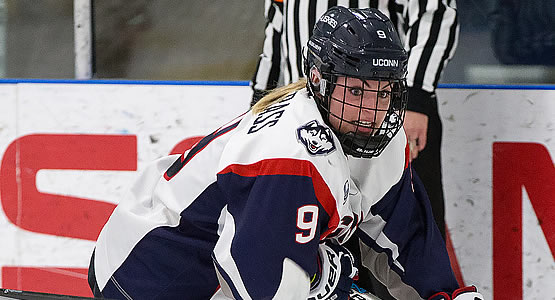 Freshman forward Natalie Snodgrass scored two goals for the Huskies
| | | | | | | |
| --- | --- | --- | --- | --- | --- | --- |
| Prd | Time | Team | Score | Type | Scored By | Assists |
| 3rd | 9:39 | PRV | 1-0 | EV | Blair Parent (12) | Whitney Dove/7, Avery Fransoo/12 |
| 3rd | 9:50 | CON | 1-1 | EV | Natalie Snodgrass (18) | Catherine Crawley/9, Tristyn Svetek/6 |
| 3rd | 17:25 | CON | 2-1 | PP GW | Natalie Snodgrass (19) | Morgan Wabick/12, Briana Colangelo/16 |
| | | | | |
| --- | --- | --- | --- | --- |
| Scoring | 1st | 2nd | 3rd | Final |
| UConn | 0 | 0 | 2 | 2 |
| Providence | 0 | 0 | 1 | 1 |
| | | | | |
| --- | --- | --- | --- | --- |
| Shots on Goal | 1st | 2nd | 3rd | SOG |
| UConn | 12 | 11 | 8 | 31 |
| Providence | 6 | 11 | 14 | 31 |
| | | | |
| --- | --- | --- | --- |
| Team Stats and Records | PP | PIM | SHGF |
| UConn (15-13-9) | 1/4 | 1/2 | 0 |
| Providence (17-13-7) | 0/1 | 4/8 | 0 |
| | | | | | | |
| --- | --- | --- | --- | --- | --- | --- |
| UConn Goaltending | MIN | GA | 1 | 2 | 3 | Saves |
| Annie Belanger (W, 12-10-6) | 59:57 | 1 | 6 | 11 | 13 | 30 |
| Empty Net | 0:03 | 0 | | | | |
| | | | | | | |
| --- | --- | --- | --- | --- | --- | --- |
| Providence Goaltending | MIN | GA | 1 | 2 | 3 | Saves |
| Madison Myers (L, 16-12-7) | 59:08 | 2 | 12 | 11 | 6 | 29 |
| Empty Net | 0:52 | 0 | | | | |
PROVIDENCE, R.I. - The Providence College women's hockey team fell to the University of Connecticut in heartbreaking fashion on Sunday, Feb. 25 in the Hockey East Quarterfinal round at Schneider Arena.
SCORE
Providence - 1 | UConn - 2
RECORDS
Providence: 17-13-7 (12-7-5 HE) | UConn: 14-14-9 (7-11-6 HE)
VENUE
Schneider Arena - Providence, R.I.
GAME FLOW & NOTES
- The Friars were outshot 12-6 in the opening frame. Madison Myers (Colchester, Vt.) was there to make all 12 saves, including four on the Huskies' lone power play of the period.
- Cassidy MacPherson (Oakville, Ontario) was whistled for goaltender interference at the 14:07 mark of the first period. It was just the fourth penalty on the Friars all series, and sixth overall between the teams.
- Just before the midway point of the second period, Kate Friesen (Altona, Maintoba) took a shot from the point. Annie Belanger made the save, but Meaghan Rickard (Coventry, R.I.) was there to knock it out of the air into the post. The call on the ice was no goal and after further review that call was upheld.
- Blair Parent (Blaine, Minn.) scored the first goal of the game 9:39 into the third period. Avery Fransoo (North Battleford, Saskatchewan) played the puck across the blue line to Whitney Dove (Port Moody, British Columbia). Dove rifled a shot that Parent tipped in front for the 1-0 lead.
- Only 11 seconds later, UConn's Natalie Snodgrass tied the game 1-1. Her goal from the high slot was assisted by Catherine Crawley and Tristyn Svetek.
- Late in the period, Dove was called for a slash. 1:01 later, Chloe Gonsalves (Toronto, Ontario) was sent to the box for hooking. UConn had 59 seconds of 5-on-3 time and was able to convert 39 seconds into that time. Snodgrass scored her second of the day, with assists from Morgan Wabick and Briana Colangelo. The goal was her 19th of the season and came with 2:35 remaining in regulation.
- Myers finished the day with 29 saves, while Belanger had 30 for UConn.
HOW THEY SCORED
1-0 (PC) - 9:39/3rd - EV - Blair Parent, assisted by Whitney Dove and Avery Fransoo - Shot redirected in front of the net
1-1 (UConn) - 9:50/3rd - EV - Natalie Snodgrass, assisted by Catherine Crawley and Tristyn Svetek - Shot from the high slot
2-1 (UConn) - 17:25/3rd - PP (5x3) - Natalie Snodgrass, assisted by Morgan Wabick and Briana Colangelo - Pass from behind the net, shot from the left circle
GOALTENDERS
Providence: Madison Myers, 16-12-7: 29 saves, 2 goals against
UConn: Annie Belanger, 12-10-6: 30 saves, 1 goal against
STAT COMPARISON
Providence-
Shots: 31
Face-off percentage: 39/72
Power plays: 0-1 (0%)
Penalty kill: 3-4 (75%)
UConn-
Shots: 31
Face-offs: 33/72
Power plays: 1-4 (25%)
Penalty kill: 1-1 (100%)
PC GAME HIGHS
Shots: Maureen Murphy (8)
Goals: Blair Parent (1)
Assists: Avery Fransoo, Whitney Dove (1)
Points: Blair Parent, Avery Fransoo, Whitney Dove (1)