Saturday, January 27, 2018
Belanger, UConn Shut Out Maine, 4-0, To Sweep Weekend Series
Senior goaltender Annie Belanger make 26 saves for Huskies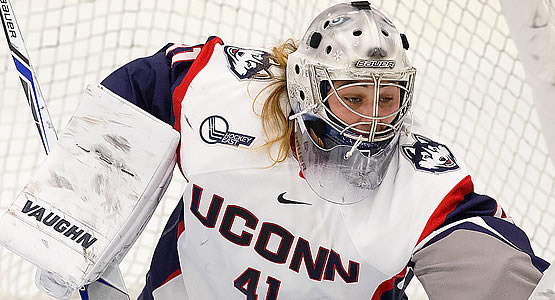 Senior goaltender Annie Belanger made 26 saves for the Huskies
| | | | | | | |
| --- | --- | --- | --- | --- | --- | --- |
| Prd | Time | Team | Score | Type | Scored By | Assists |
| 1st | 1:52 | CON | 1-0 | EV GW | Morgan Wabick (4) | Natalie Snodgrass/12, Kayla Mee/9 |
| 1st | 16:10 | CON | 2-0 | EV | Natalie Snodgrass (16) | Kayla Mee/10, Taylor Wabick/6 |
| 2nd | 15:26 | CON | 3-0 | EV | Leah Lum (7) | Kayla Mee/11, Taylor Wabick/7 |
| 3rd | 0:45 | CON | 4-0 | PP | Leah Lum (8) | Taylor Wabick/8 |
| | | | | |
| --- | --- | --- | --- | --- |
| Scoring | 1st | 2nd | 3rd | Final |
| Maine | 0 | 0 | 0 | 0 |
| UConn | 2 | 1 | 1 | 4 |
| | | | | |
| --- | --- | --- | --- | --- |
| Shots on Goal | 1st | 2nd | 3rd | SOG |
| Maine | 8 | 11 | 7 | 26 |
| UConn | 14 | 6 | 6 | 26 |
| | | | |
| --- | --- | --- | --- |
| Team Stats and Records | PP | PIM | SHGF |
| Maine (16-9-3) | 0/2 | 4/8 | 0 |
| UConn (9-11-8) | 1/4 | 2/4 | 0 |
| | | | | | | |
| --- | --- | --- | --- | --- | --- | --- |
| Maine Goaltending | MIN | GA | 1 | 2 | 3 | Saves |
| Carly Jackson (L, 14-8-3) | 60:00 | 4 | 12 | 5 | 5 | 22 |
| | | | | | | |
| --- | --- | --- | --- | --- | --- | --- |
| UConn Goaltending | MIN | GA | 1 | 2 | 3 | Saves |
| Annie Belanger (W, 7-8-5) | 59:56 | 0 | 8 | 11 | 7 | 26 |
| Empty Net | 0:04 | 0 | | | | |
STORRS, Conn. - Following Friday night's 2-1 overtime win against No. 9 Maine, there were no evident signs of a letdown from the UConn women's ice hockey team - in fact, its play was even better in a dominant 4-0 win over the Black Bears on Saturday afternoon.
The Huskies (9-11-8, 3-10-5 WHEA) picked up their first four-point weekend of the Hockey East season, controlling the game from start to finish at the Mark Edward Freitas Ice Forum. Senior forward Leah Lum scored two goals in the victory.
Four different players recorded multi-point games for UConn, including the second line of defense consisting of junior Kayla Mee and freshman Taylor Wabick. The duo combined for six assists on the day, three apiece, to set up UConn's goals.
"I think we're playing our best right now and that's a good sign. It's great to get four points," said head coach Chris MacKenzie. "Maine is a good team - well-coached and disciplined. We were fortunate to get an early lead and keep it."
UConn outscored the Black Bears over the weekend series, 6-1, with senior goalie Annie Belanger recording a shutout win on Saturday - her second of the season. She stopped 26 shots on target by Maine, including 11 in the second period.
"They (Maine) pushed pretty hard in the second period, but we were able to keep it out of the net. It starts with goaltending," said MacKenzie. "A timely goal in the second made it 3-0, then Leah Lum sealed it at 4-0 early in the third. We took advantage of some opportunities."
Freshman forward Natalie Snodgrass posted a goal and assist against Maine, her 10th multi-point performance of the season, adding to her team-highs in goals (16) and points (28). She is also tied for a team-best 12 assists with Lum and sophomore Briana Colangelo.
Just 1:52 into the game, freshman forward Morgan Wabick finished at the right post off a pass from Snodgrass, sneaking the shot past Maine goalie Carly Jackson for a 1-0 lead. Later at 16:10, Snodgrass fired a shot into the back of the net - making it 2-0.
The Black Bears came out firing in the second period, but Belanger fought off several attacks of net before Lum notched her first score at 15:26 on a breakaway up the left side of the ice after a pass from Mee.
At the end of the second period, Maine was penalized for hooking - setting up a power play to start the final frame for the Huskies. Lum capitalized off a pass from Taylor Wabick, her third of the game, to put UConn ahead for good.
The Huskies killed off both of their penalties, while going 1-for-4 on power play chances against the Black Bears. Shots ended in a draw, 26-26, though UConn proved more efficient on offensive chances.
"We had a really great week of practice and we knew what we had to do this weekend. We came out for a full 60," said Lum. "We capitalized on all our chances today."
With a two-point game, Lum moves into third place on UConn's all-time points list (91), surpassing Amy Hollstein. Her second tally was the 40th of her career, joining teammate Theresa Knutson as one of just six players to reach the 40-goal mark in program history.
The Huskies return to the ice next weekend when Northeastern and Providence visit the Freitas Ice Forum. Four of UConn's six remaining games are at home.