Saturday, September 30, 2017
Northeastern Defeated By Clarkson, 5-1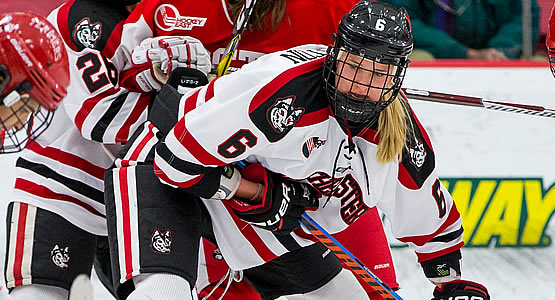 Senior forward Shelby Herrington had an assist for the Huskies
| | | | | | | |
| --- | --- | --- | --- | --- | --- | --- |
| Prd | Time | Team | Score | Type | Scored By | Assists |
| 1st | 3:45 | CLK | 1-0 | EV | Michaela PejzlovŠ (1) | Emma Keenan/1, Loren Gabel/1 |
| 2nd | 8:33 | CLK | 2-0 | EV GW | Rhyen McGill (1) | Cassidy Vinkle/1, Ella Shelton/1 |
| 2nd | 9:58 | CLK | 3-0 | PP | Savannah Harmon (1) | - |
| 2nd | 10:38 | CLK | 4-0 | EV | Michaela Boyle (1) | Amanda Titus/1 |
| 2nd | 19:00 | NOE | 1-4 | PP | Skylar Fontaine (1) | Shelby Herrington/1, Brooke Hobson/1 |
| 2nd | 19:59 | CLK | 5-1 | PP | Elizabeth GiguŤre (1) | Ella Shelton/2, Loren Gabel/2 |
| | | | | |
| --- | --- | --- | --- | --- |
| Scoring | 1st | 2nd | 3rd | Final |
| Clarkson | 1 | 4 | 0 | 5 |
| Northeastern | 0 | 1 | 0 | 1 |
| | | | | |
| --- | --- | --- | --- | --- |
| Shots on Goal | 1st | 2nd | 3rd | SOG |
| Clarkson | 5 | 7 | 12 | 24 |
| Northeastern | 10 | 10 | 5 | 25 |
| | | | |
| --- | --- | --- | --- |
| Team Stats and Records | PP | PIM | SHGF |
| Clarkson (1-0-1) | 2/5 | 7/14 | 0 |
| Northeastern (0-1-1) | 1/6 | 6/12 | 0 |
| | | | | | | |
| --- | --- | --- | --- | --- | --- | --- |
| Clarkson Goaltending | MIN | GA | 1 | 2 | 3 | Saves |
| Shea Tiley (W, 1-0-1) | 60:00 | 1 | 10 | 9 | 5 | 24 |
| | | | | | | |
| --- | --- | --- | --- | --- | --- | --- |
| Northeastern Goaltending | MIN | GA | 1 | 2 | 3 | Saves |
| Brittany Bugalski (L, 0-1-1) | 30:38 | 4 | 4 | 2 | 0 | 6 |
| Aerin Frankel | 29:12 | 1 | 0 | 1 | 12 | 13 |
| Empty Net | 0:10 | 0 | | | | |
BOSTON, Mass. - The top-ranked Clarkson Golden Knights (1-0-1) used a four-goal second period to secure a 5-1 victory over the No. 8 Northeastern women's hockey team (0-1-1) on Saturday afternoon at Matthews Arena.
Freshman Skylar Fontaine scored her first collegiate goal for Northeastern, while classmate Brooke Hobson notched her first collegiate assist on the play.
Freshman goaltender Aerin Frankel also saw her first collegiate action and made 13 saves on 14 shots in relief of junior Brittany Bugalski.
Goal Recaps
- Clarkson struck first just 3:45 into the game when Michaela Pejzlova poked home a loose puck at the right of the cage after Bugalski had made the initial stop on an Emma Keenan point shot.
- The Golden Knights added to the lead at 8:33 of the second period when Rhyen McGill roofed a backhand over the blocker of Bugalski on a partial breakaway.
- McGill's goal set off an avalanche of offense for the visitors as Savannah Harmon tacked on a third goal with a power-play snipe at 9:58, before Michaela Boyle made it 4-0 with a deflection in front at 10:38.
- Northeastern pulled a goal back at 19:00 of the middle frame with a power-play goal of its own. After a Shelby Herrington point shot was blocked in front, Fontaine found the loose disc at the right of the cage and shoveled a shot off a Clarkson defender and into the net to cut the deficit to 4-1.
- After a Northeastern penalty, the Golden Knights re-established their four-goal cushion when Elizabeth Giguere collected a bounce off the end boards and fired a shot home from the left circle with less than one second remaining in the second period.
Up Next
Northeastern will return to action next weekend with a home-and-home series against Boston University. Puck drop on Friday, Oct. 6 is set for 7 p.m. at BU's Walter Brown Arena.