Lonergan Hat Trick Leads Boston College Past Vermont, 4-2
Sophomore forward Caitrin Lonergan has hat trick and assist for Eagles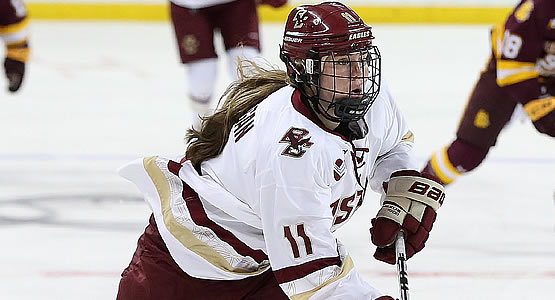 Sophomore forward Caitrin Lonergan had a hat trick and an assist for the Eagles
| | | | | | | |
| --- | --- | --- | --- | --- | --- | --- |
| Prd | Time | Team | Score | Type | Scored By | Assists |
| 1st | 19:33 | BC | 1-0 | EV | Caitrin Lonergan (4) | Daryl Watts/6, Makenna Newkirk/5 |
| 2nd | 14:53 | VER | 1-1 | EV EA DP | Olivia Kilberg (1) | Amanda Drobot/2, Taylor Willard/2 |
| 3rd | 1:42 | BC | 2-1 | EV | Daryl Watts (6) | Caitrin Lonergan/7 |
| 3rd | 4:01 | BC | 3-1 | PP GW | Caitrin Lonergan (5) | Makenna Newkirk/6, Daryl Watts/7 |
| 3rd | 7:39 | VER | 2-3 | PP | Alyssa Gorecki (2) | Ali O'Leary/2, Daria O'Neill/2 |
| 3rd | 16:40 | BC | 4-2 | EV | Caitrin Lonergan (6) | Daryl Watts/8, Serena Sommerfield/1 |
| | | | | |
| --- | --- | --- | --- | --- |
| Scoring | 1st | 2nd | 3rd | Final |
| Boston College | 1 | 0 | 3 | 4 |
| Vermont | 0 | 1 | 1 | 2 |
| | | | | |
| --- | --- | --- | --- | --- |
| Shots on Goal | 1st | 2nd | 3rd | SOG |
| Boston College | 11 | 10 | 16 | 37 |
| Vermont | 4 | 9 | 9 | 22 |
| | | | |
| --- | --- | --- | --- |
| Team Stats and Records | PP | PIM | SHGF |
| Boston College (4-0-1) | 1/5 | 5/10 | 0 |
| Vermont (2-5-0) | 1/4 | 6/12 | 0 |
| | | | | | | |
| --- | --- | --- | --- | --- | --- | --- |
| Boston College Goaltending | MIN | GA | 1 | 2 | 3 | Saves |
| Katie Burt (W, 4-0-1) | 60:00 | 2 | 4 | 8 | 8 | 20 |
| | | | | | | |
| --- | --- | --- | --- | --- | --- | --- |
| Vermont Goaltending | MIN | GA | 1 | 2 | 3 | Saves |
| Sydney Scobee (L, 1-2-0) | 57:41 | 4 | 10 | 10 | 13 | 33 |
| Empty Net | 2:19 | 0 | | | | |
BURLINGTON, Vt. - Olivia Kilberg scored the first goal of her collegiate career, but Vermont could not hold off third-ranked Boston College as a Caitrin Lonergan hat trick led the Eagles to a 4-2 victory at Gutterson Fieldhouse on Sunday afternoon in Hockey East play.
UVM moves to 2-5-0 (1-3-0 HEA) and Boston College remains unbeaten at 4-0-1 (1-0-1 HEA). Sydney Scobee had 33 saves in the loss for the Catamounts.
"I'm pleased with the effort and attention to detail today," said head coach Jim Plumer. "BC is an excellent team and I continue to focus this team and this program on the process of getting better. We didn't get the results we would have wanted this weekend but we are making progress and I am hoping that we can get our full lineup back very soon."
After trading chances through the majority of the first period, the Eagles opened the scoring at 19:33 of the first when Daryl Watts walked out from behind the net to Scobee's left and dished the puck across the top of the crease to Lonergan for the backdoor finish. Makenna Newkirk also assisted on the goal. 20 seconds later, Scobee made a breakaway save on Ryan Little, and the period ended with BC leading 1-0.
On a delayed penalty against the Eagles, Vermont evened the score at 14:53 of the second period. Taylor Willard passed the puck to Amanda Drobot at the point, who blasted a shot on target, and Kilberg fought through traffic in front of the net to bang home the rebound.
Boston College followed by scoring two goals in the first 4:01 of the final period with tallies from Watts and Lonergan, the latter coming on the power play.
UVM cut the lead to 3-2 on the power play when Ali O'Leary received a pass from Daria O'Neill behind the net and found Alyssa Gorecki at the top of the crease, who fired a one-timer inside the left post for her second of the season.
The Eagles locked up with win at 16:40 of the frame when Lonergan netted her third goal of the afternoon past Scobee.
The Catamounts travel to North Andover, Massachusetts next weekend to take on Hockey East rival Merrimack in a two-game series. The games are scheduled for 7 p.m. on Friday (Oct. 27) and 2 p.m. on Saturday (Oct. 28) at Lawler Rink.