Vermont Skates To 3-2 Win At Union
Junior forward Craig Puffer records goal and assist for Catamounts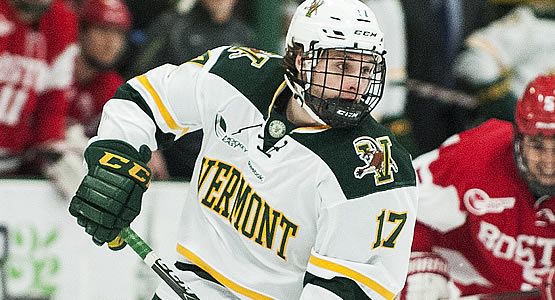 Junior forward Craig Puffer had a goal and an assist for the Catamounts
| | | | | | | |
| --- | --- | --- | --- | --- | --- | --- |
| Prd | Time | Team | Score | Type | Scored By | Assists |
| 1st | 11:05 | VER | 1-0 | EV | Craig Puffer (2) | Alex Esposito/2, Jarrid Privitera/2 |
| 1st | 18:36 | UNI | 1-1 | PP | Ryan Scarfo (1) | Josh Kosack/1, Parker Foo/1 |
| 2nd | 15:28 | VER | 2-1 | EV | Max Kaufman (1) | Brian Kelly/1, Ace Cowans/1 |
| 3rd | 9:56 | VER | 3-1 | EV GW | Matt O'Donnell (1) | Corey Moriarty/1, Craig Puffer/1 |
| 3rd | 19:47 | UNI | 2-3 | EV EA | Brett Supinski (3) | Ryan Scarfo/2, Luc Brown/1 |
| | | | | |
| --- | --- | --- | --- | --- |
| Scoring | 1st | 2nd | 3rd | Final |
| Vermont | 1 | 1 | 1 | 3 |
| Union | 1 | 0 | 1 | 2 |
| | | | | |
| --- | --- | --- | --- | --- |
| Shots on Goal | 1st | 2nd | 3rd | SOG |
| Vermont | 8 | 8 | 5 | 21 |
| Union | 10 | 13 | 10 | 33 |
| | | | |
| --- | --- | --- | --- |
| Team Stats and Records | PP | PIM | SHGF |
| Vermont (2-2-0) | 0/5 | 8/24 | 0 |
| Union (0-5-0) | 1/5 | 8/24 | 0 |
| | | | | | | |
| --- | --- | --- | --- | --- | --- | --- |
| Vermont Goaltending | MIN | GA | 1 | 2 | 3 | Saves |
| Stefanos Lekkas (W, 2-2-0) | 59:30 | 2 | 9 | 13 | 9 | 31 |
| Empty Net | 0:30 | 0 | | | | |
| | | | | | | |
| --- | --- | --- | --- | --- | --- | --- |
| Union Goaltending | MIN | GA | 1 | 2 | 3 | Saves |
| Jake Kupsky (L, 0-5-0) | 58:59 | 3 | 7 | 7 | 4 | 18 |
| Empty Net | 1:01 | 0 | | | | |
SCHENECTADY, N.Y. - Max Kaufman scored his first career goal late in the second period, giving the Catamounts the lead for good in a 3-2 road win against Union College at Messa Rink on Sunday afternoon.
UVM evened its record at 2-2-0 (0-0-0 HEA), while the Dutchmen remained winless at 0-5-0 (0-0-0 ECAC). Stefanos Lekkas stopped 31 shots for the win in net for Vermont, which also received goals from Craig Puffer and Matt O'Donnell on the night.
For the fourth straight game, UVM struck with the game's first goal. Just past the midway point of the first period, Alex Esposito threw a shot on goal from the left doorstep seconds after a Catamount power play had expired. Jake Kupsky (18 saves) made the initial save, but Puffer was waiting at the back post to convert the rebound for his second goal in as many games.
Ryan Scarfo answered on a Union power play with less than 90 seconds left in the opening frame. John Kosack found Scarfo at the right doorstep for an easy tap-in past Stefanos Lekkas (31 saves) to equalize and the teams were tied 1-1 after 20 minutes.
Kaufman's go-ahead goal came after several opportunities in the offensive zone. The rookie collected the puck near the right goal line and curled above the faceoff dot before wristing a shot glove side through traffic. Fellow freshmen Brian Kelly and Ace Cowans each collected their first career points with the assists.
O'Donnell doubled the lead at the halfway mark of the third, drilling a right circle slap shot low blocker side past Kupsky after a poor line change for Union.
The Dutchmen pulled Kupsky for an extra skater with less than 90 seconds left in regulation during a 4-on-4 situation. Bretty Supinski buried a rebound with 12 seconds remaining to cut Vermont's lead to 3-2, but the Catamounts cleared the ensuing faceoff to secure the win.
UVM travels to Ann Arbor next weekend for a two-game series against Michigan at Yost Arena. Game times are set for 7:30 p.m. on Friday (Oct. 20) and 5 p.m. on Saturday (Oct. 21).