Saturday, December 30, 2017
New Hampshire Falls To Yale, 4-2, At Ledyard Classic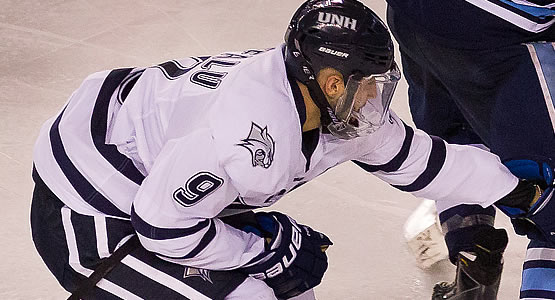 Junior forward Frankie Cefalu scored a goal for the Wildcats
| | | | | | | |
| --- | --- | --- | --- | --- | --- | --- |
| Prd | Time | Team | Score | Type | Scored By | Assists |
| 2nd | 6:43 | YAL | 1-0 | PP | Robbie DeMontis (2) | Charlie Curti/2, Joe Snively/6 |
| 2nd | 14:58 | UNH | 1-1 | EV | Frankie Cefalu (2) | Charlie Kelleher/9, Kohei Sato/1 |
| 3rd | 10:22 | YAL | 2-1 | EV | Dante Palecco (5) | Ryan Hitchcock/8, Mitchell Smith/4 |
| 3rd | 11:10 | YAL | 3-1 | EV GW | Evan Smith (4) | - |
| 3rd | 17:24 | YAL | 4-1 | EV EN | Dante Palecco (6) | - |
| 3rd | 17:50 | UNH | 2-4 | EV | Richard Boyd (2) | Liam Blackburn/9, Chris Miller/6 |
| | | | | |
| --- | --- | --- | --- | --- |
| Scoring | 1st | 2nd | 3rd | Final |
| Yale | 0 | 1 | 3 | 4 |
| New Hampshire | 0 | 1 | 1 | 2 |
| | | | | |
| --- | --- | --- | --- | --- |
| Shots on Goal | 1st | 2nd | 3rd | SOG |
| Yale | 16 | 10 | 15 | 41 |
| New Hampshire | 8 | 10 | 15 | 33 |
| | | | |
| --- | --- | --- | --- |
| Team Stats and Records | PP | PIM | SHGF |
| Yale (6-8-0) | 1/1 | 3/6 | 0 |
| New Hampshire (9-9-1) | 0/3 | 1/2 | 0 |
| | | | | | | |
| --- | --- | --- | --- | --- | --- | --- |
| Yale Goaltending | MIN | GA | 1 | 2 | 3 | Saves |
| Corbin Kaczperski (W, 1-1-0) | 60:00 | 2 | 8 | 9 | 14 | 31 |
| | | | | | | |
| --- | --- | --- | --- | --- | --- | --- |
| New Hampshire Goaltending | MIN | GA | 1 | 2 | 3 | Saves |
| Daniel Tirone (L, 9-9-1) | 57:33 | 3 | 16 | 9 | 12 | 37 |
| Empty Net | 2:27 | 1 | | | | |
HANOVER, N.H. - Dante Palecco scored two goals for the Bulldogs as the No. 16 University of New Hampshire men's hockey team fell to Yale, 4-2, on Saturday afternoon at Thompson Arena at the Ledyard Classic.
Senior goalie Danny Tirone (Trumbull, Conn.) made 37 saves for the Wildcats, while junior forward Frankie Cefalu (Buffalo, N.Y.) and senior defenseman Richard Boyd (Delray Beach, Fla.) each scored a goal for UNH.
UP NEXT
- The Wildcats will return to the Whittemore Center on Saturday, Jan. 6, to take on Brown at 7:00 p.m. The game will be "Youth Hockey Night" and there will be a hockey lace bracelet giveaway. Tickets can be purchased at the Whittemore Center Box Office, online at UNHWildcats.com or by calling 603-862-4000.
Score: Yale 4, #16 New Hampshire 2
Records: UNH (9-9-1, 4-5-1 HEA); Yale (6-8-0, 4-6-0 ECAC)
Location: Hanover, N.H. (Thompson Arena)
Date: Saturday, Dec. 30, 2017
Time: 4:00 p.m.
HOW IT HAPPENED
- The first period went scoreless as Tirone made 16 saves to keep the Bulldogs off the scoreboard.
- Yale outshot UNH, 16-8, for the period.
- At 6:43 of the second period, Yale took a 1-0 lead with a power play goal. Robbie DeMontis redirected a shot by Charlie Curti for the goal.
- The Wildcats tied the game at 1-1 at 14:58 of the second period, when Cefalu fired a wrist shot from the left face-off circle on the glove side for his second goal of the season. Freshmen forwards Charlie Kelleher (Longmeadow, Mass.) and Kohei Sato (Nishitokyo, Japan) each posted an assist on the goal.
- Each team took 10 shots, while UNH went 0-1 on the man-advantage and Yale went 1-1.
- At 10:22 of the third period, Palecco scored on a rebound to give Yale a 2-1 advantage.
- Then just 48 seconds later, Evan Smith found the back of the net on a wrist shot from the slot for the 3-1 lead.
- At 17:24, Palecco scored an empty net goal as the Bulldogs took a 4-1 advantage.
- Just 26 seconds later, Boyd blasted a slap shot to the upper glove side corner of the net to make it a 4-2 game. Sophomore forward Liam Blackburn (Prince George, British Columbia) and junior forward Chris Miller (Windham, N.H.) each posted an assist.
- The Wildcats were unable to score again for the 4-2 final.
INSIDE THE NUMBERS
- Yale outshot UNH, 41-33.
- The Wildcats went 0-3 on the power play, while the Bulldogs went 1-1.
- Tirone made 37 saves, while Corbin Kaczperski posted 31.
BEYOND THE BOXSCORE
- Sato posted his first collegiate point with an assist.
- Tirone is second all-time at UNH with 3,217 career saves. Kevin Regan (2005-2008) is ranked first with 3,235 saves. Tirone has played in 111 career games, which is second all-time in program history for a goalie. Regan holds the record with 112 games.