Saturday, October 14, 2017
UMass Lowell Notches 5-2 Win Against Omaha
Senior forward John Edwardh and freshman defenseman Croix Evingson each post goal and assist for River Hawks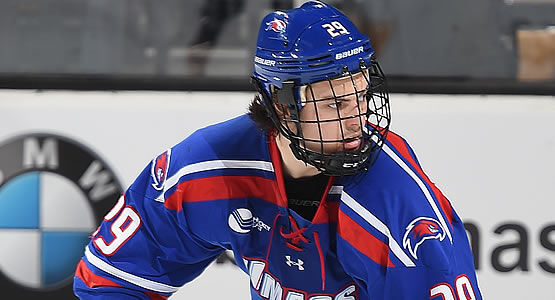 Senior forward John Edwardh had a goal and an assist for the River Hawks
| | | | | | | |
| --- | --- | --- | --- | --- | --- | --- |
| Prd | Time | Team | Score | Type | Scored By | Assists |
| 1st | 7:30 | UML | 1-0 | EV | John Edwardh (2) | Ryan Dmowski/1, Croix Evingson/1 |
| 2nd | 0:46 | UML | 2-0 | EV | Mattias Göransson (1) | John Edwardh/2, Nick Master/1 |
| 2nd | 10:54 | UML | 3-0 | EV GW | Croix Evingson (1) | Chris Forney/2 |
| 2nd | 14:05 | UNO | 1-3 | PP | Mason Morelli (1) | Tyler Vesel/2, David Pope/1 |
| 2nd | 18:32 | UNO | 2-3 | EV | Steven Spinner (1) | Mason Morelli/1, Fredrik Olofsson/1 |
| 3rd | 7:47 | UML | 4-2 | EV | Kenny Hausinger (2) | - |
| 3rd | 17:18 | UML | 5-2 | EV EN | Tyler Mueller (2) | - |
| | | | | |
| --- | --- | --- | --- | --- |
| Scoring | 1st | 2nd | 3rd | Final |
| Omaha | 0 | 2 | 0 | 2 |
| UMass Lowell | 1 | 2 | 2 | 5 |
| | | | | |
| --- | --- | --- | --- | --- |
| Shots on Goal | 1st | 2nd | 3rd | SOG |
| Omaha | 3 | 14 | 9 | 26 |
| UMass Lowell | 16 | 4 | 6 | 26 |
| | | | |
| --- | --- | --- | --- |
| Team Stats and Records | PP | PIM | SHGF |
| Omaha (1-1-0) | 1/4 | 5/10 | 0 |
| UMass Lowell (1-3-0) | 0/5 | 4/8 | 0 |
| | | | | | | |
| --- | --- | --- | --- | --- | --- | --- |
| Omaha Goaltending | MIN | GA | 1 | 2 | 3 | Saves |
| Evan Weninger (L, 1-1-0) | 59:52 | 4 | 15 | 2 | 4 | 21 |
| Empty Net | 0:08 | 1 | | | | |
| | | | | | | |
| --- | --- | --- | --- | --- | --- | --- |
| UMass Lowell Goaltending | MIN | GA | 1 | 2 | 3 | Saves |
| Christoffer Hernberg (W, 1-0-0) | 60:00 | 2 | 3 | 12 | 9 | 24 |
LOWELL, Mass. -- The No. 12 ranked UMass Lowell Hockey team earned a 5-2 victory against Omaha in the series finale on Saturday night in front of 5,376 fans at the Tsongas Center on Homecoming Weekend.
The River Hawks pick their first win of the season and improve their overall record to 1-3-0, while the Mavericks drop to a 1-1 mark on the season.
UMass Lowell jumped out to a 3-0 lead against the Mavericks with a first period goal (7:30) from John Edwardh for his second of the season and two second period goals from sophomore defenseman Mattias Goransson (Slottsbron, Sweden) and freshman blueliner Crox Evingson (Anchorage, Alaska). Evingson scored his first career goal and also added an assist with a game-high +4 plus/minus rating in his first career game for the River Hawks.
Omaha's Mason Morelli scored two second period tallies to cut the River Hawk lead to 3-2, but sophomore forward Kenny Hausinger (Anchorage, Alaska) recorded his 11th career goal to make it a 4-2 game with 12:13 left in the contest. Senior captain Tyler Mueller (Regina, Sask.) scored for the second consecutive night with an empty-net goal with 2:42 left to seal the win for the River Hawks.
Junior goaltender Christoffer Hernberg (Espoo, Finland) made his fourth career start for the River Hawks, totaling 24 stops, which included 12 saves in the second period for his second career victory. Evan Weninger managed 21 saves in the losing effort for Omaha. Both teams amassed 26 shots apiece with UMass Lowell owning a 16-3 shot advantage in the opening frame.
UMass Lowell returns to action on Friday, October 20th at ECAC foe Clarkson in non-league play. Game time from Cheel Arena in Potsdam, N.Y. is 7 p.m.