Thursday, November 9, 2017
Balanced Scoring Sends Massachusetts Past Providence, 5-2
Five players score goals for Minutemen; Freshman forward Mitchell Chaffee posts goal and assist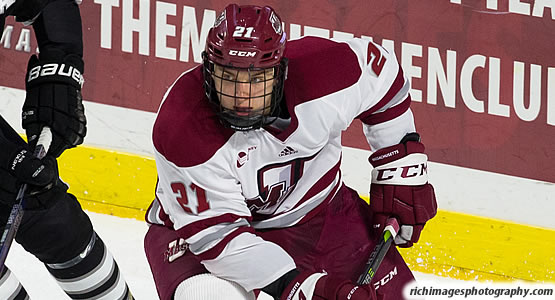 Freshman forward Mitchell Chaffee had a goal and an assist for theMinutemen
| | | | | | | |
| --- | --- | --- | --- | --- | --- | --- |
| Prd | Time | Team | Score | Type | Scored By | Assists |
| 1st | 3:21 | UMA | 1-0 | EV | Mitchell Chaffee (3) | John Leonard/5 |
| 1st | 7:39 | UMA | 2-0 | EV | Oliver Chau (4) | Mitchell Chaffee/2, Josh Couturier/4 |
| 1st | 16:58 | PRV | 1-2 | PP | Ben Mirageas (2) | Erik Foley/2, Kasper Björkqvist/2 |
| 2nd | 6:58 | PRV | 2-2 | EV | Josh Wilkins (3) | Scott Conway/4, Tommy Davis/3 |
| 3rd | 1:43 | UMA | 3-2 | EV GW | Austin Albrecht (1) | George Mika/2 |
| 3rd | 18:57 | UMA | 4-2 | EV EN | Niko Rufo (3) | Cale Makar/5, Ryan Wischow/1 |
| 3rd | 19:41.0 | UMA | 5-2 | EV EN | Niko Hildenbrand (3) | Jake McLaughlin/3 |
| | | | | |
| --- | --- | --- | --- | --- |
| Scoring | 1st | 2nd | 3rd | Final |
| Providence | 1 | 1 | 0 | 2 |
| Massachusetts | 2 | 0 | 3 | 5 |
| | | | | |
| --- | --- | --- | --- | --- |
| Shots on Goal | 1st | 2nd | 3rd | SOG |
| Providence | 14 | 7 | 14 | 35 |
| Massachusetts | 12 | 10 | 16 | 38 |
| | | | |
| --- | --- | --- | --- |
| Team Stats and Records | PP | PIM | SHGF |
| Providence (5-4-0) | 1/5 | 6/12 | 0 |
| Massachusetts (5-5-0) | 0/5 | 6/12 | 0 |
| | | | | | | |
| --- | --- | --- | --- | --- | --- | --- |
| Providence Goaltending | MIN | GA | 1 | 2 | 3 | Saves |
| Hayden Hawkey (L, 5-4-0) | 58:58 | 3 | 10 | 10 | 13 | 33 |
| Empty Net | 1:02 | 2 | | | | |
| | | | | | | |
| --- | --- | --- | --- | --- | --- | --- |
| Massachusetts Goaltending | MIN | GA | 1 | 2 | 3 | Saves |
| Ryan Wischow (W, 2-1-0) | 60:00 | 2 | 13 | 6 | 14 | 33 |
AMHERST, Mass. - Freshman Austin Albrecht broke a 2-2 deadlock in the third period with his first collegiate goal to help the University of Massachusetts hockey team to defeat No. 8/7 Providence, 5-2 at the Mullins Center on Thursday evening. The win moves the Minutemen to 5-5-0 on the season, 2-2-0 in Hockey East, while the Friars fall to 5-4-0 overall and 2-3-0 in league action.
UMass took a 1-0 lead just 3:21 into the first period when freshman Mitchell Chaffee flipped the puck past Hayden Hawkey for his third of the season off a feed from classmate John Leonard.
The Minutemen then pushed the margin to 2-0 at the 7:39 mark. Freshman Oliver Chau collected a pass from Chaffee and redshirt sophomore Josh Couturier and tucked home his fourth of the year on a wraparound.
Providence cut its deficit in half on the power play in the closing minutes of the period. Ben Mirageas fired home a shot from the top of the slot at 16:58 with Erik Foley and Kasper Bjorkqvist picking up the assists.
The Friars then knotted things up at 2-2 with the only goal of the second period. Josh Wilkins put the puck past sophomore Ryan Wischow on a delayed penalty 6:58 into the frame.
Albrecht's game winner came 1:43 into the third period off an offensive zone faceoff win by George Mika and put the Minutemen back in front, 3-2.
UMass later sealed the victory with empty net goals from redshirt senior Niko Rufo and sophomore Niko Hildenbrand at 18:57 and 19:41, respectively.
The Minutemen out-shot Providence 38-35 and went 0-for-5 on the power play, while the Friars were 1-for-5. Wischow totaled 33 saves for UMass and Hawkey had 33 stops for Providence.
The Minutemen and the Friars will be back in action on Sat., Nov. 11, in Providence, Rhode Island at 7 p.m.