Saturday, November 4, 2017
Tralmaks Posts Three Points To Lead Maine Past UMass Lowell, 6-2
Freshman forward Eduards Tralmaks scores two goals and assist for Black Bears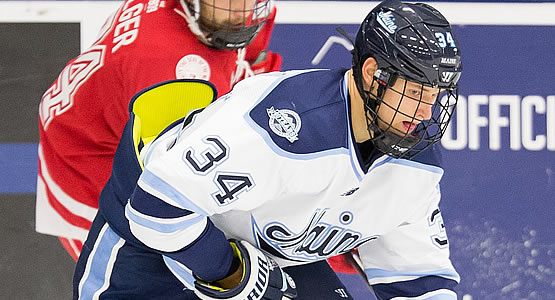 Freshman forward Eduards Tralmaks had two goals and an assist for the Black Bears
| | | | | | | |
| --- | --- | --- | --- | --- | --- | --- |
| Prd | Time | Team | Score | Type | Scored By | Assists |
| 1st | 5:36 | MNE | 1-0 | EV | Eduards Tralmaks (4) | Chase Pearson/5 |
| 1st | 11:01 | MNE | 2-0 | EV | Daniel Perez (1) | Ryan Smith/1 |
| 2nd | 2:54 | MNE | 3-0 | EV GW | Brady Keeper (2) | Daniel Perez/1 |
| 2nd | 11:46 | MNE | 4-0 | EV | Eduards Tralmaks (5) | Mitchell Fossier/3, Chase Pearson/6 |
| 2nd | 17:04 | MNE | 5-0 | EV | Nolan Vesey (2) | Tim Doherty/2, Patrick Shea/2 |
| 3rd | 13:07 | MNE | 6-0 | PP | Mitchell Fossier (4) | Eduards Tralmaks/2, Chase Pearson/7 |
| 3rd | 17:36 | UML | 1-6 | PP | Ryan Dmowski (2) | Chris Forney/4, Tommy Panico/2 |
| 3rd | 18:55 | UML | 2-6 | EV | John Edwardh (3) | Nick Master/4, Colin O'Neill/2 |
| | | | | |
| --- | --- | --- | --- | --- |
| Scoring | 1st | 2nd | 3rd | Final |
| Maine | 2 | 3 | 1 | 6 |
| UMass Lowell | 0 | 0 | 2 | 2 |
| | | | | |
| --- | --- | --- | --- | --- |
| Shots on Goal | 1st | 2nd | 3rd | SOG |
| Maine | 6 | 7 | 13 | 26 |
| UMass Lowell | 11 | 8 | 11 | 30 |
| | | | |
| --- | --- | --- | --- |
| Team Stats and Records | PP | PIM | SHGF |
| Maine (3-5-0) | 1/4 | 8/16 | 0 |
| UMass Lowell (4-6-0) | 1/7 | 5/10 | 0 |
| | | | | | | |
| --- | --- | --- | --- | --- | --- | --- |
| Maine Goaltending | MIN | GA | 1 | 2 | 3 | Saves |
| Jeremy Swayman (W, 2-2-0) | 60:00 | 2 | 11 | 8 | 9 | 28 |
| | | | | | | |
| --- | --- | --- | --- | --- | --- | --- |
| UMass Lowell Goaltending | MIN | GA | 1 | 2 | 3 | Saves |
| Tyler Wall (L, 0-5-0) | 31:46 | 4 | 4 | 2 | 0 | 6 |
| Christoffer Hernberg | 27:58 | 2 | 0 | 2 | 12 | 14 |
| Empty Net | 0:16 | 0 | | | | |
LOWELL, Mass. -- The UMass Lowell Hockey team was defeated by Maine, 6-2 in the series finale at the Tsongas Center on Saturday afternoon in front of 5,449 fans.
UMass Lowell drops to 4-6-0 overall (1-5-0 HEA) with the loss, while Maine improves to 3-5-0 overall (2-2-0 HEA) with the win.
Mitchell Fossier scored the sixth and final goal for Maine at 13:07 of the final period on the power play. Junior forward Ryan Dmowski (East Lyme, Conn.) notched a power play tally to get the River Hawks on the board and then senior forward John Edwardh (Calgary, Alta.) added his third goal of the season to cap off the scoring for the River Hawks in the losing effort.
Dmowski and freshman forward Connor Sodergren (Tewksbury, Mass.) each managed a game-high four shots on goal for UMass Lowell.
Maine added three goals in the third period by Brady Keeper, Tralmaks and Nolan Vesey to extend their lead to 5-0.
The Black Bears scored two goals in the first period by Eduards Tralmaks and Daniel Perez to take a 2-0 lead to the locker room at the end of the first period.
Maine's Jeremy Swayman totaled 28 saves for the Black Bears in his second victory of the season.
UMass Lowell outshot Maine, 11-6 in the opening period.
The River Hawks return to action on Friday, November 10th at New Hampshire. Game time from the Whittemore Center is 7 p.m. The game will be televised live on ESPN3.