Tuesday, November 21, 2017
UConn Notches 4-1 Win At Vermont
Sophomore goaltender Adam Huska make 39 saves for Huskies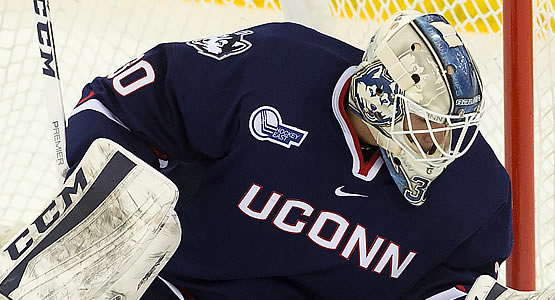 Sophomore goaltender Adam Huska made 39 saves for the Huskies
| | | | | | | |
| --- | --- | --- | --- | --- | --- | --- |
| Prd | Time | Team | Score | Type | Scored By | Assists |
| 1st | 2:02 | CON | 1-0 | EV | Jesse Schwartz (4) | Corey Ronan/2, Karl El-Mir/8 |
| 1st | 6:18 | CON | 2-0 | EV GW | Kasperi Ojantakanen (3) | Miles Gendron/5, Johnny Austin/9 |
| 1st | 14:17 | CON | 3-0 | PP | Philip Nyberg (1) | Joseph Masonius/3, Benjamin Freeman/5 |
| 3rd | 5:27 | VER | 1-3 | PP | Alex Esposito (2) | Jarrid Privitera/5, Owen Grant/3 |
| 3rd | 19:39 | CON | 4-1 | EV EN | Max Kalter (5) | David Drake/2, Benjamin Freeman/6 |
| | | | | |
| --- | --- | --- | --- | --- |
| Scoring | 1st | 2nd | 3rd | Final |
| UConn | 3 | 0 | 1 | 4 |
| Vermont | 0 | 0 | 1 | 1 |
| | | | | |
| --- | --- | --- | --- | --- |
| Shots on Goal | 1st | 2nd | 3rd | SOG |
| UConn | 17 | 11 | 10 | 38 |
| Vermont | 8 | 12 | 20 | 40 |
| | | | |
| --- | --- | --- | --- |
| Team Stats and Records | PP | PIM | SHGF |
| UConn (4-10-2) | 1/3 | 4/8 | 0 |
| Vermont (3-9-1) | 1/3 | 4/8 | 0 |
| | | | | | | |
| --- | --- | --- | --- | --- | --- | --- |
| UConn Goaltending | MIN | GA | 1 | 2 | 3 | Saves |
| Adam Huska (W, 4-9-2) | 60:00 | 1 | 8 | 12 | 19 | 39 |
| | | | | | | |
| --- | --- | --- | --- | --- | --- | --- |
| Vermont Goaltending | MIN | GA | 1 | 2 | 3 | Saves |
| Stefanos Lekkas (L, 3-9-1) | 57:48 | 3 | 14 | 11 | 9 | 34 |
| Empty Net | 2:12 | 1 | | | | |
BURLINGTON, Vt. - A 20-shot third period led by Alex Esposito's power play goal wasn't enough for UVM to execute a comeback against UConn, which burst out to a 3-0 lead and held on for a 4-1 Hockey East win on Tuesday night at Gutterson Fieldhouse.
With the loss, UVM falls to 3-9-1 (1-5-1 HEA), while the Huskies improve to 4-10-2 (3-6-1 HEA) and take the regular season series against Vermont 2-1-0.
UConn struck early on a goal by Jesse Schwartz at 2:02 of the first period. The assist came from Corey Ronan, who broke into the Catamount zone and feathered a pass for Schwartz to slip a backhand under the pads of Stefanos Lekkas (34 saves).
Kasperi Ojantakanen added to the Huskies' lead four minutes later on a feed from Miles Gendron. Johnny Austin earned the secondary assist as he stopped a Vermont clearing attempt and wristed a shot on target. Gendron collected the rebound behind the net and spun a wraparound feed toward the left post to Ojantakanen for a one-time finish.
Vermont attempted to cut the lead in half on a breakaway attempt by Brian Bowen, but Adam Huska (39 saves) swatted the puck with his blocker to preserve the two-goal lead.
With 5:43 left in the opening period, Philip Nyberg fired a wrist shot off the left post and in from the top of the right circle on the power play to put the Huskies up 3-0 heading into intermission. Joseph Masonius and Benjamin Freeman were credited with assists on the tally.
The Catamounts pushed back in the second period but the two teams skated to a scoreless 20 minutes. A late power play in the middle frame gave Vermont a pair of high quality scoring chances that were halted by Huska.
UVM found the scoresheet in the third period on Esposito's second goal in as many games. Owen Grant was awarded the secondary assist as he skated up the ice before dishing a pass to a Jarrid Privitera down the left wing. The senior forward quickly found Esposito alone at the top of the right circle, and the rookie sent a low wrist shot short side on Huska with 14:33 left in regulation.
UVM continued to apply pressure throughout the final period, outshooting the Huskies 20-10 in the frame, but Max Kalter deposited a lengthy empty-net goal in the final seconds to ensure a Connecticut victory.
Vermont travels down I-89 on Saturday (Nov. 25) to face former ECAC rival Dartmouth at Thompson Arena in Hanover, New Hampshire. Puck drop is scheduled for 7 p.m.
All UVM fans are invited to join the UVM Alumni Association for a pre-game reception from 4:30-6 p.m. at Jesse's (224 Lebanon St., Hanover, NH 03755). Light appetizers and a cash bar will be provided.