Boston University, Prince Edward Island Play To 5-5 Tie
Sophomore defenseman Chad Krys and freshman forward Brady Tkachuk post three points apiece for Terriers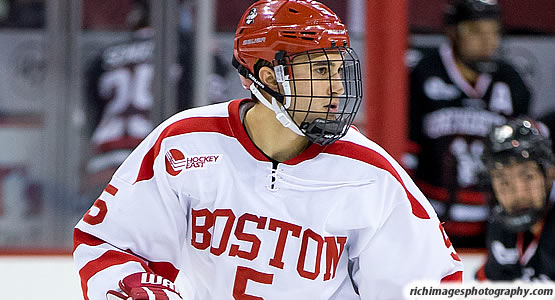 Sophomore defenseman Chad Krys had a goal and two assists for the Terriers
| | | | | | | |
| --- | --- | --- | --- | --- | --- | --- |
| Prd | Time | Team | Score | Type | Scored By | Assists |
| 1st | 6:50 | BU | 1-0 | EV | Patrick Curry | Jake Witkowski, Drew Melanson |
| 1st | 7:37 | PEI | 1-1 | EV | Marcus Power | Darcy Ashley, Brent Andrews |
| 1st | 19:56 | BU | 2-1 | PP | Brady Tkachuk | Shane Bowers, Chad Krys |
| 2nd | 14:00 | BU | 3-1 | PP | Brandon Hickey | Chad Krys, Bobo Carpenter |
| 2nd | 14:17 | PEI | 2-3 | EV | Nathan Yetman | Tanner McCabe |
| 2nd | 15:36 | PEI | 3-3 | PP | Sam Aulie | Cody Payne, Filip Rydstrom |
| 2nd | 17:47 | BU | 4-3 | PP | Chad Krys | Brady Tkachuk, Brandon Hickey |
| 3rd | 2:41 | PEI | 4-4 | EV | Sam Aulie | Chad Labelle, Bobby Zinkan |
| 3rd | 7:28 | PEI | 5-4 | EV | Chad Labelle | Riley Whittingham |
| 3rd | 13:48 | BU | 5-5 | PP GT | Brady Tkachuk | Shane Bowers, Hank Crone |
| | | | | | |
| --- | --- | --- | --- | --- | --- |
| Scoring | 1st | 2nd | 3rd | OT | Final |
| Prince Edward Island | 1 | 2 | 2 | 0 | 5 |
| Boston University | 2 | 2 | 1 | 0 | 5 |
| | | | | | |
| --- | --- | --- | --- | --- | --- |
| Shots on Goal | 1st | 2nd | 3rd | OT | SOG |
| Prince Edward Island | 8 | 10 | 8 | 1 | 27 |
| Boston University | 10 | 13 | 13 | 5 | 41 |
| | | | |
| --- | --- | --- | --- |
| Team Stats and Records | PP | PIM | SHGF |
| Prince Edward Island | 1/3 | 11/22 | 0 |
| Boston University | 4/10 | 4/8 | 0 |
| | | | | | | | |
| --- | --- | --- | --- | --- | --- | --- | --- |
| Prince Edward Island Goaltending | MIN | GA | 1 | 2 | 3 | OT | Saves |
| Matt Mahalak (T) | 65:00 | 5 | 8 | 11 | 12 | 5 | 36 |
| | | | | | | | |
| --- | --- | --- | --- | --- | --- | --- | --- |
| Boston University Goaltending | MIN | GA | 1 | 2 | 3 | OT | Saves |
| Max Prawdzik (T) | 64:45 | 5 | 7 | 8 | 6 | 1 | 22 |
| Empty Net | 0:15 | 0 | | | | | |
BOSTON - The No. 2 Boston University men's ice hockey team skated to a 5-5 tie against Prince Edward Island in an exhibition contest on Sunday afternoon at Agganis Arena.
Freshman Brady Tkachuk scored two goals, including the game-tying tally, and added an assist while sophomore Chad Krys also had a three-point night with a goal and two helpers.
HOW IT HAPPENED
- After BU took a 3-1 lead with six minutes left in the second period, the visiting Panthers rallied put together a 4-1 run over a span of 13 minutes to take a 5-4 lead with 12:32 left in regulation.
- Tkachuk scored BU's fourth power-play goal of the contest with 6:12 left in the third to send it to overtime, where the Terriers held a 5-1 shot advantage but could not muster a winner.
- Sophomore Patrick Curry opened the scoring 6:50 into the proceedings with BU's only even-strength goal of the night.
- UPEI got an equalizer less than two minutes later from Marcus Power but Tkachuk potted a rebound on a power play with four seconds left in the opening period to give the Terriers a 2-1 lead heading into the first intermission.
- Senior Brandon Hickey created the 3-1 cushion for BU with a power-play marker from a tough angle at 14:00 of the second but the Panthers came right back 17 seconds later with a tally from Nathan Yetman to get back within a goal.
- Sam Aulie made it 3-3 just over a minute later on the power play with the first of his two goals.
- A man-up goal from Krys gave BU the lead back with 2:13 left in the second.
- Aulie's second goal of the night created yet another tie at 4-4 at 2:41 of the third before the Panthers' go-ahead goal came from the stick of Chad Labelle.
- The final goal of the game came on a power-play rush as freshman Hank Crone sent a pass up to classmate Shane Bowers, who drew in the defense before passing off to Tkachuk at the right circle, where he blasted a shot to the top corner of the far post.
GAME NOTES
- The Terriers held a 41-27 shot advantage and got a 22-save effort from redshirt sophomore Max Prawdzik.
- Hickey (1g, 1a) and Bowers (2g) had multi-point nights while senior Drew Melanson, junior Bobo Carpenter and freshman Jake Witkowski each picked up an assist.
- BU was 4-for-10 on the power play and killed off two of the Panthers' three chances with the man advantage.
- Matt Mahalak recorded 36 saves in goal for UPEI.
NEXT UP
- The Terriers will return to action on Sunday (Oct. 8) when they visit No. 14/13 Quinnipiac.
- Game time is set for 2 p.m.