Thursday, February 15, 2018
Four-Goal Third Sends Boston College Past Massachusetts, 5-2
Sophomore forward Julius Mattila has two goals and assist for Eagles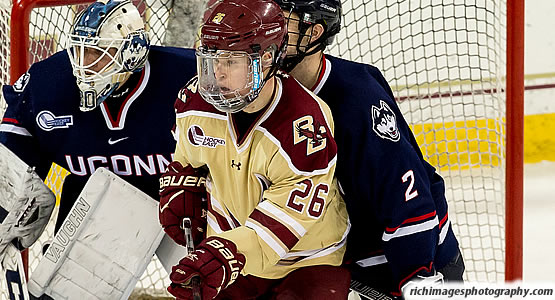 Sophomore forward Julius Mattila had two goals and an assist for the Eagles
| | | | | | | |
| --- | --- | --- | --- | --- | --- | --- |
| Prd | Time | Team | Score | Type | Scored By | Assists |
| 1st | 0:36 | UMA | 1-0 | EV | Jake Gaudet (6) | Oliver Chau/14, Cale Makar/14 |
| 1st | 4:37 | BC | 1-1 | EV | Jacob Tortora (6) | Michael Kim/8, Connor Moore/10 |
| 2nd | 11:57 | UMA | 2-1 | EV | George Mika (3) | John Leonard/13, Niko Hildenbrand/6 |
| 3rd | 7:22 | BC | 2-2 | PP | David Cotton (8) | Logan Hutsko/13, Julius Mattila/14 |
| 3rd | 14:08 | BC | 3-2 | EV GW | Jesper Mattila (4) | Jacob Tortora/7 |
| 3rd | 14:48 | BC | 4-2 | EV | Julius Mattila (9) | Logan Hutsko/14, Michael Kim/9 |
| 3rd | 17:48 | BC | 5-2 | EV EN | Julius Mattila (10) | David Cotton/15, Ron Greco/2 |
| | | | | |
| --- | --- | --- | --- | --- |
| Scoring | 1st | 2nd | 3rd | Final |
| Boston College | 1 | 0 | 4 | 5 |
| Massachusetts | 1 | 1 | 0 | 2 |
| | | | | |
| --- | --- | --- | --- | --- |
| Shots on Goal | 1st | 2nd | 3rd | SOG |
| Boston College | 12 | 7 | 12 | 31 |
| Massachusetts | 11 | 13 | 6 | 30 |
| | | | |
| --- | --- | --- | --- |
| Team Stats and Records | PP | PIM | SHGF |
| Boston College (15-13-3) | 1/5 | 2/4 | 0 |
| Massachusetts (13-17-2) | 0/1 | 6/23 | 0 |
| | | | | | | |
| --- | --- | --- | --- | --- | --- | --- |
| Boston College Goaltending | MIN | GA | 1 | 2 | 3 | Saves |
| Joseph Woll (W, 12-10-2) | 60:00 | 2 | 10 | 12 | 6 | 28 |
| | | | | | | |
| --- | --- | --- | --- | --- | --- | --- |
| Massachusetts Goaltending | MIN | GA | 1 | 2 | 3 | Saves |
| Matt Murray (L, 6-11-2) | 59:33 | 4 | 11 | 7 | 8 | 26 |
| Empty Net | 0:27 | 1 | | | | |
AMHERST, Mass. - University of Massachusetts hockey team held a 2-1 lead going into the third period, but No. 19 Boston College scored four times in the frame to rally past the Minutemen, 5-2 on Thursday evening at the Mullins Center. The loss leaves UMass at 13-17-2 on the season and 7-13-2 in Hockey East, while the Eagles improve to 15-13-3, 15-6-0 in league action.
"I thought the difference in the game was BC buried their chances and we didn't," said UMass head coach Greg Carvel. "It's frustrating. I give BC credit. They're a skilled team if you give them time and space in the offensive zone and they made us pay. We have to work really hard to score goals and thought we did a little bit of a better job tonight getting around the net, making life tough on Woll. BC scored to go ahead 3-2 and I think we had the same exact scoring chance right after and put it in his chest and that's the difference."
UMass opened the scoring just 36 seconds into the contest. Freshman Jake Gaudet received the puck from classmate Oliver Chau and skated into the Boston College zone, firing a shot that tucked inside the left post. Freshman Cale Makar earned an assist on the play, as well, his 14th of the season.
The Eagles tied the score up just 4:01 later, though. Jacob Tortora drove in a rebound from the left faceoff circle after Matt Murray turned aside the initial attempt from the point by Michael Kim. Connor Moore collected the secondary helper.
The Minutemen regained the lead 11:57 into the second period. Sophomore Niko Hildenbrand won a battle along the wall and gave the puck to freshman John Leonard, who found freshman George Mika alone in front. Mika lifted a backhand past Joe Woll for his third tally of the season.
After Griff Jeszka was assessed a major penalty midway through the third, BC tied the score at 2-2, converting once on the five-minute power play opportunity. David Cotton completed a feed from Logan Hutsko and Julius Mattila out of the corner at the 7:22 mark.
Jesper Matilla then put the Eagles on top, 3-2 at the 14:08 mark, scoring on the rush, set up by Tortora.
Julius Matilla added insurance goals for BC at 14:48 and with the net empty at 17:48.
The Eagles edged UMass in shots, 31-30 and went 1-for-5 on the power play, while the Minutemen were 0-for-1.
Woll totaled 28 saves for Boston College and Murray had 26 stops for UMass.
The Minutemen will be back in action next Thursday, Feb. 22, when the squad will travel to Hartford to face UConn in a 7:05 matchup.