Saturday, February 24, 2018
Boston College Picks Up Weekend Sweep With 2-1 Win Over Maine
Junior forward Christopher Brown scores game-winning goal for Eagles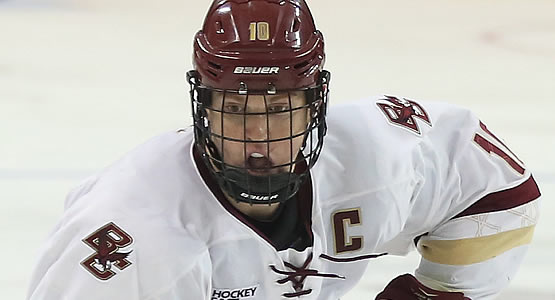 Junior forward Christopher Brown scored the game-winning goal for the Eagles
| | | | | | | |
| --- | --- | --- | --- | --- | --- | --- |
| Prd | Time | Team | Score | Type | Scored By | Assists |
| 1st | 11:50 | BC | 1-0 | EV | David Cotton (9) | JD Dudek/11, Kevin Lohan/6 |
| 2nd | 5:16 | BC | 2-0 | PP GW | Christopher Brown (8) | Aapeli Räsänen/10, Graham McPhee/9 |
| 2nd | 18:46 | MNE | 1-2 | PP | Rob Michel (5) | Mitchell Fossier/19, Brady Keeper/10 |
| | | | | |
| --- | --- | --- | --- | --- |
| Scoring | 1st | 2nd | 3rd | Final |
| Maine | 0 | 1 | 0 | 1 |
| Boston College | 1 | 1 | 0 | 2 |
| | | | | |
| --- | --- | --- | --- | --- |
| Shots on Goal | 1st | 2nd | 3rd | SOG |
| Maine | 5 | 9 | 11 | 25 |
| Boston College | 10 | 13 | 7 | 30 |
| | | | |
| --- | --- | --- | --- |
| Team Stats and Records | PP | PIM | SHGF |
| Maine (16-14-4) | 1/3 | 7/22 | 0 |
| Boston College (18-13-3) | 1/4 | 7/25 | 0 |
| | | | | | | |
| --- | --- | --- | --- | --- | --- | --- |
| Maine Goaltending | MIN | GA | 1 | 2 | 3 | Saves |
| Jeremy Swayman (L, 13-10-3) | 59:10 | 2 | 9 | 12 | 7 | 28 |
| Empty Net | 0:50 | 0 | | | | |
| | | | | | | |
| --- | --- | --- | --- | --- | --- | --- |
| Boston College Goaltending | MIN | GA | 1 | 2 | 3 | Saves |
| Joseph Woll (W, 15-10-2) | 60:00 | 1 | 5 | 8 | 11 | 24 |
CHESTNUT HILL, Mass. - No. 20 Boston College closed out its regular season in style, sweeping Maine in a 2-1 victory to put the exclamation point on the Eagles' 16th Hockey East regular season title they clinched last night.
Boston College clinched the No. 1 seed and a bye into the Hockey East quarterfinals that the Eagles will host on March 9-11. BC won the league by three points with an aggregate of 36 (18-6-0) while Northeastern finished second with 33 points (15-6-3) and Providence finished third with 30 points (13-7-4). Boston University claimed the last spot for home ice in the quarters with a fourth-place finish 28 points (12-8-4).
Sophomore David Cotton and junior captain Christopher Brown scored for BC in the victory as Brown's power play tally stood as his first game-winner of the season.
Boston College has won seven-consecutive games against Maine, the most since the inception of Hockey East.
Second-year goaltender Joseph Woll emerged victoriously in his fourth-straight outing with 24 stops.
SCORE
Maine - 1 / No. 19 Boston College - 2
LOCATION
Kelley Rink / Chestnut Hill, Mass.
RECORDS
Maine (16-14-4 / 10-11-3 HEA) / No. 19 Boston College (18-13-3 / 18-6-0 HEA)
BC HIGHLIGHTS & GAME NOTES
- Christopher Brown scored his fourth power play goal of the season to pull into a tie with David Cotton and Graham McPhee in that category. The Bloomfield Hills, Mich. native has scored 19 goals in his career thus far.
- David Cotton scored his second goal in four games, accounting for his ninth marker of the season and 19th of his career. The Parker, Texas native is on a four-game point streak, notching five points (2-3-5) within that stretch.
- Kevin Lohan assisted on Cotton's first goal of the game to bring his point total to eight (2-6-8) as an Eagle. The Cold Spring Harbor, N.Y. has assisted in back-to-back to games for the second time in the maroon and gold and has accounted for four points (1-3-4) in his last two outings.
- JD Dudek notched his 11th assist of the season on Cotton's goal in the first period. The Auburn, N.H. native has recorded points in back-to-back games (1-1-2).
- Boston College's power play has scored at least one extra man marker in 11 of its last 13 outings. The Eagles are (25-for-138 -18.1 percent) on the power play this season.
GOAL DESCRIPTIONS
FIRST GOAL (1-0 - Boston College) - FIRST PERIOD - David Cotton - 11:50 - EVEN STRENGTH
• Boston College struck first just through the midway point of the first period after David Cotton gathered his own rebound in front. Kevin Lohan generated the play by batting the puck back into play down to JD Dudek behind the net. Dudek skated it out to the goalmouth to Maine goaltender Jeremy Swayman's right. Dudek darted the puck to the other side to Cotton for the tap in. Swayman made the initial stop by Cotton stayed in position to lift the carom over his pad at 11:50 to give the Eagles a 1-0 lead.
SECOND GOAL (2-0 - Boston College) - SECOND PERIOD - Christopher Brown - 5:16 - POWER PLAY
• The Eagles doubled up their lead after an early power play tally from Christopher Brown. Graham McPhee quarterbacked the play from the far corner and connected on a one-timer pass between the circles to Aapeli Rasanen. The freshman Finn landed a shot right into Swayman's chest while Brown swarmed the near pipe. Before the puck ever had a chance to make it back to the ice, Brown baseball batted the puck out of midair into the back of the net at 5:16 to take a 2-0 lead on the power play.
THIRD GOAL (2-1 - Maine) - SECOND PERIOD - Rob Michel - 18:46 - POWER PLAY
• The Black Bears got one back on their power play advantage with less than two minutes to play in the second period. Following a Jesper Mattila penalty, Brady Keeper was the catalyst, getting the puck out of the neutral zone to Mitchell Fossier down the left side of BC's zone. Rob Michel snuck down the other side, accepted Fossier's feed and zipped it past Joseph Woll to make it a one-goal game on the power play at 18:46 of the second period.
BOSTON COLLEGE GAME LEADERS
Points: Christopher Brown (1 - 0 - 1) / David Cotton (1 - 0 - 1) / JD Dudek (0 - 1 - 1) / Kevin Lohan (0 - 1 - 1) / Aapeli Rasanen (0 - 1 - 1) / Graham McPhee (0 - 1 - 1)
Goals: Christopher Brown (1 - 0 - 1) / David Cotton (1 - 0 - 1)
Assists: JD Dudek (0 - 1 - 1) / Kevin Lohan (0 - 1 - 1) / Aapeli Rasanen (0 - 1 - 1) / Graham McPhee (0 - 1 - 1)
Shots: David Cotton ( 6 )
Faceoffs: JD Dudek (11 - of - 25)
SPECIAL TEAMS
Maine: 1 - for - 3
Boston College: 1 - for - 4
PENALTIES
Maine: 7 - for - 22
Boston College: 7 - for - 25
BOSTON COLLEGE LINES
Cotton - Dudek - Hutsko
Grando - Greco - Tortora
McPhee - Räsänen - Brown
Carreau - Booth - Walker
Jes. Mattila - Moore
Karow - Fitzgerald
Kim - Lohan
Woll
Edquist
Milosz
UP NEXT
Boston College closes out its regular season as conference champions and will await its quarterfinal round opponent. The No. 1-seeded Eagles will host the Hockey East quarterfinal round at Kelley Rink on Friday and Saturday, March 9-10. There will be a deciding Game 3 on Sunday, March 11 if necessary.