Tuesday, November 7, 2017
Boston College Edges Past UConn, 2-1
Sophomore goaltender Ryan Edquist stops 27 shots for Eagles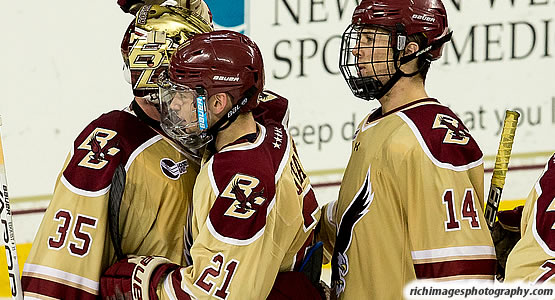 Sophomore goaltender Ryan Edquist made 27 saves for the Eagles
| | | | | | | |
| --- | --- | --- | --- | --- | --- | --- |
| Prd | Time | Team | Score | Type | Scored By | Assists |
| 2nd | 5:01 | CON | 1-0 | PP | Jeff Wight (3) | Karl El-Mir/5, Adam Huska/1 |
| 2nd | 10:10 | BC | 1-1 | SH | Julius Mattila (1) | Logan Hutsko/5 |
| 2nd | 16:34 | BC | 2-1 | PP GW | Michael Kim (1) | JD Dudek/3, Graham McPhee/4 |
| | | | | |
| --- | --- | --- | --- | --- |
| Scoring | 1st | 2nd | 3rd | Final |
| UConn | 0 | 1 | 0 | 1 |
| Boston College | 0 | 2 | 0 | 2 |
| | | | | |
| --- | --- | --- | --- | --- |
| Shots on Goal | 1st | 2nd | 3rd | SOG |
| UConn | 9 | 8 | 11 | 28 |
| Boston College | 12 | 17 | 7 | 36 |
| | | | |
| --- | --- | --- | --- |
| Team Stats and Records | PP | PIM | SHGF |
| UConn (3-7-1) | 1/6 | 5/10 | 0 |
| Boston College (4-5-1) | 1/5 | 6/12 | 1 |
| | | | | | | |
| --- | --- | --- | --- | --- | --- | --- |
| UConn Goaltending | MIN | GA | 1 | 2 | 3 | Saves |
| Adam Huska (L, 3-7-1) | 58:19 | 2 | 12 | 15 | 7 | 34 |
| Empty Net | 1:41 | 0 | | | | |
| | | | | | | |
| --- | --- | --- | --- | --- | --- | --- |
| Boston College Goaltending | MIN | GA | 1 | 2 | 3 | Saves |
| Ryan Edquist (W, 1-1-0) | 59:33 | 1 | 9 | 7 | 11 | 27 |
| Empty Net | 0:27 | 0 | | | | |
CHESTNUT HILL, Mass. - Boston College utilized its special teams units to rack up its third-straight victory as the Eagles skated to a 2-1 triumph over Connecticut on Tuesday night at Kelley Rink.
Both sophomore Julius Mattila and junior captain Michael Kim tallied their first goals of the season. Mattila's marker was the Eagles' first short-handed tally of the season while Kim notched his second-career power play goal.
Sophomore backstopper Ryan Edquist earned his second start of the season and turned away 27 shots to win his first outing of 2017-18.
SCORE
Connecticut - 1 / Boston College - 2
LOCATION
Kelley Rink at Conte Forum / Chestnut Hill, Mass.
RECORDS
Connecticut (3-7-1 / 2-4-1) / Boston College - (4-5-1 / 4-1-0)
BC HIGHLIGHTS & GAME NOTES
- Boston College strung together its first three-game winning streak since last season and is now currently alone in first place in the Hockey East standings with eight points.
- Julius Mattila scored his first goal of the season and did so while on the penalty kill. The Finnish product notched the Eagles' first short-handed goal of the season and it stands as his second-career short-handed goal. Mattila's first-career short-handed goal occurred against Vermont on March 10, 2017.
- Freshman Logan Hutsko made the play on the short-handed goal, doling out his team-leading fifth assist of the season.
- Captain Michael Kim also scored his first goal of the season, finding the back of the net late in the second period. The Toronto, Ontario native has now accounted for two-career power play goals, netting one last season. Kim's first-career power play goal occurred on Dec. 30, 2016 against Ferris State in Pittsburgh. Kim's goal also stood as the game-winning goal, marking the captain's second-career game-winner and first since the one he scored at Northeastern with 22.9 seconds left on Nov. 29, 2016.
- Sophomore goaltender Ryan Edquist picked up his first win of the season and fifth of his career. Tonight marked the second start for the Lakeville, Minn. native and third showing of the season. Edquist finished with 27 saves.
- In four outings against UConn, every outing has been decided by a goal or less. BC is 3-0-1 at home against the Huskies and 5-1-1- all-time in the series history.
- Sophomore Graham McPhee and junior JD Dudek recorded their fourth and third assists of the season, respectively.
GOAL DESCRIPTIONS
FIRST GOAL (1-0 - Connecticut) SECOND PERIOD - Jeff Wight - 5:01 - POWER PLAY
• Jacob Tortora was cited for hooking at 3:08 of the second stanza and UConn's Jeff Wight cashed in with seven seconds remaining on the power play. The Huskies' netminder Adam Huska made a stop in UConn's end and Karl El-Mir swooped in and picked up the pass from Huska. El-Amir glided through the neutral zone, skated behind BC netminder Ryan Edquist and connected with Wight in between the circles. Wight let a shoot loose and beat Edquist through traffic at 5:01 for the 1-0 Connecticut advantage.
SECOND GOAL (1-1 - Boston College) SECOND PERIOD - Julius Mattila - 10:10 - SHORT HANDED
• The Eagles took another penalty at 9:24 but heavy pressure yielded an equalizing goal short handed at 10:10. Huska played the puck out and made an errant backhanded pass into the corner. Logan Hutsko chased it down, paddled it out to Julius Mattila who was streaking down the middle and the sophomore easily maneuvered the puck past Huska to tie it up, 1-1, on the penalty kill.
THIRD GOAL (2-1 - Boston College) SECOND PERIOD - Michael Kim - 16:34 - POWER PLAY
• The Eagles' special teams play continued late in the second when Michael Kim took advantage of a Benjamin Freeman hooking call at 15:41. Sophomore Graham McPhee generated the play, skating it deep into UConn's zone. McPhee slid up to junior JD Dudek atop the zone while Kim freed himself with the extra territory. Dudek connected up top and Kim corralled it, skated it to the right and unleashed a vicious slapshot past Huska at 16:34 on the power play to give the Eagles their first lead of the night, 2-1.
BOSTON COLLEGE GAME LEADERS
Points: Julius Mattila (1 - 0 - 1) / Michael Kim (1 - 0 - 1) / Logan Hutsko (0 - 1 - 1) / JD Dudek (0 - 1 - 1) / Graham McPhee (0 - 1 - 1)
Goals: Julius Mattila (1 - 0 - 1) / Michael Kim (1 - 0 - 1)
Assists: Logan Hutsko (0 - 1 - 1) / JD Dudek (0 - 1 - 1) / Graham McPhee (0 - 1 - 1)
Shots: Jesper Mattila ( 4 )
Faceoffs Won: Julius Mattila (10 - of - 7)
SPECIAL TEAMS
Connecticut: 1 - for - 6
Boston College: 1 - for - 5
PENALTIES
Connecticut: 5 - for - 10
Boston College: 6 - for - 12
BOSTON COLLEGE LINES
Cotton - Jul. Mattila - Tortora
Grando - Räsänen - Hutsko
McPhee - Brown - Dudek
Carreau - Greco - Walker
McInnis - Fitzgerald
Jes. Mattila - Lohan
Karow - Kim
Edquist
Milosz
UP NEXT
Boston College will hit the road for a pair at Vermont, looking for another sweep starting at Gutterson Fieldhouse on Friday and Saturday, Nov. 10-11. Both games on Friday and Saturday will drop at 7 p.m.