Curry Sends Boston University Past Boston College In Overtime, 4-3
Sophomore forward Patrick Curry scores at 15:40 of overtime for Terriers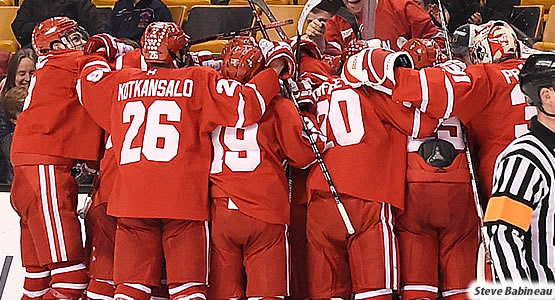 Sophomore forward Patrick Curry scored at 15:40 of overtime for the Terriers
| | | | | | | |
| --- | --- | --- | --- | --- | --- | --- |
| Prd | Time | Team | Score | Type | Scored By | Assists |
| 1st | 0:46 | BC | 1-0 | EV | Connor Moore (5) | Graham McPhee/11, Aapeli Räsänen/12 |
| 2nd | 3:26 | BC | 2-0 | EV | Julius Mattila (13) | David Cotton/19 |
| 2nd | 8:57 | BU | 1-2 | EV | Ty Amonte (6) | Hank Crone/10, Patrick Curry/6 |
| 2nd | 10:34 | BU | 2-2 | EV | David Farrance (2) | Chad Krys/19, Jordan Greenway/19 |
| 3rd | 14:41 | BC | 3-2 | EV | Christopher Brown (9) | JD Dudek/12, Graham McPhee/12 |
| 3rd | 15:26 | BU | 3-3 | EV | Drew Melanson (4) | Jordan Greenway/20, David Farrance/6 |
| OT | 15:40 | BU | 4-3 | EV GW | Patrick Curry (3) | Shane Bowers/15, Bobo Carpenter/13 |
| | | | | | |
| --- | --- | --- | --- | --- | --- |
| Scoring | 1st | 2nd | 3rd | OT | Final |
| Boston University | 0 | 2 | 1 | 1 | 4 |
| Boston College | 1 | 1 | 1 | 0 | 3 |
| | | | | | |
| --- | --- | --- | --- | --- | --- |
| Shots on Goal | 1st | 2nd | 3rd | OT | SOG |
| Boston University | 13 | 14 | 11 | 7 | 45 |
| Boston College | 5 | 7 | 13 | 14 | 39 |
| | | | |
| --- | --- | --- | --- |
| Team Stats and Records | PP | PIM | SHGF |
| Boston University (20-13-4) | 0/3 | 4/8 | 0 |
| Boston College (20-14-3) | 0/2 | 5/10 | 0 |
| | | | | | | | |
| --- | --- | --- | --- | --- | --- | --- | --- |
| Boston University Goaltending | MIN | GA | 1 | 2 | 3 | OT | Saves |
| Jake Oettinger (W, 19-12-4) | 75:40 | 3 | 4 | 6 | 12 | 14 | 36 |
| | | | | | | | |
| --- | --- | --- | --- | --- | --- | --- | --- |
| Boston College Goaltending | MIN | GA | 1 | 2 | 3 | OT | Saves |
| Joseph Woll (L, 17-11-2) | 75:40 | 4 | 13 | 12 | 10 | 6 | 41 |
BOSTON, Mass.- A goal by Patrick Curry at 15:40 of overtime lifted fourth-seeded Boston University to a 4-3 victory over top-seeded Boston College in the semifinal lidlifter of the 34th annual Hockey East Championship Friday at TD Garden.
DOWNLOAD POSTGAME PRESS PACK - INCLUDES GOAL DESCRIPTIONS AND POST-GAME QUOTES (PDF Format)
Jordan Greenway set up three goals and Jake Oettinger made 14 of his 36 saves in overtime, as BU (20-13-4) moves on to its 12th championship game and their first since 2015 when it won the last of its eight titles. The Terriers will play the winner of Friday's second semifinal between second-seeded Northeastern and third-seeded Providence Saturday at 7 p.m. (TV-NESN Plus; ESPN 3).
Curry's wrap-around goal, assisted by Shane Bowers and Bobo Carpenter with 4:20 left in the extra session, gave BU its first and only lead of the game as they battled back from a two-goal second period deficit and rallied from trailing 3-2 in the third to force overtime.
Boston University outshot BC, 45-39, for the contest, including by a wide 38-25 margin in regulation. BC goaltender Joseph Woll was solid in the net finishing with 41 saves, with 25 stops in the first two periods.
Just 46 seconds into the contest Connor Moore opened the scoring for Boston College on assists from Graham McPhee and Aapeli Rasanen to take a quick 1-0 lead that stood through the first 20 minutes. BC also started the second strong with Julius Matilla making it 2-0 just 3:16 into the stanza rapping home a nifty feed from David Cotton.
The Terriers pressure would pay off with a pair of goals less than two minutes apart midway through the period to tie it at 2-2. Ty Amonte got BU on the board at 8:57 cutting the deficit in half converting feeds from Patrick and Greenway. They tied it 1:37 later as Greenway, who missed six games in February, started an odd-man rush with Chad Krys, who fed Farrance trailing the play. Farrance blasted it past Woll from the high slot to make it 2-2.
A goal by BC's Christopher Brown, punching one home in a goal mouth scramble, gave the Eagles a brief 3-2 advantage in the third with assists going to Graham McPhee and J.D. Dudek. Drew Melanson answered for the Terriers 45 seconds later, set up by Jordan Greenway along with freshman David Farrance, to tie it at three apiece and set up overtime.
The Terriers went 0-for-3 on the power play and BC was 0-for-2. Boston College (19-14-4) is in line for an at large bid to the 2018 NCAA Men's Hockey Tournament with selections announced Sunday afternoon.