Massachusetts Falls To Arizona State, 5-3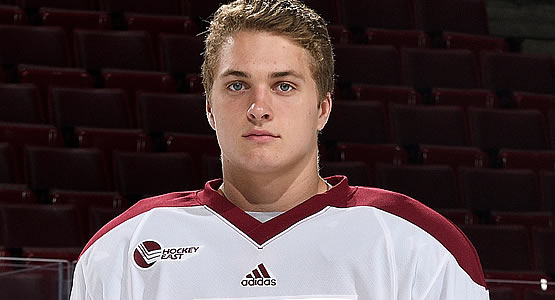 Freshman forward Mitchell Chaffee scored a goal for the Minutemen
| | | | | | | |
| --- | --- | --- | --- | --- | --- | --- |
| Prd | Time | Team | Score | Type | Scored By | Assists |
| 1st | 9:17 | ASU | 1-0 | EV | Jakob Stridsberg (1) | Louie Rowe/1, Brinson Pasichnuk/1 |
| 1st | 13:49 | UMA | 1-1 | EV | Mitchell Chaffee (1) | Cale Makar/1, Mario Ferraro/1 |
| 2nd | 18:15 | ASU | 2-1 | PP | Brinson Pasichnuk (1) | Jakob Stridsberg/1, Brett Gruber/1 |
| 2nd | 19:38 | ASU | 3-1 | EV | Louie Rowe (1) | Dylan Hollman/1, Anthony Croston/1 |
| 3rd | 13:57 | ASU | 4-1 | EV GW | Joey Raats (1) | Dylan Hollman/2, Louie Rowe/2 |
| 3rd | 15:38 | UMA | 2-4 | EV | Marco Bozzo (1) | John Leonard/1, Kurt Keats/1 |
| 3rd | 17:37 | UMA | 3-4 | EV | Jake McLaughlin (1) | Austin Albrecht/1, Josh Couturier/1 |
| 3rd | 19:41.1 | ASU | 5-3 | EV EN | Dylan Hollman (1) | Louie Rowe/3, Anthony Croston/2 |
| | | | | |
| --- | --- | --- | --- | --- |
| Scoring | 1st | 2nd | 3rd | Final |
| Massachusetts | 1 | 0 | 2 | 3 |
| Arizona State | 1 | 2 | 2 | 5 |
| | | | | |
| --- | --- | --- | --- | --- |
| Shots on Goal | 1st | 2nd | 3rd | SOG |
| Massachusetts | 7 | 8 | 6 | 21 |
| Arizona State | 8 | 14 | 8 | 30 |
| | | | |
| --- | --- | --- | --- |
| Team Stats and Records | PP | PIM | SHGF |
| Massachusetts (0-1-0) | 0/5 | 9/18 | 0 |
| Arizona State (1-0-0) | 1/8 | 6/12 | 0 |
| | | | | | | |
| --- | --- | --- | --- | --- | --- | --- |
| Massachusetts Goaltending | MIN | GA | 1 | 2 | 3 | Saves |
| Ryan Wischow (L, 0-1-0) | 59:28 | 4 | 7 | 12 | 6 | 25 |
| Empty Net | 0:32 | 1 | | | | |
| | | | | | | |
| --- | --- | --- | --- | --- | --- | --- |
| Arizona State Goaltending | MIN | GA | 1 | 2 | 3 | Saves |
| Joey Daccord (W, 1-0-0) | 59:42 | 3 | 6 | 8 | 4 | 18 |
| Empty Net | 0:18 | 0 | | | | |
TEMPE, ARIZ. - University of Massachusetts hockey trimmed a three-goal deficit to one late in the contest, but the third period comeback fell just short for the Minutemen in the squad's 5-3 loss to Arizona State in the teams' season opener. A pair of second period goals for the Sun Devils (1-0-0) helped lift ASU past UMass (0-1-0) on Friday night at Oceanside Ice Arena.
Arizona State took a 1-0 lead midway through the first period when Louie Rowe set up Jakob Stridsberg with a cross-ice pass that he tucked under the crossbar at the 9:17 mark. The Minutemen would tie things up at 1-1 before the intermission, though. Freshman Cale Makar fed classmate Mitchell Chaffee at the near post and he tapped the puck past Joey Daccord at 13:49. A third freshman, Mario Ferraro, earned an assist, as well.
The teams remained level until late in the second when ASU managed to pocket two tallies in the final minute, 45 seconds of the frame. Seconds after the first penalty in a 5-on-3 situation expired, Brinson Pasichnuk regained the lead for the Sun Devils with a power-play goal 18:15 into the period. Louie Rowe then batted home a bouncing puck at the 19:38 mark to push the margin to 3-1 in favor of Arizona State.
ASU increased its lead to 4-1 at 13:57 in the third period when Dylan Hollman set up a Joey Raats one-timer from the left wing.
However, UMass battled back to close the gap to 4-3. Kurt Keats advanced the puck to freshman John Leonard who fed classmate Marco Bozzo for the quick wrister and the score at 15:38. Moments later, freshman Austin Albrecht curled towards the net and found sophomore Jake McLaughlin streaking up the slot to put the puck home at 17:37.
The Sun Devils cemented the win, though, with an empty net goal by Hollman 19:32 into the period.
Nine Minutemen combined for the squad's nine points-six were freshmen collecting their first collegiate points: Albrecht, Bozzo, Chaffee, Ferraro, Leonard and Makar. Redshirt sophomore Josh Couturier assisted on the squad's final tally for his first point in a UMass uniform.
Arizona State out-shot the Minutemen, 30-21 and went 1-for-6 on the power play, while UMass was 0-for-5. Sophomore Ryan Wischow (0-1-0) made 25 saves for the Minutemen in the contests.
The teams will return to action tomorrow night, Oct. 7, with game two of the weekend series set for 7:05 p.m. MST/10:05 p.m. ET