Smith Scores Twice As UMass Lowell Upends Vermont, 3-1
Junior forward C.J. Smith scores two goals for River Hawks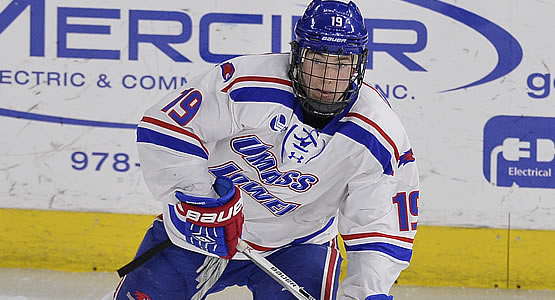 Junior forward C.J. Smith scored two goals for the River Hawks
| | | | | | | |
| --- | --- | --- | --- | --- | --- | --- |
| Prd | Time | Team | Score | Type | Scored By | Assists |
| 2nd | 8:47 | UML | 1-0 | PP | Jake Kamrass (4) | Dylan Zink/4, Ryan Lohin/4 |
| 2nd | 18:25 | UML | 2-0 | EV GW | C.J. Smith (6) | Joe Gambardella/8, John Edwardh/4 |
| 3rd | 12:56 | VER | 1-2 | PP | Mario Puskarich (1) | Ross Colton/2, Matt O'Donnell/3 |
| 3rd | 13:28 | UML | 3-1 | EV | C.J. Smith (7) | John Edwardh/5, Dylan Zink/5 |
| | | | | |
| --- | --- | --- | --- | --- |
| Scoring | 1st | 2nd | 3rd | Final |
| Vermont | 0 | 0 | 1 | 1 |
| UMass Lowell | 0 | 2 | 1 | 3 |
| | | | | |
| --- | --- | --- | --- | --- |
| Shots on Goal | 1st | 2nd | 3rd | SOG |
| Vermont | 10 | 8 | 8 | 26 |
| UMass Lowell | 6 | 12 | 6 | 24 |
| | | | |
| --- | --- | --- | --- |
| Team Stats and Records | PP | PIM | SHGF |
| Vermont (4-2-1) | 1/7 | 4/8 | 0 |
| UMass Lowell (5-2-2) | 1/4 | 7/14 | 0 |
| | | | | | | |
| --- | --- | --- | --- | --- | --- | --- |
| Vermont Goaltending | MIN | GA | 1 | 2 | 3 | Saves |
| Stefanos Lekkas (L, 3-1-1) | 57:56 | 3 | 6 | 10 | 5 | 21 |
| Empty Net | 2:04 | 0 | | | | |
| | | | | | | |
| --- | --- | --- | --- | --- | --- | --- |
| UMass Lowell Goaltending | MIN | GA | 1 | 2 | 3 | Saves |
| Tyler Wall (W, 5-1-1) | 60:00 | 1 | 10 | 8 | 7 | 25 |
LOWELL, Mass. -- Forward C.J. Smith (Des Moines, Iowa) turned in his third two-goal performance of the season as the UMass Lowell men's hockey team (5-2-2, 1-0-0 HEA) soared to a 3-1 victory against Vermont (4-2-1, 1-1-0) in Hockey East action Friday night at the Tsongas center in front of 5,251 fans.
"We are very excited to grab two points from a very good hockey team tonight," said Head Coach Norm Bazin. "I thought it was a very evenly played hockey game. I thought they had some better scoring opportunities in the first but we got better as the game went on especially having to kill five of the last seven penalties. Special teams were both even and it was a very tough hockey game."
Goalkeeper Tyler Wall (Leamington, Ont.) picked up his first career Hockey East Conference win after turning away 24 shots, as he improves to 5-1-1 on the year.
Smith notched the eventual game winner in the second period when his one timer gave UMass Lowell a lead they would fail to relinquish.
After 29 minutes of scoreless action, forward Jake Kamrass (Atlanta, Ga.) and the power play unit opened the scoring in the second frame. The special team's unit got the job done thanks to a Kamrass deflection off an initial slap shot from defenseman Dylan Zink (Madison, Wis.) to pick up their fourth and sixth points, respectively, on the year.
The River Hawks weren't done yet as Smith continued his offensive dominance with his first tally of the night at 18:25 in the second period to jump to a 2-0 lead. Forward's Joe Gambardella (Staten Island, N.Y.) and John Edward (Calgary, Alberta) were award the helper as the team's top line registered its 54 point (24g, 30a) in 15 games since being paired together in 2015.
The Catamounts made it a one score game, 2-1, on a power play as give Mario Puskarich give Vermont their lone score of the game.
Smith and Gambardella connected for a second time just 32 seconds after the Catamount tally, giving UMass Lowell a two-goal cushion with six minutes remaining in the final period.
Tonight's match marked the 47th meeting between the two squads in the sport of ice hockey as UMass Lowell extends its advantage in the all-time series to 24-16-7.
UMass Lowell returns to action on Saturday, Nov. 5 as the squad wraps up its two-game series against Vermont in a 7 p.m. tilt at the Tsongas Center.