UMass Lowell Falls To Omaha, 5-1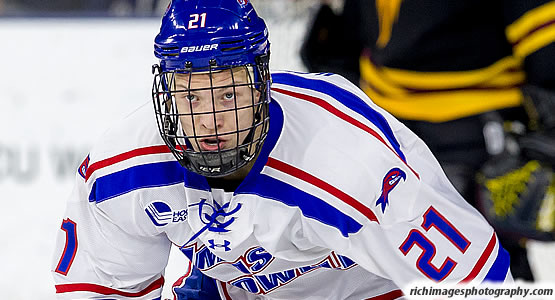 Junior forward Jake Kamrass scored a goal for the River Hawks
| | | | | | | |
| --- | --- | --- | --- | --- | --- | --- |
| Prd | Time | Team | Score | Type | Scored By | Assists |
| 1st | 7:13 | UNO | 1-0 | PP | Austin Ortega (4) | David Pope/3, Tyler Vesel/4 |
| 1st | 8:14 | UNO | 2-0 | PP GW | Justin Parizek (2) | Ian Brady/3, Mason Morelli/3 |
| 1st | 15:11 | UML | 1-2 | EV | Jake Kamrass (2) | Guillaume Leclerc/1, Nick Master/2 |
| 2nd | 1:00 | UNO | 3-1 | PP | Tyler Vesel (3) | David Pope/4, Austin Ortega/2 |
| 3rd | 10:58 | UNO | 4-1 | EV | Steven Spinner (1) | Fredrik Olofsson/2, Mason Morelli/4 |
| 3rd | 18:49 | UNO | 5-1 | SH | Tyler Vesel (4) | - |
| | | | | |
| --- | --- | --- | --- | --- |
| Scoring | 1st | 2nd | 3rd | Final |
| UMass Lowell | 1 | 0 | 0 | 1 |
| Omaha | 2 | 1 | 2 | 5 |
| | | | | |
| --- | --- | --- | --- | --- |
| Shots on Goal | 1st | 2nd | 3rd | SOG |
| UMass Lowell | 13 | 13 | 4 | 30 |
| Omaha | 5 | 14 | 11 | 30 |
| | | | |
| --- | --- | --- | --- |
| Team Stats and Records | PP | PIM | SHGF |
| UMass Lowell (3-2-2) | 0/5 | 7/14 | 0 |
| Omaha (3-1-1) | 3/7 | 5/10 | 1 |
| | | | | | | |
| --- | --- | --- | --- | --- | --- | --- |
| UMass Lowell Goaltending | MIN | GA | 1 | 2 | 3 | Saves |
| Sean Cleary (L, 0-1-0) | 59:55 | 5 | 3 | 13 | 9 | 25 |
| Empty Net | 0:05 | 0 | | | | |
| | | | | | | |
| --- | --- | --- | --- | --- | --- | --- |
| Omaha Goaltending | MIN | GA | 1 | 2 | 3 | Saves |
| Evan Weninger (W, 2-0-1) | 59:56 | 1 | 12 | 13 | 4 | 29 |
| Empty Net | 0:04 | 0 | | | | |
OMAHA, Nebraska - The No. 5 ranked UMass Lowell Hockey team fell at NCHC foe Nebraska-Omaha, 5-1, on Friday night at Baxter Arena in non-conference action.
With the defeat, the River Hawks are now 3-2-2 overall on the year, while the Mavericks improve their record to 3-1-1 overall.
In the first period, the Mavericks took a two-goal lead out of the gate on pair of power play goals by Austin Ortega (7:13) and Justin Parizek (8:14). Junior forward Jake Kamrass (Atlanta, Ga.) got the River Hawks on the board with 4:39 left in the opening frame for his second goal of the year to make it a 2-1 game. UMass Lowell outshot the Mavericks, 13-5, in the first period.
Omaha's Tyler Vesel made it a 3-1 game in favor of the Mavericks with a power play goal just one minute into the second frame. Omaha outshot the River Hawks, 14-13, in the middle stanza.
Steven Spinner added a fourth goal for Omaha at 10:58 of the third and Vesel added his second of the game, which was a shorthanded tally with just 1:11 remaining in the final frame to seal the win for the Mavericks.
Sophomore Sean Cleary (Centerville, Mass.) notched his first career start for the River Hawks, making 25 stops in the losing effort, which included 13 saves in the second period. Omaha goalie Evan Weninger stopped 29 shots in his third win of the season. Both teams finished the night with 30 shots on goal.
The River Hawks return to action for the series finale at Omaha on Saturday, October 29th. Game time from Baxter Arena is 8:07pm (ET).