Notre Dame, New Hampshire Skate To 2-2 Tie
Sophomore forward Joe Wegwerth scores game-tying goal for Fighting Irish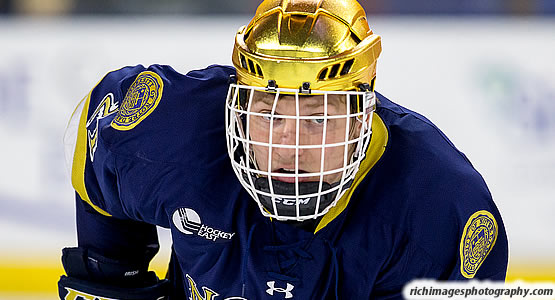 Sophomore forward Joe Wegwerth scored the game-tying goal for the Fighting Irish
| | | | | | | |
| --- | --- | --- | --- | --- | --- | --- |
| Prd | Time | Team | Score | Type | Scored By | Assists |
| 1st | 4:05 | NDM | 1-0 | EV | Andrew Oglevie (12) | Jake Evans/15 |
| 1st | 10:33 | UNH | 1-1 | EV | Jason Salvaggio (15) | Tyler Kelleher/27 |
| 2nd | 4:51 | UNH | 2-1 | PP | Patrick Grasso (15) | Jason Salvaggio/9, Michael McNicholas/15 |
| 3rd | 9:24 | NDM | 2-2 | EV GT | Joe Wegwerth (6) | Jack Jenkins/3, Cal Burke/5 |
| | | | | | |
| --- | --- | --- | --- | --- | --- |
| Scoring | 1st | 2nd | 3rd | OT | Final |
| New Hampshire | 1 | 1 | 0 | 0 | 2 |
| Notre Dame | 1 | 0 | 1 | 0 | 2 |
| | | | | | |
| --- | --- | --- | --- | --- | --- |
| Shots on Goal | 1st | 2nd | 3rd | OT | SOG |
| New Hampshire | 12 | 7 | 9 | 0 | 28 |
| Notre Dame | 16 | 16 | 14 | 3 | 49 |
| | | | |
| --- | --- | --- | --- |
| Team Stats and Records | PP | PIM | SHGF |
| New Hampshire (11-8-4) | 1/3 | 4/8 | 0 |
| Notre Dame (13-8-3) | 0/3 | 4/8 | 0 |
| | | | | | | | |
| --- | --- | --- | --- | --- | --- | --- | --- |
| New Hampshire Goaltending | MIN | GA | 1 | 2 | 3 | OT | Saves |
| Daniel Tirone (T, 11-6-4) | 64:55 | 2 | 15 | 16 | 13 | 3 | 47 |
| Empty Net | 0:05 | 0 | | | | | |
| | | | | | | | |
| --- | --- | --- | --- | --- | --- | --- | --- |
| Notre Dame Goaltending | MIN | GA | 1 | 2 | 3 | OT | Saves |
| Cal Petersen (T, 13-8-3) | 64:49 | 2 | 11 | 6 | 9 | 0 | 26 |
| Empty Net | 0:11 | 0 | | | | | |
NOTRE DAME, Ind. -- Joe Wegwerth scored the game-tying goal midway through the third period to help lead the Irish to a 2-2 overtime tie with New Hampshire on Friday enight at the Compton Family Ice Arena (4,504).
Andrew Oglevie tallied his 12th goal of the season early in the first period to give Notre Dame a 1-0 lead but New Hampshire eventually took a 2-1 lead on a second period power-play goal.
The Irish (13-8-3, 6-4-2 HEA) forced New Hampshire (11-8-4, 6-2-3 HEA) goaltender Danny Tirone to make 47 saves on the night.
HOW IT HAPPENED
Notre Dame took a 1-0 lead on Oglevie's 12th goal of the season, scored at 4:05 of the first period. He collected a pass in the slot from Jake Evans and beat Tirone low.
But New Hampshire answered when Jason Salvaggio converted on a breakaway attempt at 10:33, with Tyler Kelleher earning an assist on the play.
New Hampshire took a 2-1 lead at 4:51 of the second when Patrick Grasso scored his 15th goal of the year while the Wildcats were on the power play.
The Irish could not get another one past Tirone in the second and the junior netminder went on to make 16 saves in the period.
Just over seven minutes into the third period, Evans was sent in on a partial breakaway but could not get a clean shot off as he was hauled down from behind.
Tirone battled Jack Jenkins on front to keep the puck out of the UNH net on the ensuing power play. But Jenkins stuck with the play after the power play chance expired and eventually setup Wegwerth on the doorstep. Wegwerth then scored from a tight angle for his sixth goal of the season.
Just after Wegwerth's tying goal, Cal Petersen came up with a big save on a Kelleher bid down low, helping to eventually preserver the tie. Petersen finished with 26 saves on the night.
In overtime, the Irish did not allow a shot on goal but put three more chances on net that Tirone turned aside.
On special teams, Notre Dame was 0-for-3, while the Warriors were 1-for-3.
COACH JACKSON'S THOUGHTS
On the game ...
"I thought we played pretty well. It's always hard, you always want to win but there's those games where you feel like you played well and didn't complete the job. It was good that we came back and tied it. It was a frustrating tie."
On New Hampshire ...
"You've gotta give them credit too. They play a very patient game. They wait for you to make mistakes and then they have the guys that can capitalize and that's their game. I thought that there was a period there that we got into a little bit of a lull and the positive thing is that we picked it back up and that's all I can ask for ... they do a good job of sealing the wall and if you try to make a pass through it they pick it off and then they transition from it. I think that's the one area that I thought we turned over way too many pucks and normally I'm complaining about pucks at the offensive blue line but this is more from the cycle in the offensive zone."
On Jack Jenkins ...
"I like him and Cal Burke together because they both play with a high energy level and we tried Felix, who had been sick for a long period of time with mono, back in the lineup with those two guys and I thought he played well with them. He's a very smart player and Jack and Cal both are high energy guys. Jack was really good tonight. I thought he did a good job on the penalty kill and moving him onto the power play. He did a good job there with Cal and Joe scoring that big goal to tie the game. He's back playing the middle he's probably happy about that too."
On the plans for tomorrow's game...
"Frankly, I thought we played pretty well so I don't think there has to be a major overhaul. I think we have to do a little bit better in the O-zone with the puck at times and I think that for the most part we did a pretty good job defensively."
UP NEXT
The Irish and Wildcats close out their weekend series tomorrow night (Jan. 21) at the Compton Family Ice Arena. To purchase tickets visit UND.com/BuyTickets.
NOTRE DAME - NEW HAMPSHIRE GAME NOTES
- Junior goaltender Cal Petersen made his 74rd-consecutive start in the Notre Dame net, which ranks as the 10th-longest streak in the NCAA Div. I records book.
- Jordan Gross skated in his 103rd consecutive game, dating back to the first game of his freshman season.
- Anders Bjork became the fourth Notre Dame player to reach 100 career games played this season, joining Gross, Jake Evans and Luke Ripley.
- With a goal in the first period, Andrew Oglevie extended his point streak to four games (3-2-5).
- The Irish are now 3-0-1 in their last four meetings with New Hampshire.