Friday, November 18, 2016
Notre Dame Splits Weekend Series With 4-1 Win Over UMass Lowell
Sophomore defenseman Bobby Nardella has goal and two assists for Fighting Irish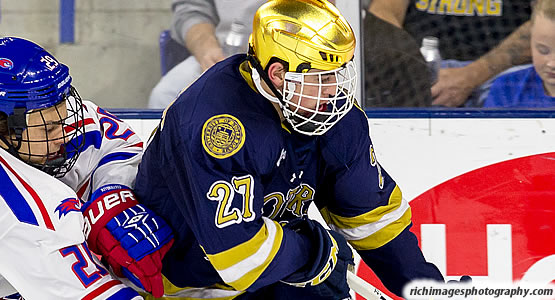 Sophomore defenseman Bobby Nardella has goal and two assists for Fighting Irish
| | | | | | | |
| --- | --- | --- | --- | --- | --- | --- |
| Prd | Time | Team | Score | Type | Scored By | Assists |
| 2nd | 3:33 | NDM | 1-0 | EV | Anders Bjork (8) | Bobby Nardella/5, Connor Hurley/9 |
| 2nd | 10:24 | UML | 1-1 | EV | Kenny Hausinger (2) | Jake Kamrass/4, Nick Master/4 |
| 2nd | 13:16 | NDM | 2-1 | EV GW | Andrew Peeke (2) | Bobby Nardella/6, Anders Bjork/12 |
| 2nd | 16:52 | NDM | 3-1 | EV | Bobby Nardella (3) | Jack Jenkins/1, Cal Burke/2 |
| 3rd | 8:22 | NDM | 4-1 | EV | Dawson Cook (1) | Andrew Peeke/2, Cal Burke/3 |
| | | | | |
| --- | --- | --- | --- | --- |
| Scoring | 1st | 2nd | 3rd | Final |
| UMass Lowell | 0 | 1 | 0 | 1 |
| Notre Dame | 0 | 3 | 1 | 4 |
| | | | | |
| --- | --- | --- | --- | --- |
| Shots on Goal | 1st | 2nd | 3rd | SOG |
| UMass Lowell | 6 | 7 | 9 | 22 |
| Notre Dame | 6 | 21 | 7 | 34 |
| | | | |
| --- | --- | --- | --- |
| Team Stats and Records | PP | PIM | SHGF |
| UMass Lowell (8-4-2) | 0/6 | 4/8 | 0 |
| Notre Dame (6-4-2) | 0/4 | 7/25 | 0 |
| | | | | | | |
| --- | --- | --- | --- | --- | --- | --- |
| UMass Lowell Goaltending | MIN | GA | 1 | 2 | 3 | Saves |
| Tyler Wall (L, 8-3-1) | 48:22 | 4 | 6 | 18 | 1 | 25 |
| Christoffer Hernberg | 11:36 | 0 | 0 | 0 | 5 | 5 |
| Empty Net | 0:02 | 0 | | | | |
| | | | | | | |
| --- | --- | --- | --- | --- | --- | --- |
| Notre Dame Goaltending | MIN | GA | 1 | 2 | 3 | Saves |
| Cal Petersen (W, 6-4-2) | 60:00 | 1 | 6 | 6 | 9 | 21 |
NOTRE DAME, Ind. -- Anders Bjork, Andrew Peeke and Bobby Nardella each found the back of the net during a three-goal second period to lead No. 9 Notre Dame to a 4-1 win over No. 5/6 UMass Lowell on Friday night at the Compton Family Ice Arena (4,653).
Dawson Cook chipped in his first goal of the season to round out the Notre Dame (6-4-2, 3-2-1 HEA) scoring during the third period.
Nardella added two assists to go along with his goal in the second stanza, while Bjork and Peeke each finished with a goal and an assist on the night against UMass Lowell (8-4-2, 4-2-0 HEA).
HOW IT HAPPENED
After a scoreless first period that was highlighted by a Cal Petersen right pad save on Evan Campbell, Bjork gave the Irish a 1-0 lead at 3:33 of the second.
The River Hawks answered with Kenny Hausinger's second of the year, scored at 10:24.
Then in a span of just over three minutes, the the Irish responded with goals by Peeke (13:16) and Nardella (16:52) to take a 3-1 lead to the locker room after two periods of play.
Cook made it a 4-1 game with his first goal of the season at 8:22 of the third, sealing the win and also chasing Tyler Wall from the UMass Lowell goal.
Petersen stopped 21 of the 22 shots he faced on the night to earn the win, while Wall (25) and Chris Hernberg (5) combined for 30 saves.
The Irish were 0-for-4 on the power play, while UMass Lowell finished 0-for-6.
The win was Notre Dame's second in now 12 meetings with the River Hawks, each of which has occurred over the last four seasons.
COACH JACKSON'S THOUGHTS
On playing completely different than last night's 4-1 loss to UMass Lowell ...
"It was (completely different). I can't totally explain it. Yesterday, we took responsibility. Maybe we weren't as ready as we needed to be against a team of that caliber. Tonight it worked ...
all aspects of the play without the puck were not good yesterday, and today they were. We finished more checks, we blocked shots, and we made a bigger commitment to doing the things you have to do to win games, especially against really good teams."
On scoring first ...
"Scoring the first goal was huge, and our second goal was probably even more important. We showed that we weren't going to change the way we played just because they scored a goal (after we did). They're tough to score on. They're a very good defensive team. They don't give you a lot. They've got a lot of grizzled guys out there who are veterans and their system makes it hard to generate an offense. They're defense-first. We need to be a little more that way ourselves sometimes.
On owning the third period...
When our team is playing well, that's how we've always played. If we're using our speed, getting pucks in behind the defense, and putting pressure on them, eventually they wear down. Last night, we didn't put any pressure on their defense. We did a much better job of eventually wearing them down over three periods.
On not letting UMass behind them...
They started clearing that center out a little more as the game went on when they were behind, and it creates dilemmas. It creates a lot of speed underneath. The thing is, though, we did a pretty good job of not letting them get the puck to him. That's the whole key--you have to keep the pressure on deep in the zone, and then that player becomes a non-factor.
On Dawson Cook's goal...
"I was happy for Dawson Cook, though. I used him after special teams. Dawson plays center, but I used him at left wing after the power play. I was glad to see him score. I thought he had a good weekend. He's really been working hard. He's done a good job on face-offs. He's become a top-four penalty killer, which is good for him. He's earned more ice time, and he's taking advantage of it. I was glad to see him get rewarded for it."
Bobby Nardella
On the difference between last night and tonight...
"Last night wasn't the result we wanted. We really emphasized having that will to win--that combat mentality we've been talking about recently of blocking shots and sacrificing your body. That was really there tonight, and it wasn't last night."
On engaging the change in mentality within a 24-hour period...
"We got talked to by our coaches, and we watched film. Seeing what you're doing and learning from it is something we really like to do here. A lot of guys on our team take positives (things) from watching video. They realize what they need to do better. We spent some time doing that yesterday. We talked to our strength and conditioning coach who really gets us going, as well."
On the importance of getting the first goal tonight...
That's another thing we focused on tonight. One of our team's objectives is to score the first goal every night. Obviously, last night we let the first goal go, and we got down on ourselves. We've been talking about this to our coaches, and tonight starting strong was something that we needed to work on. We needed to be consistent, so that we don't fall back or get on our heels at all. We just needed to keep going.
On building enough momentum to control the game...
"In between the second and third periods, we were up 3-1 I think. We talked about not sitting back and letting them bring the pressure on us. We were playing good, hard, and fast, but we just wanted to keep that going. We wanted to keep the gas pedal on them instead of sitting back and letting it come to us."
On having a good connection with Anders Bjork tonight...
"He's one of the best players in the country right now. It's pretty easy to play with someone like him. He was there in the slot, and I just saw him. He's good at finding guys and getting open. He also has a really good shot."
NOTRE DAME SCORING
1-0 | Anders Bjork gave the Irish a 1-0 lead at 3:33 of the second period when he finished form in close after a feed from Bobby Nardella. Connor Hurley also assisted on the play, which was Bjork's eighth goal of the season.
2-1 | Andrew Peeke netted his second goal of the season at 13:16 of the second period to restore Notre Dame's lead when he let a wrist shot fly from the point. With Dawson Cook providing the screen in front, Wall was beaten high. Nardella and Bjork assisted on the play.
3-1 | Bobby Nardella cut in from point at far post and finished a feed from Jack Jenkins for his third goal of the season. Cal Burke had the second assist on the play.
4-1 | Cook then provided the game's final goal at 8:22 of the third. He blocked a shot at the defensive blue line and Burke picked it up and quickly move through the neutral zone. Burke then dropped the puck off to Peeke, who fired a shot on goal that was kicked out by Wall but Cook was there to score on the rebound, chasing Wall from the game.
UP NEXT
Notre Dame remains home to play host to the seventh installment of the Shillelagh Tournament on Friday, Nov. 25 and Saturday, Nov. 26.
In the opening round, Yale will play Clarkson (4:05 p.m.), followed by Notre Dame playing Holy Cross (7:35 p.m.). The winners (or advancing teams) of each game will play each other on Saturday, with Notre Dame remaining in the 7:35 p.m. time slot for the second night.
To purchase tickets visit UND.com/BuyTickets.
NOTRE DAME - UMASS LOWELL GAME TWO NOTES
- Junior goaltender Cal Petersen made his 62nd-consecutive start in the Notre Dame net.
- Jordan Gross skated in his 91st-consecutive game, dating back to the first game of his freshman season.
- Dating back to last Sunday's 0-0 tie with Northeastern, the Irish have a penalty kill streak of 14 straight.
- Andrew Peeke (1-1-2) and Cal Burke (0-2-2) posted their first career multi-point games.
- Bobby Nardella (1-2-3) tied his career high with three points and notched his second multi-point game of the season (seventh of his career).
- With a goal and an assist, Anders Bjork notched his sixth multi-point game of the season (18th of his career).