Notre Dame Earns 5-1 Win Over USA Under-18 Team
Junior defenseman Jordan Gross and sophomore forward Jack Jenkins each score two goals for Fighting Irish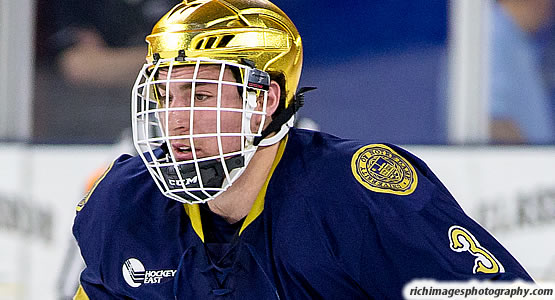 Junior defenseman Jordan Gross scored two goals for the Fighting Irish
| | | | | | | |
| --- | --- | --- | --- | --- | --- | --- |
| Prd | Time | Team | Score | Type | Scored By | Assists |
| 1st | 5:50 | NDM | 1-0 | EV | Jordan Gross | Bo Brauer, Mike O'Leary |
| 1st | 9:42 | NDM | 2-0 | PP GW | Dylan Malmquist | Joe Wegwerth, Andrew Peeke |
| 1st | 18:15 | NDM | 3-0 | PP | Jordan Gross | Anders Bjork, Andrew Oglevie |
| 2nd | 19:13 | U18 | 1-3 | EV | Logan Cockerill | Evan Baratt, Jacob Tortora |
| 2nd | 19:31 | NDM | 4-1 | EV | Jack Jenkins | Dylan Malmquist, Cal Burke |
| 3rd | 13:01 | NDM | 5-1 | PP | Jack Jenkins | Tory Dello, Anders Bjork |
| | | | | |
| --- | --- | --- | --- | --- |
| Scoring | 1st | 2nd | 3rd | Final |
| USA Under-18 Team | 0 | 1 | 0 | 1 |
| Notre Dame | 3 | 1 | 1 | 5 |
| | | | | |
| --- | --- | --- | --- | --- |
| Shots on Goal | 1st | 2nd | 3rd | SOG |
| USA Under-18 Team | 8 | 10 | 3 | 21 |
| Notre Dame | 14 | 5 | 18 | 37 |
| | | | |
| --- | --- | --- | --- |
| Team Stats and Records | PP | PIM | SHGF |
| USA Under-18 Team | 0/8 | 9/18 | 0 |
| Notre Dame | 3/9 | 8/16 | 0 |
| | | | | | | |
| --- | --- | --- | --- | --- | --- | --- |
| USA Under-18 Team Goaltending | MIN | GA | 1 | 2 | 3 | Saves |
| Adam Scheel (L) | 59:58 | 5 | 11 | 4 | 17 | 32 |
| Empty Net | 0:02 | 0 | | | | |
| | | | | | | |
| --- | --- | --- | --- | --- | --- | --- |
| Notre Dame Goaltending | MIN | GA | 1 | 2 | 3 | Saves |
| Cal Petersen (W) | 59:45 | 1 | 8 | 9 | 3 | 20 |
| Empty Net | 0:15 | 0 | | | | |
NOTRE DAME, Ind. -- The ninth-ranked University of Notre Dame hockey team built a 3-0 first period lead and went on to post a 5-1 win over the U.S. National Team Development Program (U18) in exhibition action on Sunday night at the Compton Family Ice Arena.
Notre Dame's 3-0 lead came on two goals by Jordan Gross and a Dylan Malmquist tally. Gross' second goal as well as Malmquist's came on the power play.
Logan Cockerill scored for Team USA at 19:13 of the second, but Jack Jenkins answered with a goal just 18 seconds later to make it a 4-1 game after two periods of play.
Jenkins went on to close the scoring at 13:01 of the third period when he notched his second of the night, which also came on the power play.
Cal Petersen finished with 20 saves on the night, while Adam Scheel made 32 saves in the Team USA net.
KEY TO VICTORY: SPECIAL TEAMS
Jordan Gross, Dylan Malmquist and Jack Jenkins each scored a power-play goal in the victory as Notre Dame finished 3-for-9 with the man advantage. The Irish penalty kill unit was even more impressive, holding Team USA to a 0-for-8 mark while on the power play.
FIRST STAR
Jordan Gross's two first period goals helped lead the Irish to the win. The high-scoring defenseman had seven shots on goal to lead the team and he finished with a +1 rating for the game.
STAT OF THE NIGHT
Eleven Notre Dame players notched at least one point in the game, while Gross (two goals), Jenkins (two goals) Malmquist (one goal and one assist) and Anders Bjork (two assists) each had multi-point nights.
NOTES OF THE NIGHT
- Notre Dame Associate Coach Andy Slaggert's son, Graham, played for Team USA.
- The Irish are now 4-2-1 all time against the USNTDP (18).
- Notre Dame Head Coach Jeff Jackson helped create the U.S. National Team Development program and served as the USNTDP's first head coach (1996-2000).
UP NEXT
The Irish open the regular season next weekend with a home series versus Arizona State (Oct. 7-8).