Maine And St. Francis Xavier Skate to 3-3 Tie
Senior defenseman Eric Schurhamer posts two assists for Black Bears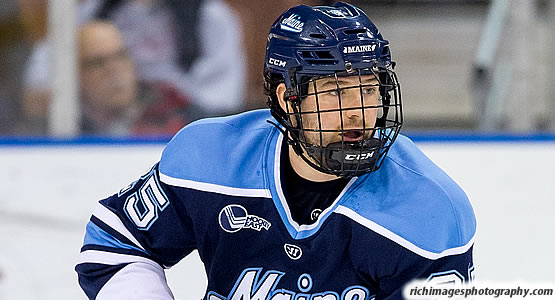 Senior defenseman Eric Schurhamer had two assists for the Black Bears
| | | | | | | |
| --- | --- | --- | --- | --- | --- | --- |
| Prd | Time | Team | Score | Type | Scored By | Assists |
| 1st | 0:58 | MNE | 1-0 | EV | Nolan Vesey | Chase Pearson |
| 1st | 3:15 | MNE | 2-0 | EV | Jake Pappalardo | Eric Schurhamer |
| 1st | 14:33 | MNE | 3-0 | EV | Eric Schurhamer | Ryan Smith, Dane Gibson |
| 2nd | 3:32 | SFX | 1-3 | PP | Cole MacDonald | Bryson Cianfrone |
| 2nd | 9:56 | SFX | 2-3 | PP | Jagger Dirk | Holden Cook, Michael Clarke |
| 2nd | 13:30 | SFX | 3-3 | EV | Nathan Pancel | Mitchell Wheaton, Mark Needham |
| 2nd | 16:19 | SFX | 4-3 | PP | Eric Locke | - |
| 3rd | 0:23 | SFX | 5-3 | SH | Mark Tremaine | - |
| 3rd | 1:24 | MNE | 4-5 | PP | Blaine Byron | - |
| 3rd | 19:12 | SFX | 6-4 | EV EN GW | Sam Studnicka | Eric Locke, Cole MacDonald |
| 3rd | 19:40 | MNE | 5-6 | EV EA | Chase Pearson | - |
| | | | | |
| --- | --- | --- | --- | --- |
| Scoring | 1st | 2nd | 3rd | Final |
| St. Francis Xavier | 0 | 4 | 2 | 6 |
| Maine | 3 | 0 | 2 | 5 |
| | | | | |
| --- | --- | --- | --- | --- |
| Shots on Goal | 1st | 2nd | 3rd | SOG |
| St. Francis Xavier | 10 | 19 | 7 | 36 |
| Maine | 15 | 7 | 10 | 32 |
| | | | |
| --- | --- | --- | --- |
| Team Stats and Records | PP | PIM | SHGF |
| St. Francis Xavier | 3/10 | 7/14 | 1 |
| Maine | 1/7 | 9/21 | 0 |
| | | | | | | |
| --- | --- | --- | --- | --- | --- | --- |
| St. Francis Xavier Goaltending | MIN | GA | 1 | 2 | 3 | Saves |
| Brandon Hope (W) | 59:52 | 5 | 12 | 7 | 8 | 27 |
| Empty Net | 0:08 | 0 | | | | |
| | | | | | | |
| --- | --- | --- | --- | --- | --- | --- |
| Maine Goaltending | MIN | GA | 1 | 2 | 3 | Saves |
| Rob McGovern | 30:27 | 2 | 10 | 8 | 0 | 18 |
| Matt Morris (L) | 28:08 | 3 | 0 | 7 | 5 | 12 |
| Empty Net | 1:25 | 1 | | | | |
Orono, Maine -- The University of Maine men's ice hockey team jumped out to a 3-0 first period lead during Sunday's exhibition against St. Francis Xavier. However, the Black Bears could not hold on as the X-Men netted four second period goals, coming back to defeat Maine 6-5.
Chase Pearson tallied two points with a goal and an assist in his first action as a Black Bear while six others added single points. Nolan Vesey, Jake Pappaiardo, Eric Schurhamer and Blaine Byron each scored for Maine.
Vesey gave the Black Bears the lead less than a minute into the game when Chase Pearson found him at the left face-off circle. Vesey's shot ricocheted in off a St. Francis Xavier defenseman directly in front of the net.
Maine took a 2-0 lead when Schurhamer found Pappalardo for the tally, 3:15 into the period. Schurhamer netted a goal of his own to make it 3-0,14:33 into the first period courtesy of assists from Ryan Smith and Dane Gibson.
The Black Bears outshot the X-Men 15-10 in the first period.
The second period belonged to St. Francis Xavier, as the X-Men outshot Maine 19-7 and tallied four goals, including three on the power play, from four different players; Cole MacDonald, Jagger Dirk, Nathan Pancel and Eric Locke - to take a 4-3 lead after two periods.
The X-Men took a 5-3 lead 23 seconds into the third period when Mark Tremaine broke in on a breakaway and notched a shorthanded goal.
Maine responded when Byron skated towards the net, falling to his knees before slipping a shot past X-Man goaltender Brandon Hope, bringing the Black Bears within one with 19-minutes left in the third period.
The Black Bears continued to pressure but could not get the equalizer and the X-Men added an empty net goal to take a 6-4 lead with 48 seconds remaining. Pearson gave the Black Bears life when he scored with 19 seconds left, but the X-Men held on for the win.
St. Francis Xavier outshot Maine 36-32 with Brandon Hope making 27 saves for the X-Men and Rob McGovern and Matt Morris combining for 30 saves for the Black Bears. St. Francis-Xavier went 3-for-8 on the power play while Maine was 1-for-6.
The Black Bears open the regular season on Friday at 7 p.m. against RPI in the Alfond Arena. For tickets, please visit GoBlackBears.com or call 207.581.BEAR.