Saturday, October 8, 2016
Maine Sweeps Weekend With 4-2 Win Over Rensselaer
Sophomore goaltender Rob McGovern makes 39 saves for Black Bears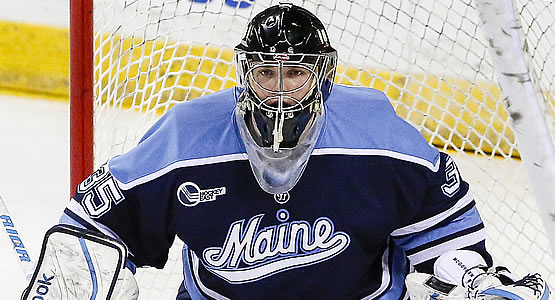 Sophomore goaltender Rob McGovern made 39 saves for the Black Bears
| | | | | | | |
| --- | --- | --- | --- | --- | --- | --- |
| Prd | Time | Team | Score | Type | Scored By | Assists |
| 1st | 5:35 | REN | 1-0 | SH | Riley Bourbonnais (1) | - |
| 1st | 15:29 | MNE | 1-1 | EV | Blaine Byron (1) | Cam Brown/1 |
| 2nd | 5:23 | REN | 2-1 | SH | Drew Melanson (1) | Jacob Hayhurst/1 |
| 3rd | 5:50 | MNE | 2-2 | EV EA DP | Daniel Perez (1) | Patrick Shea/1, Ryan Smith/2 |
| 3rd | 9:31 | MNE | 3-2 | EV GW | Mitchell Fossier (4) | Nolan Vesey/4 |
| 3rd | 19:52 | MNE | 4-2 | EV EN | Chase Pearson (2) | Cam Brown/2, Mark Hamilton/1 |
| | | | | |
| --- | --- | --- | --- | --- |
| Scoring | 1st | 2nd | 3rd | Final |
| Rensselaer | 1 | 1 | 0 | 2 |
| Maine | 1 | 0 | 3 | 4 |
| | | | | |
| --- | --- | --- | --- | --- |
| Shots on Goal | 1st | 2nd | 3rd | SOG |
| Rensselaer | 12 | 16 | 13 | 41 |
| Maine | 14 | 8 | 19 | 41 |
| | | | |
| --- | --- | --- | --- |
| Team Stats and Records | PP | PIM | SHGF |
| Rensselaer (0-2-0) | 0/3 | 5/13 | 2 |
| Maine (2-0-0) | 0/4 | 4/8 | 0 |
| | | | | | | |
| --- | --- | --- | --- | --- | --- | --- |
| Rensselaer Goaltending | MIN | GA | 1 | 2 | 3 | Saves |
| Chase Perry (L, 0-2-0) | 58:40 | 3 | 13 | 8 | 16 | 37 |
| Empty Net | 1:20 | 1 | | | | |
| | | | | | | |
| --- | --- | --- | --- | --- | --- | --- |
| Maine Goaltending | MIN | GA | 1 | 2 | 3 | Saves |
| Rob McGovern (W, 2-0-0) | 59:59 | 2 | 11 | 15 | 13 | 39 |
| Empty Net | 0:01 | 0 | | | | |
ORONO, Maine - The University of Maine men's ice hockey team came back to defeat Rensselaer Polytechnic Institute by the score of 4-2 on Saturday evening at the Alfond Arena. Maine improves to 2-0-0 on the season while RPI falls to 0-2-0.
RPI got on the board first shorthanded when Riley Bourbonnais roofed the puck glove-side by McGovern 5:35 into the first period.
Maine tied it up 15:29 into the period when Cam Brown stole the puck behind the net and fed Blaine Byron who was skating hard to the left of RPI goalie Chase Perry and slipped it by him. The two teams went into intermission knotted at one with Maine goalie Rob McGovern making 11 saves and Perry notching 13.
RPI took the lead 5:23 into the second period when Drew Melanson intercepted a pass in the Maine zone and slipped it by McGovern as he went from right to left, giving the Engineers a 2-1 lead into the third period.
The Black Bears tied it up when Patrick Shea found Daniel Perez alone in front of the net and he slipped it by Perry's right pad 5:50 into the third period before freshman Mitchell Fossier gave Maine the lead for good when he got the puck in front of Perry and he buried it midway through the third.
Chase Pearson scored an empty net goal to finish the scoring for the Black Bears.
Maine and RPI each logged 41 shots with McGovern making 39 saves and Perry finishing with 37.
The Black Bears continue play on Friday when they host Quinnipiac at 7:30 p.m. in the Alfond Arena. Tickets are available at GoBlackBears.com or by calling 207.581.BEAR!