Fossier Hat Trick Helps Maine Top Rensselaer, 5-1
Freshman forward Mitchell Fossier scores hat trick for Black Bears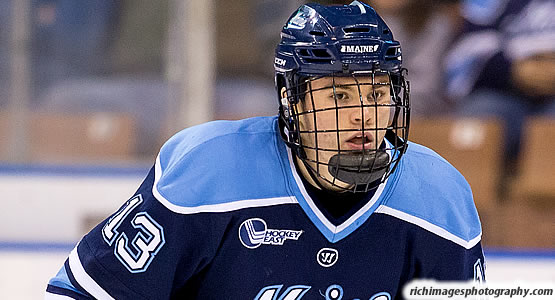 Junior forward Nolan Vesey registered three assists for the Black Bears
| | | | | | | |
| --- | --- | --- | --- | --- | --- | --- |
| Prd | Time | Team | Score | Type | Scored By | Assists |
| 1st | 6:06 | MNE | 1-0 | EV | Patrick Shea (1) | Ryan Smith/1 |
| 1st | 7:32 | MNE | 2-0 | EV GW | Mitchell Fossier (1) | Chase Pearson/1, Nolan Vesey/1 |
| 2nd | 7:30 | MNE | 3-0 | EV | Mitchell Fossier (2) | Eric Schurhamer/1, Blaine Byron/1 |
| 3rd | 2:02 | MNE | 4-0 | EV | Chase Pearson (1) | Nolan Vesey/2 |
| 3rd | 2:47 | REN | 1-4 | PP | Jared Wilson (1) | Jesper ÷hrvall/1, Evan Tironese/1 |
| 3rd | 14:45 | MNE | 5-1 | EV | Mitchell Fossier (3) | Nolan Vesey/3 |
| | | | | |
| --- | --- | --- | --- | --- |
| Scoring | 1st | 2nd | 3rd | Final |
| Rensselaer | 0 | 0 | 1 | 1 |
| Maine | 2 | 1 | 2 | 5 |
| | | | | |
| --- | --- | --- | --- | --- |
| Shots on Goal | 1st | 2nd | 3rd | SOG |
| Rensselaer | 8 | 15 | 7 | 30 |
| Maine | 16 | 7 | 13 | 36 |
| | | | |
| --- | --- | --- | --- |
| Team Stats and Records | PP | PIM | SHGF |
| Rensselaer (0-1-0) | 1/10 | 8/16 | 0 |
| Maine (1-0-0) | 0/7 | 11/22 | 0 |
| | | | | | | |
| --- | --- | --- | --- | --- | --- | --- |
| Rensselaer Goaltending | MIN | GA | 1 | 2 | 3 | Saves |
| Chase Perry (L, 0-1-0) | 59:40 | 5 | 14 | 6 | 11 | 31 |
| Empty Net | 0:20 | 0 | | | | |
| | | | | | | |
| --- | --- | --- | --- | --- | --- | --- |
| Maine Goaltending | MIN | GA | 1 | 2 | 3 | Saves |
| Rob McGovern (W, 1-0-0) | 59:57 | 1 | 8 | 15 | 6 | 29 |
| Empty Net | 0:03 | 0 | | | | |
ORONO, Maine - Mitchell Fossier notched a hat trick in his first collegiate game and Rob McGovern made 29 saves to lead the University of Maine men's ice hockey team to a 5-1 win over Rensselaer Polytechnic Institute in the season-opener for both teams on Friday night at the Alfond Arena.
Patrick Shea gave Maine the lead six minutes into the game when he came down the right side and ripped a low shot to the far-side to beat RPI goalie Chase Perry.
A little over a minute later, Mitchell Fossier gave Maine 2-0 lead when he came from behind the net, and dove to put back the rebound off a shot from Chase Pearson.
Rob McGovern kept it 2-0 Black Bears going into intermission when he stopped a RPI breakaway with seven minutes left in the period and made another save on a partial breakaway a minute later.
Maine outshot RPI 16-8 in the first stanza.
Fossier scored his second goal of the night on a 4-on-4 as he broke in off a faceoff to the left of the goalie and wristed a shot stick side 7:30 into the second period off a feed from Blaine Byron.
McGovern stopped all 15 shots he faced in the second period while the Black Bears took seven shots.
Pearson gave Maine a 4-0 lead when the Black Bears broke out on a 4-on-1 and he received a pass from Nolan Vesey and beat the goalie near-side as he was sliding over.
The Engineers got on the board when Jared Wilson rifled a shot over the glove of McGovern on the power play, however, Fossier completed the hat trick when he beat Perry courtesy of an assist from Nolan Vesey with just over five minutes remaining in the contest.
Maine outshot RPI 36-30 with Perry making 24 saves for RPI.
Maine and RPI play again tomorrow at 7 p.m. in the Alfond Arena. Tickets are available at GoBlackBears.com or by calling 207.581.BEAR!