Fossier Sends Maine Past Quinnipiac In Overtime, 4-3
Freshman forward Mitchell Fossier has game-winning goal and two assist for Black Bears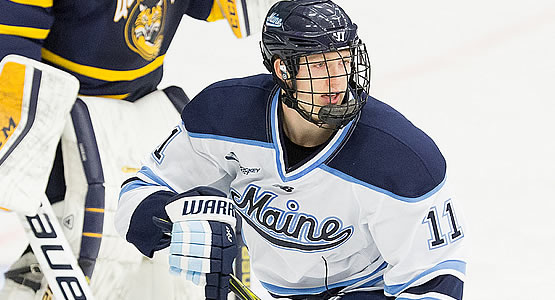 Freshman forward Mitchell Fossier had a goal and two assists for the Black Bears
| | | | | | | |
| --- | --- | --- | --- | --- | --- | --- |
| Prd | Time | Team | Score | Type | Scored By | Assists |
| 2nd | 12:09 | QUI | 1-0 | PP | Andrew Taverner (2) | Chase Priskie/1, Derek Smith/2 |
| 2nd | 13:15 | QUI | 2-0 | PP | Thomas Aldworth (1) | Andrew Taverner/1, Chase Priskie/2 |
| 3rd | 5:49 | MNE | 1-2 | PP | Nolan Vesey (1) | Eric Schurhamer/2, Mitchell Fossier/1 |
| 3rd | 11:31 | QUI | 3-1 | EV | Tanner MacMaster (1) | Connor Clifton/1, Landon Smith/2 |
| 3rd | 13:05 | MNE | 2-3 | EV | Eric Schurhamer (1) | Patrick Shea/2, Mitchell Fossier/2 |
| 3rd | 15:07 | MNE | 3-3 | EV | Patrick Shea (2) | Mark Hamilton/2, Rob Michel/1 |
| OT | 2:08 | MNE | 4-3 | PP GW | Mitchell Fossier (5) | Eric Schurhamer/3, Rob Michel/2 |
| | | | | | |
| --- | --- | --- | --- | --- | --- |
| Scoring | 1st | 2nd | 3rd | OT | Final |
| Quinnipiac | 0 | 2 | 1 | 0 | 3 |
| Maine | 0 | 0 | 3 | 1 | 4 |
| | | | | | |
| --- | --- | --- | --- | --- | --- |
| Shots on Goal | 1st | 2nd | 3rd | OT | SOG |
| Quinnipiac | 6 | 9 | 12 | 1 | 28 |
| Maine | 10 | 5 | 13 | 2 | 30 |
| | | | |
| --- | --- | --- | --- |
| Team Stats and Records | PP | PIM | SHGF |
| Quinnipiac (1-1-1) | 2/6 | 11/22 | 0 |
| Maine (3-0-0) | 2/10 | 8/16 | 0 |
| | | | | | | | |
| --- | --- | --- | --- | --- | --- | --- | --- |
| Quinnipiac Goaltending | MIN | GA | 1 | 2 | 3 | OT | Saves |
| Chris Truehl (L, 1-1-1) | 62:08 | 4 | 10 | 5 | 10 | 1 | 26 |
| | | | | | | | |
| --- | --- | --- | --- | --- | --- | --- | --- |
| Maine Goaltending | MIN | GA | 1 | 2 | 3 | OT | Saves |
| Rob McGovern (W, 3-0-0) | 62:08 | 3 | 6 | 7 | 11 | 1 | 25 |
ORONO, Maine - Mitch Fossier scored the game-winner 2:08 into overtime as the University of Maine men's ice hockey team defeated No. 3 Quinnipiac by the score of 4-3 on Friday night at the Alfond Arena. Maine is now 3-0-0 on the season while Quinnpiac falls to 1-1-1 on the year.
Maine, which battled back from a 3-1 deficit in the third period, was on the power play and Eric Schurhamer passed the puck across the ice to Fossier in the right faceoff circle. Fossier rifled it from the left faceoff dot and dinged it off the left post giving the Black Bears the victory.
The Bobcats capitalized on a 5-on-3 to take a 1-0 lead 12:09 into the second period when Andre Taverner fired a one-timer from right faceoff circle that McGovern got a piece of but went over his glove.
Moments later, on a Bobcats 5-on-4, Thomas Aidworth sniped a one-timer from the right faceoff circle over McGovern's glove.
Nolan Vesey cut the lead in half for Maine on the power play, when Schurhamer fed him the puck in front of the net and Vesey knocked in his own rebound 5:49 into the third period.
Quinnipiac took a 3-1 lead with 8:20 left when Tanner McMaster put home the rebound off a Connor Clifton shot.
The Black Bears rebounded, as Patrick Shea raced down the right side and fed a streaking Schurhamer in front of the net and he slid it beneath goalies left pad.
Shea knotted it up with 4:53 left when he went diving to the ice with a defenseman all over him and slid it by the goalie's left pad that ended up sending the game into overtime.
Maine outshot Quinnipiac 30-28 with McGovern notching 25 stops for the Black Bears and Chris Truehl making 26 saves for the Bobcats.
The teams finish the series tomorrow at 7 p.m. in the Alfond Arena. Tickets are available at GoBlackBears.com or by calling 207.581.BEAR!