Friday, February 24, 2017
Stevens Sends Northeastern Past Maine In Overtime, 5-4
Junior forward Nolan Stevens scores twelve seconds into overtime for Huskies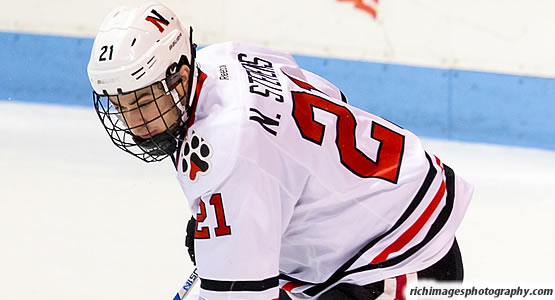 Junior forward Nolan Stevens scored twelve seconds into overtime for the Huskies
| | | | | | | |
| --- | --- | --- | --- | --- | --- | --- |
| Prd | Time | Team | Score | Type | Scored By | Assists |
| 1st | 3:34 | MNE | 1-0 | EV | Mark Hamilton (2) | Blaine Byron/19, Brendan Robbins/12 |
| 1st | 4:28 | MNE | 2-0 | EV | Brendan Robbins (6) | Cam Brown/32, Eric Schurhamer/9 |
| 1st | 14:22 | NOE | 1-2 | EV | Zach Aston-Reese (28) | Nolan Stevens/7, Ryan Shea/10 |
| 2nd | 15:19 | NOE | 2-2 | PP | Adam Gaudette (24) | Dylan Sikura/31, John Stevens/19 |
| 2nd | 16:11 | NOE | 3-2 | PP | Zach Aston-Reese (29) | John Stevens/20, Dylan Sikura/32 |
| 3rd | 0:47 | MNE | 3-3 | EV | Blaine Byron (17) | Brendan Robbins/13, Cam Brown/33 |
| 3rd | 1:18 | NOE | 4-3 | EV | Adam Gaudette (25) | Dylan Sikura/33, Sam Kurker/3 |
| 3rd | 10:53 | MNE | 4-4 | EV | Nolan Vesey (10) | Mark Hamilton/10 |
| OT | 0:12 | NOE | 5-4 | EV GW | Nolan Stevens (7) | Zach Aston-Reese/30, Garret Cockerill/23 |
| | | | | | |
| --- | --- | --- | --- | --- | --- |
| Scoring | 1st | 2nd | 3rd | OT | Final |
| Northeastern | 1 | 2 | 1 | 1 | 5 |
| Maine | 2 | 0 | 2 | 0 | 4 |
| | | | | | |
| --- | --- | --- | --- | --- | --- |
| Shots on Goal | 1st | 2nd | 3rd | OT | SOG |
| Northeastern | 14 | 10 | 10 | 1 | 35 |
| Maine | 5 | 8 | 10 | 0 | 23 |
| | | | |
| --- | --- | --- | --- |
| Team Stats and Records | PP | PIM | SHGF |
| Northeastern (16-12-5) | 2/2 | 3/6 | 0 |
| Maine (10-19-4) | 0/2 | 3/6 | 0 |
| | | | | | | | |
| --- | --- | --- | --- | --- | --- | --- | --- |
| Northeastern Goaltending | MIN | GA | 1 | 2 | 3 | OT | Saves |
| Ryan Ruck (W, 16-11-4) | 60:12 | 4 | 3 | 8 | 8 | 0 | 19 |
| | | | | | | | |
| --- | --- | --- | --- | --- | --- | --- | --- |
| Maine Goaltending | MIN | GA | 1 | 2 | 3 | OT | Saves |
| Rob McGovern (L, 9-14-3) | 60:12 | 5 | 13 | 8 | 9 | 0 | 30 |
The Maine Men's Hockey Program welcomed First Responders' to an exciting game that featured goals of plenty, hits, and even a power outage. Rob McGovern made the start for the Black Bears, while the Huskies countered with sophomore goaltender Ryan Ruck.
The first period saw the Black Bears jump out to an early lead as Mark Hamilton was able to rifle a puck passed Ruck on assists from Blaine Byron and Brendan Robbins 3:34 into the first period. That wouldn't be all, as just under a minute later, the Black Bears would capitalize on a quick counter by the Black Bears as Brendan Robbins was able to beat the Northeastern defense and park his 6th of the season on assists from Cam Brown and Eric Schurhamer. The Huskies would cut the lead in half at the 14:22 mark of the frame as Zach Aston-Reese was the benefactor of a bad bounce off McGovern's stick. Nolan Stevens and Ryan Shea would pick up assists on the play.
Second period saw Northeastern capitalize on both their powerplays. First Adam Gaudette would knot the score at 2, 15:19 into the period on assists from Dylan Sikura and John Stevens. Northeastern would take the lead 50 seconds later as Zach Aston-Reese would capitalize once again on the powerplay, on assists from John Stevens and Dylan Sikura. Goaltender Ryan Ruck would go 8 for 8 in the frame for stops and the Huskies led 3-2 heading into the 3rd period.
Maine would come out hot in the third period as Senior Blaine Byron would capitalize on the rush on assists from Cam Brown and Brendan Robbins. Thirty seconds later Northeastern would regain the lead, as Adam Gaudette was able to beat an outstretched McGovern, on assists from Dylan Sikura and Sam Kurker. With the Black Bears down 4-3 ten minutes into the frame, Nolan Vesey would find himself on a breakaway, outhustling the Northeastern defenseman before going forehand, backhand, shelf over a sprawling Ruck, knotting the game at 4. Both goalies would remain perfect through the rest of the frame, sending the game to overtime.
Just 12 seconds into overtime, Northeastern would capitalize on a tough bounce, with Nolan Stevens scoring on an assist from Zach Aston-Reese.
The Black Bears wrap up their regular season tomorrow night, as they honor the senior class. Tickets are available at GoBlackBears.com or by calling 207-581-BEAR.