New Hampshire Forces Game Three With 4-0 Win Over Merrimack
Junior goaltender Daniel Tirone makes 44 saves for Wildcats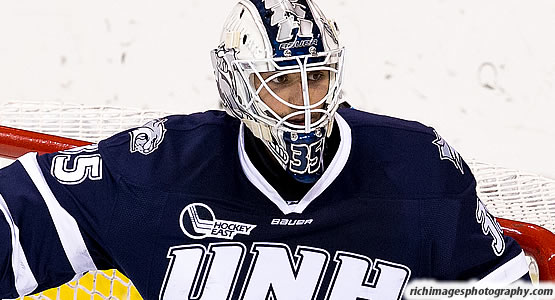 Junior goaltender Daniel Tirone made 44 saves for the Wildcats
| | | | | | | |
| --- | --- | --- | --- | --- | --- | --- |
| Prd | Time | Team | Score | Type | Scored By | Assists |
| 2nd | 14:43 | UNH | 1-0 | EV GW | Patrick Grasso (18) | Chris Miller/5 |
| 2nd | 17:34 | UNH | 2-0 | PP | Jason Salvaggio (22) | Brendan van Riemsdyk/10, Michael McNicholas/28 |
| 3rd | 18:48 | UNH | 3-0 | EV EN | Michael McNicholas (12) | Ara Nazarian/8, Tyler Kelleher/38 |
| 3rd | 19:22 | UNH | 4-0 | EV EN | Liam Blackburn (9) | Daniel Tirone/1 |
| | | | | |
| --- | --- | --- | --- | --- |
| Scoring | 1st | 2nd | 3rd | Final |
| New Hampshire | 0 | 2 | 2 | 4 |
| Merrimack | 0 | 0 | 0 | 0 |
| | | | | |
| --- | --- | --- | --- | --- |
| Shots on Goal | 1st | 2nd | 3rd | SOG |
| New Hampshire | 13 | 12 | 7 | 32 |
| Merrimack | 13 | 14 | 17 | 44 |
| | | | |
| --- | --- | --- | --- |
| Team Stats and Records | PP | PIM | SHGF |
| New Hampshire (13-18-5) | 1/3 | 3/6 | 0 |
| Merrimack (15-15-6) | 0/2 | 4/8 | 0 |
| | | | | | | |
| --- | --- | --- | --- | --- | --- | --- |
| New Hampshire Goaltending | MIN | GA | 1 | 2 | 3 | Saves |
| Daniel Tirone (W, 13-16-5) | 59:51 | 0 | 13 | 14 | 17 | 44 |
| Empty Net | 0:09 | 0 | | | | |
| | | | | | | |
| --- | --- | --- | --- | --- | --- | --- |
| Merrimack Goaltending | MIN | GA | 1 | 2 | 3 | Saves |
| Collin Delia (L, 9-7-3) | 59:21 | 2 | 13 | 10 | 5 | 28 |
| Empty Net | 0:39 | 2 | | | | |
NORTH ANDOVER, Mass. - A pair of second-period period tallies lifted visiting New Hampshire to a 4-0 victory over the Merrimack College men's ice hockey team on Saturday night at Lawler Rink. The result forces a decisive Game 3 in both schools' best-of-three Hockey East Tournament Opening Round Series, which will be played tomorrow night at 7 p.m.
The Basics
Score: New Hampshire 4, Merrimack 0
Records: Merrimack (15-15-6, 8-8-6 HEA) | New Hampshire (13-18-5, 7-11-4 HEA)
Location: Lawler Rink | North Andover, Mass.
Attendance: 2549
Game Duration: 2:10
Rapid Recap
- After going scoreless over more than half the contest, UNH scored a pair within a three-minute span late in the second period to carry a two-goal lead into the third period.
- Merrimack threw 17 shots on goal in the third period, but UNH goaltender Danny Tirone, one night after watching his counterpart turn in a clean sheet, earned his third shutout of the season, finishing with a 44-save performance to force a third and decisive Game 3. The Wildcats added a pair of empty-netters to seal it late in regulation.
Goal Summaries
- Patrick Grasso broke a scoreless tie at 14:43 of the second right off the faceoff; Chris Miller won the draw and in the ensuing scrum the puck bounced to Grasso in the slot, and his wrist shot found the back of the net for his 18th of the year to put the visitors in front.
- Less than three minutes later, Jason Salvaggio moved into a tie for his team's lead in goal-scoring after potting his 22nd at the 17:34 mark to push the Wildcats out to a 2-0 edge. While on the power play, Michael McNicholas worked the puck in deep from the right point and Brendan van Riemsdyk would retrieve it from behind the net, sending it toward the net blindly to Salvaggio, whose one-timer near the crease would sneak through.
- McNicholas and Liam Blackburn would each add empty-net tallies late in regulation, with the former's coming at 18:48 off assists from Ara Nazarian and Tyler Kelleher, while the latter's went unassisted.
Notes & Notables
- For the second year in a row, Merrimack and UNH will play a third and decisive Game 3 in their Hockey East Tournament Opening Round series. Last year, UNH won the opener, 3-1, before Merrimack rallied with a 3-2 double-overtime win in Game 2 and a 2-1 win in Game 3.
- Merrimack moved to 4-10 all-time in the postseason against UNH, with a 3-2 record in the opening round. The loss snapped a three-game playoff winning streak against UNH, as well.
- Merrimack also saw its all-time record in the opening round of the league tournament move to 5-3.
- The shutout loss was the first for Merrimack since a 1-0 loss against Cornell at home on Jan. 7, 2017.
Merrimack Lineup
Seney | Gustafsson | Tavernier
Hennig | L. Larsson | LeBlanc
Babcock | A. Larsson | Tibbet
Petti | Irvine
Biega | Titcomb
Kolquist | Kovacevic
Lashyn | Cook
Carle (Extra Defenseman)
Delia
Vogler
Pantano
Game Leaders (MC // UNH)
Points: None // Michael McNicholas (2)
Goals: None // Four players (1)
Assists: None // Five players (1)
Shots: Jared Koqluist (4) // Dylan Chanter/Matias Cleland (4)
Faceoffs Won: Ludvig Larsson (17) // Chris Miller (13)
Saves: Collin Delia (28-for-30) // Daniel Tirone (44-for-44)
Facts and Figures (MC // UNH)
Power Plays: 023 // 1-3
Penalties: 4 Penalties - 8 Minutes // 3 Penalties - 6 Minutes
Faceoffs: 40 // 30
SOG: 13-13 // 14-12 // 17-7 // 44-32
Up Next
Merrimack and New Hampshire will conclude the series with a winner-take-all Game 3 back at Lawler Rink tomorrow night. Puck drop is set for 7 p.m., and a win would send Merrimack on to the quarterfinal round of the league tournament for the third year in a row to face second-seeded Boston University.