Tuesday, February 14, 2017
Merrimack College Shuts Out Massachusetts, 3-0
Junior goaltender Collin Delia makes 22 saves for Warriors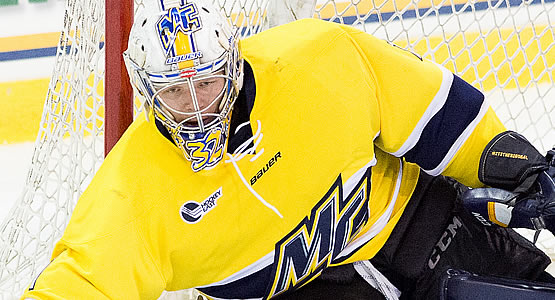 Junior goaltender Collin Delia made 22 saves for the Warriors
| | | | | | | |
| --- | --- | --- | --- | --- | --- | --- |
| Prd | Time | Team | Score | Type | Scored By | Assists |
| 1st | 8:29 | MER | 1-0 | EV GW | Brett Seney (9) | Sami Tavernier/8, Jared Kolquist/8 |
| 1st | 17:44 | MER | 2-0 | PP | Alex Carle (2) | Ludvig Larsson/7, Chris LeBlanc/6 |
| 2nd | 5:35 | MER | 3-0 | EV | Johnathan Kovacevic (3) | Brett Seney/18, Sami Tavernier/9 |
| | | | | |
| --- | --- | --- | --- | --- |
| Scoring | 1st | 2nd | 3rd | Final |
| Merrimack | 2 | 1 | 0 | 3 |
| Massachusetts | 0 | 0 | 0 | 0 |
| | | | | |
| --- | --- | --- | --- | --- |
| Shots on Goal | 1st | 2nd | 3rd | SOG |
| Merrimack | 10 | 16 | 6 | 32 |
| Massachusetts | 4 | 6 | 12 | 22 |
| | | | |
| --- | --- | --- | --- |
| Team Stats and Records | PP | PIM | SHGF |
| Merrimack (12-13-5) | 1/5 | 2/4 | 0 |
| Massachusetts (5-24-2) | 0/2 | 5/21 | 0 |
| | | | | | | |
| --- | --- | --- | --- | --- | --- | --- |
| Merrimack Goaltending | MIN | GA | 1 | 2 | 3 | Saves |
| Collin Delia (W, 6-5-2) | 60:00 | 0 | 4 | 6 | 12 | 22 |
| | | | | | | |
| --- | --- | --- | --- | --- | --- | --- |
| Massachusetts Goaltending | MIN | GA | 1 | 2 | 3 | Saves |
| Alex Wakaluk (L, 0-2-0) | 60:00 | 3 | 8 | 15 | 6 | 29 |
AMHERST, Mass. - A strong effort from start to finish and x different goal-scorers propelled the Merrimack College men's ice hockey team to a 3-0 road win at the University of Massachusetts on Tuesday night at the Mullins Center. The Warriors see their unbeaten streak move to six games (4-0-2), their longest since the 2011-12 season.
THE BASICS:
RESULT: Merrimack 3, Massachusetts 0
LOCATION: Mullins Center (Amherst, Mass.)
RECORDS: Massachusetts (5-24-2, 2-16-1 HEA); Merrimack (12-13-5, 6-7-5 HEA)
THE LEAD: University of Massachusetts hockey dropped its Tuesday night Hockey East matchup with Merrimack, 3-0 at the Mullins Center. The Warriors out-shot the Minutemen 32-22 in the contest, posting two of their three tallies in the opening period.
FIRST PERIOD:
Merrimack took a 1-0 lead 8:29 into the first when Brett Seney tapped home a wraparound from Sami Tavernier at the far post. Then with a five-minute power play late in the frame, Alex Carle's shot from the point found its way through traffic off a feed from Ludvig Larsson and Chris LeBlanc at 17:44.
SECOND PERIOD:
The Warriors added their third of the night 5:35 into the second period. Seney and Tavernier set up Johnathan Kovacevic for a one-timer that he fired under the cross bar from the top of the right faceoff circle.
THIRD PERIOD:
UMass appeared to have gotten on the board with 12:20 to go in the first period as senior Steven Iacobellis slid a loose puck underneath Merrimack netminder Collin Delia. However, the goal was overturned for contact with the goaltender.
FROM COACH CARVEL:
"Not having Ray (Pigozzi), Jake McLaughlin and then losing (Austin) Plevy, three of our better offensive guys, I think was a definite factor in the game, but Merrimack did a really good job clogging up the game on us and their goaltender didn't have to face a lot of chances tonight and I think he's a pretty good goaltender on top of that. We got what we expected from Merrimack tonight and I think if our compete had been better for 60 minutes we might have found a way to win, but it wasn't close enough tonight."
INSIDE THE NUMBERS:
- Making his second straight start in net for the Minutemen, senior Alex Wakaluk finished the night with 29 saves. Delia totaled 22 stops for the Warriors.
- Merrimack went 1-for-5 on the power play in the contest, while UMass was 0-for-2.
- The Minutemen won 33 of 56 faceoffs on the evening (58.9%), led sophomore Ryan Badger's 12 for 15 (80%) effort over the dots, while by Iacobellis won 15 of 23 (65.2%) draws.
UP NEXT: The Minutemen will be back in action on Saturday, Feb. 18, when the squad will play host to No. 6 UMass Lowell at 7 p.m. in the Mullins Center.