Merrimack College Defeated By Sacred Heart, 2-1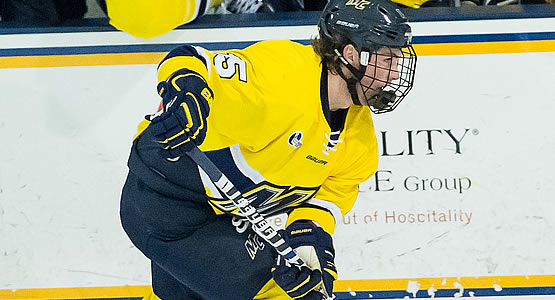 Junior defenseman Jared Kolquist scored a power-play goal for the Warriors
| | | | | | | |
| --- | --- | --- | --- | --- | --- | --- |
| Prd | Time | Team | Score | Type | Scored By | Assists |
| 2nd | 5:07 | SAC | 1-0 | EV | Nick Lotito (1) | Jeff Carroll/1, Mitch Nylen/1 |
| 2nd | 9:17 | SAC | 2-0 | SH GW | Evan Jasper (1) | Justin Danforth/1, Liam Clare/1 |
| 3rd | 17:27 | MER | 1-2 | PP | Jared Kolquist (1) | Aaron Titcomb/1, Brett Seney/1 |
| | | | | |
| --- | --- | --- | --- | --- |
| Scoring | 1st | 2nd | 3rd | Final |
| Sacred Heart | 0 | 2 | 0 | 2 |
| Merrimack | 0 | 0 | 1 | 1 |
| | | | | |
| --- | --- | --- | --- | --- |
| Shots on Goal | 1st | 2nd | 3rd | SOG |
| Sacred Heart | 14 | 12 | 2 | 28 |
| Merrimack | 4 | 4 | 13 | 21 |
| | | | |
| --- | --- | --- | --- |
| Team Stats and Records | PP | PIM | SHGF |
| Sacred Heart (1-1-0) | 0/5 | 16/40 | 1 |
| Merrimack (0-1-0) | 1/14 | 6/12 | 0 |
| | | | | | | |
| --- | --- | --- | --- | --- | --- | --- |
| Sacred Heart Goaltending | MIN | GA | 1 | 2 | 3 | Saves |
| Brett Magnus (W, 1-1-0) | 60:00 | 1 | 4 | 4 | 12 | 20 |
| | | | | | | |
| --- | --- | --- | --- | --- | --- | --- |
| Merrimack Goaltending | MIN | GA | 1 | 2 | 3 | Saves |
| Drew Vogler (L, 0-1-0) | 59:39 | 2 | 14 | 10 | 2 | 26 |
| Empty Net | 0:21 | 0 | | | | |
NORTH ANDOVER, Mass. - The Merrimack College men's ice hockey team clawed to within a goal after scoring with less than three minutes to play in regulation, but visiting Sacred Heart held on for a 2-1 victory over the Warriors on Sunday afternoon at Lawler Rink.
The Basics
Score: Sacred Heart 2, Merrimack 1
Records: Merrimack (0-1-0, 0-0-0 HEA) | Sacred Heart (1-1-0, 0-1-0 AHA)
Location: Lawler Rink | North Andover, Mass.
Attendance: 1875
Game Duration: 2:12
How It Happened
Sacred Heart controlled the pace of play for most of the first, as Merrimack had very little offensive zonetime and opportunities, as indicative by the Pioneers' 14-4 edge in shots on goal.
Despite having two full minutes of a 5-on-3 power play advantage from the end of the first into the start of the second period, Merrimack was still kept off the board, allowing Sacred Heart to eventually capitalize.
The Pioneers broke the deadlock at 5:07 of the second, as Nick Lotito buried a rebound that landed inside the near circle to give the visitors the lead.
Just over four minutes later, Sacred Heart scored off a shorthanded rush to double their lead, as Evan Jasper scored off a similarly rebounded goal as Lotito did to make it a 2-0 edge for the Pioneers.
Sacred Heart continued to control the pace of play through the remainder of the second, as the Pioneers held Merrimack to only eight shots on goal through two periods.
Merrimack finally came to life in the third period and benefitted from five more power play opportunities, including nearly two more full minutes' worth of a 5-on-3 advantage early on for the third time of the game, but still found itself trailing by two goals after coming up empty on its first 11 power plays of the game.
Finally, while skating 5-on-3 for the fourth time of the game, junior Jared Kolquist (Hermantown, Minn.) blasted home Merrimack's first goal of the season at 17:27 of the third to make it a one-goal affair. Classmates Aaron Titcomb (Charlestown, Msas.) and Brett Seney (London, Ontario) helped set up the score.
Merrimack still had a power play that carried into the final minute of regulation and eventually had the extra attacker on the ice, but Sacred Heart managed to hang on for the victory.
Goal Descriptions
SHU #1 (Lotito/Carroll/Nylen) | P2 5:07 - Snap from the near side hash marks after a rebound following a save off a 2-on-1 rush.
SHU #2 (Jasper/Danforth/Clare) | P2 9:17 (SH) - Rebound shot that was taken between the hashes.
MC #1 (Kolquist/Titcomb/Seney) | P3 17:27 (PP/5x3) - One-timer from straightaway center near the top of both circles.
Merrimack Lineup
Petti | Babcock | LeBlanc
L. Larsson | Foget | Irvine
A. Larsson | Gustafsson | Tibbet
Hennig | Seney | Tavernier
Biega | Carlem
Kolquist | Titcomb
Spaxman | Lashyn
Vogler
Delia
Pantano
Game Leaders (MC // SHU)
Points: Three players (1) // Six players (1)
Goals: Jared Kolquist (1) // Nick Lotito/Evan Jasper (1)
Assists: Four players (1) // Two players (1)
Shots: Alex Carle (4) // Evan Jasper (7)
Faceoffs Won: Hampus Gustafsson (13) // Justin Danforth (11)
Saves: Drew Vogler (26) // Brett Magnus (20)
Facts and Figures (MC // SHU)
Power Plays: 1-13 // 0-5
Penalties: 6 Penalties - 12 Minutes // 16 Penalties - 40 Minutes
SOG: 4-14 // 4-12 // 13-2 // 21-28
Up Next
Merrimack will hit the road for a two-game weekend set in the North Country next weekend. The Warriors first face Clarkson University on Friday (Oct. 14) before heading to Saint Lawrence University on Saturday (Oct. 15). Puck drop both nights is set for 7 p.m.