Friday, February 17, 2017
Hennig Sends Merrimack Past Maine In Overtime, 4-3
Junior forward Jace Hennig scores 3:39 into overtime for Warriors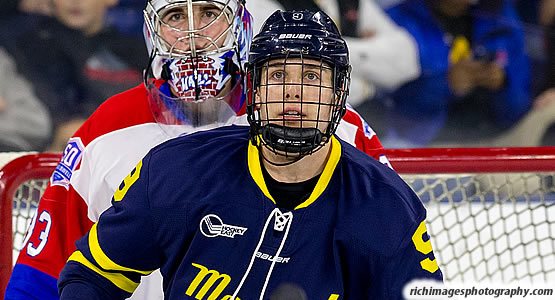 Junior forward Jace Hennig scored 3:39 into overtime for the Warriors
| | | | | | | |
| --- | --- | --- | --- | --- | --- | --- |
| Prd | Time | Team | Score | Type | Scored By | Assists |
| 1st | 1:21 | MNE | 1-0 | EV | Daniel Perez (3) | Chase Pearson/6, Ryan Smith/6 |
| 2nd | 10:31 | MNE | 2-0 | EV | Blaine Byron (15) | Chase Pearson/7, Cam Brown/30 |
| 2nd | 10:51 | MNE | 3-0 | EV | Chase Pearson (13) | Daniel Perez/1 |
| 2nd | 13:29 | MER | 1-3 | EV | Sami Tavernier (5) | Johnathan Kovacevic/12 |
| 3rd | 15:02 | MER | 2-3 | EV | Ludvig Larsson (6) | Chris LeBlanc/7 |
| 3rd | 18:28 | MER | 3-3 | EV EA | Derek Petti (3) | Jace Hennig/12, Marc Biega/5 |
| OT | 3:39 | MER | 4-3 | EV GW | Jace Hennig (5) | Jonathan Lashyn/4, Chris LeBlanc/8 |
| | | | | | |
| --- | --- | --- | --- | --- | --- |
| Scoring | 1st | 2nd | 3rd | OT | Final |
| Maine | 1 | 2 | 0 | 0 | 3 |
| Merrimack | 0 | 1 | 2 | 1 | 4 |
| | | | | | |
| --- | --- | --- | --- | --- | --- |
| Shots on Goal | 1st | 2nd | 3rd | OT | SOG |
| Maine | 16 | 13 | 9 | 0 | 38 |
| Merrimack | 19 | 8 | 14 | 3 | 44 |
| | | | |
| --- | --- | --- | --- |
| Team Stats and Records | PP | PIM | SHGF |
| Maine (10-18-3) | 0/3 | 4/8 | 0 |
| Merrimack (13-13-5) | 0/4 | 3/6 | 0 |
| | | | | | | | |
| --- | --- | --- | --- | --- | --- | --- | --- |
| Maine Goaltending | MIN | GA | 1 | 2 | 3 | OT | Saves |
| Rob McGovern (L, 9-13-3) | 63:39 | 4 | 19 | 7 | 12 | 2 | 40 |
| | | | | | | | |
| --- | --- | --- | --- | --- | --- | --- | --- |
| Merrimack Goaltending | MIN | GA | 1 | 2 | 3 | OT | Saves |
| Collin Delia (W, 7-5-2) | 63:05 | 3 | 15 | 11 | 9 | 0 | 35 |
| Empty Net | 0:34 | 0 | | | | | |
NORTH ANDOVER, Mass. - Visiting Maine built a three-goal lead midway through the second period, but three different Warriors scored in the third to send it to overtime before junior Jace Hennig (Port Moody, British Columbia) capped the comeback with his first career overtime winner to lift the Merrimack College men's ice hockey to a come-from-behind, 4-3 victory on Friday night at Lawler Rink. The two sides conclude the series tomorrow night at 7 p.m., and a very limited amount of tickets remain for the final regular season home game.
The Basics
Score: Merrimack 4, Maine 3
Records: Merrimack (13-13-5, 7-7-5 HEA) | Maine (10-18-3, 4-14-1 HEA)
Location: Lawler Rink | North Andover, Mass.
Attendance: 2549
Game Duration: 2:23
How It Happened
- Scoring chances abounded in an action-packed first period, one that started with Maine grabbing a 1-0 lead off a gritty sequence from the corner boards. Daniel Perez netted his second from the left hash after his linemates dug out the puck from the corner and worked it to the slot for the opening marker.
- In the second, Maine found the back of the net twice in a 20-second span to build a 3-0 lead; Blaine Byron's 15th of the year came off a broken play that led to his finishing off a close-range one-timer at 10:31, and Chase Pearson lit the lamp 20 seconds later following a faceoff win to give the visitors a three-goal advantage.
- Merrimack would get on the board before the period was over, however, as two rookies paired up to cut the deficit to 3-1; freshman Sami Tavernier (Morzine France) tipped in a point shot from defenseman Johnathan Kovacevic (Grimsby, Ontario) for his fifth of the year at 13:29, as the Warriors went into the second intermission looking to rally from two goals down.
- After missing out on two third-period power plays, the hosts cut the deficit to one after sophomore Ludvig Larsson (Malmo, Sweden) buried his sixth of the season with a snap shot from the near circle off a feed from senior Chris LeBlanc (Winthrop, Mass.), and then, with the extra attacker out, classmate Derek Petti (Tewksbury, Mass.) poked in a loose puck in the crease to send it to overtime with 1:32 to play.
- Then, in the extra session, senior Jonathan Lashyn (Saskatoon, Saskatchewan) put a shot on net from the right point, and the puck kicked out to the slot after a misplay, allowing Hennig to hop on the rebound to send the home crowd off with a victory.
Notes & Notables
- Merrimack posted its first comeback from a three-goal deficit since Jan. 14, 2011, in a 5-4 win against Alabama Huntsville; the Warriors also trailed 3-0 in that game, as well.
- Merrimack's unbeaten streak moved to seven games (5-0-2), its longest such streak since a 10-game unbeaten stretch to start the 2011-12 season.
- Merrimack recorded a season-high 44 shots on goal and picked up its first overtime win since March 4, 2016, when it defeated New Hampshire, 3-2, in the Hockey East Tournament's Opening Round.
- Tavernier now ranks tied for first on the team with nine points (2g, 7a) since Jan. 24.
- Merrimack improved to 2-11-2 when trailing after 40 minutes this season; its only other win in that situation prior to tonight's was its 5-1 win over Providence on Nov. 25.
- The Warriors are now 12-0-1 when scoring three or more goals in a game.
Merrimack Lineup
Seney | Gustafsson | Tavernier
Hennig | L. Larsson | LeBlanc
Babcock | A. Larsson | Tibbet
Petti | Drevitch | Irvine
Biega | Carle
Kolquist | Kovacevic
Lashyn | Cook
Delia
Vogler
Pantano
Game Leaders (MC // ME)
Points: Hennig/LeBlanc (2) // Pearson (3)
Goals: Four players (1) // Three players (1)
Assists: LeBlanc (2) // Pearson (2)
Shots: Petti/Hampus Gustafsson (5) // Cedric Lacroix (6)
Faceoffs Won: Larsson (15) // Byron (10)
Saves: Collin Delia (35-for-38) // Rob McGovern (40-for-44)
Facts and Figures (MC // ME)
Power Plays: 0-4 // 0-3
Penalties: 3 Penalties - 6 Minutes // 4 Penalties - 8 Minutes
Faceoffs: 45 // 25
SOG: 19-16 // 8-13 // 14-9 // 3-0 // 44-38
Up Next
Merrimack and Maine round out the weekend series tomorrow night back at Lawler Rink. Puck drop is set for 7 p.m.