Saturday, January 7, 2017
UConn Huskies Topped By Yale Bulldogs, 4-2
Junior forward Spencer Naas scores two goals for Huskies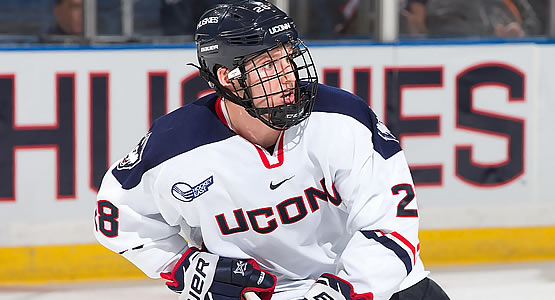 Senior forward Brian Morgan scored a goal for the Huskies
| | | | | | | |
| --- | --- | --- | --- | --- | --- | --- |
| Prd | Time | Team | Score | Type | Scored By | Assists |
| 1st | 8:06 | YAL | 1-0 | EV | Joe Snively (8) | Ryan Hitchcock/15, Henry Hart/7 |
| 1st | 13:57 | CON | 1-1 | EV | Brian Morgan (4) | Joseph Masonius/5, David Drake/2 |
| 2nd | 11:28 | CON | 2-1 | PP | Spencer Naas (11) | Max Kalter/11, Philip Nyberg/2 |
| 2nd | 13:34 | YAL | 2-2 | PP | Ryan Hitchcock (2) | Joe Snively/11, Matt Foley/5 |
| 2nd | 13:56 | YAL | 3-2 | PP GW | Evan Smith (1) | Henry Hart/8, Adam Larkin/7 |
| 3rd | 2:41 | YAL | 4-2 | EV | Frankie DiChiara (5) | Robbie DeMontis/3, John Hayden/7 |
| | | | | |
| --- | --- | --- | --- | --- |
| Scoring | 1st | 2nd | 3rd | Final |
| Yale | 1 | 2 | 1 | 4 |
| Connecticut | 1 | 1 | 0 | 2 |
| | | | | |
| --- | --- | --- | --- | --- |
| Shots on Goal | 1st | 2nd | 3rd | SOG |
| Yale | 16 | 13 | 12 | 41 |
| Connecticut | 4 | 7 | 4 | 15 |
| | | | |
| --- | --- | --- | --- |
| Team Stats and Records | PP | PIM | SHGF |
| Yale (6-6-2) | 2/4 | 5/10 | 0 |
| Connecticut (8-7-6) | 1/3 | 5/21 | 0 |
| | | | | | | |
| --- | --- | --- | --- | --- | --- | --- |
| Yale Goaltending | MIN | GA | 1 | 2 | 3 | Saves |
| Sam Tucker (W, 1-3-0) | 60:00 | 2 | 3 | 6 | 4 | 13 |
| | | | | | | |
| --- | --- | --- | --- | --- | --- | --- |
| Connecticut Goaltending | MIN | GA | 1 | 2 | 3 | Saves |
| Adam Huska (L, 4-4-3) | 59:45 | 4 | 15 | 11 | 11 | 37 |
| Empty Net | 0:15 | 0 | | | | |
HARTFORD, Conn. - The UConn Huskies got 37 saves from freshman Adam Huska (Zvolen, Slovakia) but a pair of second period power play goals fueled the Yale Bulldogs to a 4-2 win Saturday afternoon at the XL Center. The Huskies saw their five-game unbeaten streak come to an end and fall to 8-7-6 with the loss. The Bulldogs evened their record at 6-6-2.
UConn got goals from grad student Brian Morgan (Windham, N.H.) and junior Spencer Naas (Minnetonka, Minn.) in the loss. The Huskies were held to a season-low 15 shots in the loss.
Yale fired 41 times on Huska and were led by sophomore Joe Snively and junior Ryan Hitchcock who each had a goal and an assist. Freshman Evan Smith picked-up the game-winner for Yale, his first collegiate goal. Senior Frankie DiChiara tacked on Yale's fourth goal of the night, coming in the third period.
Sophomore goaltender Sam Tucker needed to make just 13 saves to earn his first collegiate win. The Bulldogs were 2-for-4 on the power play while UConn was 1-for-3.
QUOTES: Head Coach Mike Cavanaugh - "I'd first like to thank the fans for coming out in this weather. It was a great showing for our fans but I wish our team showed a little better. I thought our goaltender was excellent, and I thought our two seniors were very good. I thought Evan Richardson and Brian Morgan were very good. But overall, we did not have a great performance. And I wish I had an answer for you all, because we are coming off of a great tournament win out in Arizona, and then three great days of practice, but we just didn't play well. I guess I have to attribute a lot of that to Yale. I thought they were quicker, they were winning the loose puck battles, and they didn't let us establish anything. I think we had maybe one shift in the second period where we were able to get a couple minutes of riding time, but other than that, it was all Yale. It was a sixty-minute win for them, and they didn't really allow us to do anything."
NOTES:
Yale remained perfect against UConn, extending their series lead to 12-0-0. UConn finished the regular season 1-2-1 against teams from the ECAC.
The Huskies finished 0-3-0 against their three state rivals this season, falling at home to Yale (4-2) and Sacred Heart (4-2) and on the road at Quinnipiac (5-2).
Naas extended his scoring streak to three-straight games. His 11 goals is second on the team behind sophomore Tage Thompson (Orange, Conn.). Over his last three games, Naas has five points (4g/1a). In his last seven, Naas has six goals and an assist.
Morgan ended a nine-game streak without a goal. Sophomore Max Kalter (Highland Park, Ill.) had an assist on the Naas goal, his 11th on the season, extending his point streak to three-straight games.
Both Thompson and Huska returned to the UConn lineup after playing in the 2017 IIHF World Junior Championships over the last two weeks. Thompson helped lead Team USA to the gold medal at the tournament with a goal and four assists.
1st Period:
Yale dominated the shot chart in the first, 16-4, but found themselves tied with the Huskies, 1-1, at the first break.
Snively opened the scoring at 8:06, scoring his eighth of the season. Hitchcock delivered a pretty pass to send Snively free for a wrap-around shot that he buried for a 1-0 lead. The Huskies tied it at 13:57 off the stick of Morgan. Sophomore Joseph Masonius (Spring Lake, N.J.) cleared the puck up the right wing to Morgan who beat the defense to Tucker. Morgan caught the goaltender leaning and flipped a shot top-shelf for his fourth on the season.
2nd Period
The Huskies took their only lead of the game with a power play goal at 11:28. Kalter fired on goal and saw his shot blocked. The loose puck found the stick of Naas right in front who buried it for his 11th and a 2-1 lead.
UConn's Justin Howell (Hugo, Minn.) was called for a five-minute major and game misconduct at 12:23 for hitting from behind and Yale took full advantage, scoring twice on the ensuing power play.
Yale's Hitchcock provided the tying goal at 13:34, his second on the season, and Smith gave his team a 3-2 lead just 22 seconds later. Henry Hart fired a slap shot from the high point and Smith got a deflection in front for his first collegiate goal.
3rd Period:
The Bulldogs made it three-straight on the scoreboard just 2:14 into the period. DiChiara took a pass of the left half boards from Robbie DeMontis and fired a wrist shot from the circle that beat Huska glove side for a 4-2 lead.
Up Next:
The Huskies return to Hockey East action with a two-game series against Maine. UConn will host the Black Bears in Bridgeport at the Webster Bank Arena on Thursday, Jan. 12th and then head to Boston's famous Fenway Park for the 2017 Capitol One Frozen Fenway event on Saturday, Jan. 14th.