Friday, December 30, 2016
UConn Edges Past St. Cloud State, 4-3, In Desert Hockey Classic
Junior forward Spencer Naas scores two goals for Huskies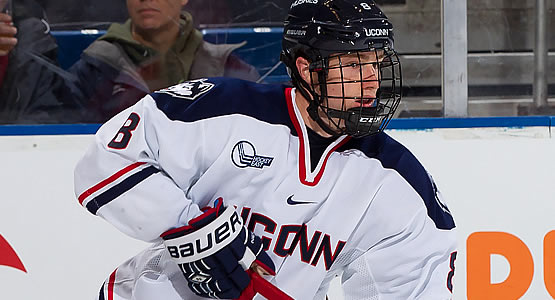 Junior forward Spencer Naas scored two goals for the Huskies
| | | | | | | |
| --- | --- | --- | --- | --- | --- | --- |
| Prd | Time | Team | Score | Type | Scored By | Assists |
| 1st | 4:20 | CON | 1-0 | EV | Spencer Naas (8) | Evan Richardson/8, Max Kalter/9 |
| 2nd | 0:37 | CON | 2-0 | EV | Miles Gendron (3) | Evan Richardson/9, Maxim Letunov/12 |
| 2nd | 10:38 | STC | 1-2 | EV | Mikey Eyssimont (9) | Patrick Newell/11, Blake Winiecki/7 |
| 2nd | 17:36 | STC | 2-2 | EV | Blake Winiecki (8) | Patrick Newell/12, Niklas Nevalainen/4 |
| 2nd | 18:40 | CON | 3-2 | EV | Spencer Naas (9) | Max Kalter/10, Derek Pratt/4 |
| 3rd | 14:45 | CON | 4-2 | EV GW | Maxim Letunov (5) | Evan Richardson/10 |
| 3rd | 19:07.3 | STC | 3-4 | PP EA | Jacob Benson (6) | Mikey Eyssimont/7, Patrick Newell/13 |
| | | | | |
| --- | --- | --- | --- | --- |
| Scoring | 1st | 2nd | 3rd | Final |
| St. Cloud State | 0 | 2 | 1 | 3 |
| Connecticut | 1 | 2 | 1 | 4 |
| | | | | |
| --- | --- | --- | --- | --- |
| Shots on Goal | 1st | 2nd | 3rd | SOG |
| St. Cloud State | 12 | 13 | 11 | 36 |
| Connecticut | 9 | 12 | 9 | 30 |
| | | | |
| --- | --- | --- | --- |
| Team Stats and Records | PP | PIM | SHGF |
| St. Cloud State (8-8-1) | 1/4 | 2/4 | 0 |
| Connecticut (7-6-6) | 0/2 | 4/8 | 0 |
| | | | | | | |
| --- | --- | --- | --- | --- | --- | --- |
| St. Cloud State Goaltending | MIN | GA | 1 | 2 | 3 | Saves |
| Jeff Smith (L, 2-3-0) | 57:52 | 4 | 8 | 10 | 8 | 26 |
| Empty Net | 2:08 | 0 | | | | |
| | | | | | | |
| --- | --- | --- | --- | --- | --- | --- |
| Connecticut Goaltending | MIN | GA | 1 | 2 | 3 | Saves |
| Rob Nichols (W, 3-3-3) | 60:00 | 3 | 12 | 11 | 10 | 33 |
PRESCOTT VALLEY, Ariz. - The UConn Huskies advanced to the title game of the Desert Hockey Classic thanks to a 4-3 win over No. 18 St. Cloud State Friday night at the Prescott Valley Event Center. Sophomore Spencer Naas (Minnetonka, Minn.) scored a pair of goals while senior Rob Nichols (Dallas, Texas) stopped 33 shots in the win.
UConn remained unbeaten in the month of December, a 3-0-1 stretch, and improved to 7-6-1 overall with their fourth win this season over a nationally ranked opponent. St. Cloud State dropped to 8-8-1 overall. It was the first ever meeting between the two schools.
Naas gave UConn a 1-0 lead after the first period and sophomore Miles Gendron (Shrewsbury, Mass.) made it 2-0 just 37 seconds into the second. SCSU tied it with two-straight before Naas struck for his second of the night with 1:20 left in the second.
UConn, now 7-1-1 this season with a lead heading into the third period, pushed their lead to 4-2 thanks to sophomore Maxim Letunov (Moscow, Russia) who scored at 14:45. SCSU scored on a late power play with the goaltender pulled, making it 4-3 with 52 seconds left. Nichols sealed the win with 2.7 seconds left, when he snatched a one-timer off the stick of Mikey Eyssimont at point blank range.
Nichols evened his record at 3-3-3 on the season with the win. SCSU goaltender Jeff Smith made 26 saves in taking the loss. SCSU held a 36-30 edge on shots and finished 1-for-4 on the power play. UConn was 0-for-2.
QUOTES:
Head Coach Mike Cavanaugh - "It was an extremely close game. Just a really good hockey game. Hats off to St. Cloud, I thought they just kept coming. Down two, they scored that goal late and really put a lot of pressure on us."
NOTES:
Five Huskies finished the night with two points, led by Naas who tied his career-high for goals and points. He recorded his second multi-goal game of the season and the fourth of his career.
Max Kalter's (Highland Park, Ill.) two assists matched his career-high mark for both assists and points and marked his second multi-point effort this season, and third of his career. Evan Richardson's (Nanaimo, British Columbia) two assists also matched his career-high for assists and points and gave him his fourth multi-point game this season.
Letnov's goal and assist gave him a team-leading seven multi-goal games this season and 16 for his career. UConn is 5-1-1 this year when Letunov scores two or more points.
Derek Pratt's (Mount Hermon, Mass.) two assists were a career-high mark for the sophomore defenseman. It was also his first career multi-point game.
Gendron's second period goal gave him three on the season, eclipsing his goal total from last season. He also extended his point streak to four-straight games.
The Huskies are playing in the Desert Hockey Classic for the second-straight season. Last year, UConn fell to Michigan Tech, 4-2, but rebounded to beat host Arizona State, 3-0, in the consolation game.
This is the sixth regular season tournament the Huskies have played in under fourth-year head coach Mike Cavanaugh. UConn has advanced to a title game twice but have yet to claim a tournament title. The last in-season tournament UConn has won came at the 2003 UConn Hockey Classic when the defeated Air Force, 1-0, for the title.
A pair of Huskies made their collegiate debuts on Friday. Freshman defenseman Bryan Nelson (Upton, Mass.) debuted at left wing on the Huskies' fourth line. Freshman defenseman Philip Nyberg (Linkoping, Sweden) made his debut paired with junior alternate captain David Drake (Naperviell, Ill.).
1st Period:
UConn struck for the only goal of the period, putting the Huskies up 1-0 into the first intermission. Kalter got loose on a breakaway but was denied by Smith with Pratt collecting the rebound on the left boards. Pratt fed Naas coming into the left circle who buried a wrist shot past Smith, stick side, for his eighth on the year.
2nd Period
Both teams potted a pair of goals in the second period with UConn sandwiching Gendron and Naas goals around a pair from SCSU
UConn struck just 37 seconds into the second as Gendron and Richardson broke into the zone on a 2-on-1. Richardson drew the defender and shovled a pass to Gendron who buried the one-timer at the right post for a 2-0 lead.
SCSU pulled the game even on back-to-back goals at 10:38 and 17:36. Eyssimont buried a rebound on an empty net at the left post and Winiecki scored on an off angle, beating Nichols to the near post to knot it at 2-2.
Naas answered the SCSU goal just 1:04 later with his second on the night, firing home a shot from the right circle from a feed by Kalter. Naas' ninth goal gave the Huskies back the lead, 3-2, heading into the break.
3rd Period:
UConn doubled their lead to 4-2 with Letunov's fifth on the season at 14:45. Richardson chipped the puck into the neutral zone where Letunov picked it up and beat the defense to the right circle where he pulled up and fired a wrister past Smith.
SCSU pulled their goaltender and got a 6x4 chance with 1:37 to go when Pratt was called for slashing. Jacob Benson pulled his team to within 4-3 with a one-time blast from the right circle at 52.7 seconds. Nichols came up with the save of the game in the closing seconds to keep SCSU from sending the game to overtime.
Up Next:
The Huskies will play in the championship game on Saturday against either Arizona State or Brown. If UConn is matched-up with Brown, the game will be at 6:00 pm EST. If they draw the Sun Devils, face-off will be at 9:00 pm EST.