Saturday, January 14, 2017
McGovern's 31 Saves Backstop Maine To 4-0 Win Over UConn At Frozen Fenway
Sophomore goaltender Rob McGovern makes 31 saves for Black Bears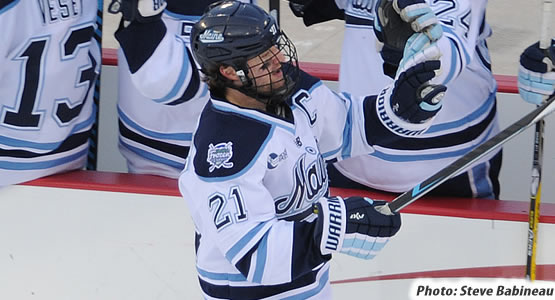 Senior forward Cam Brown had a goal and two assists for the Black Bears
| | | | | | | |
| --- | --- | --- | --- | --- | --- | --- |
| Prd | Time | Team | Score | Type | Scored By | Assists |
| 1st | 2:33 | MNE | 1-0 | EV GW | Cam Brown (4) | Blaine Byron/13, Brendan Robbins/8 |
| 2nd | 10:54 | MNE | 2-0 | EV | Blaine Byron (10) | Rob Michel/7, Cam Brown/21 |
| 3rd | 6:55 | MNE | 3-0 | EV EA | Rob Michel (6) | Cam Brown/22, Brendan Robbins/9 |
| 3rd | 18:03 | MNE | 4-0 | EV EN | Nolan Vesey (6) | Keith Muehlbauer/2 |
| | | | | |
| --- | --- | --- | --- | --- |
| Scoring | 1st | 2nd | 3rd | Final |
| Maine | 1 | 1 | 2 | 4 |
| Connecticut | 0 | 0 | 0 | 0 |
| | | | | |
| --- | --- | --- | --- | --- |
| Shots on Goal | 1st | 2nd | 3rd | SOG |
| Maine | 13 | 20 | 11 | 44 |
| Connecticut | 11 | 11 | 9 | 31 |
| | | | |
| --- | --- | --- | --- |
| Team Stats and Records | PP | PIM | SHGF |
| Maine (8-11-3) | 0/3 | 3/6 | 0 |
| Connecticut (9-8-6) | 0/3 | 3/6 | 0 |
| | | | | | | |
| --- | --- | --- | --- | --- | --- | --- |
| Maine Goaltending | MIN | GA | 1 | 2 | 3 | Saves |
| Rob McGovern (W, 7-7-3) | 59:53 | 0 | 11 | 11 | 9 | 31 |
| Empty Net | 0:07 | 0 | | | | |
| | | | | | | |
| --- | --- | --- | --- | --- | --- | --- |
| Connecticut Goaltending | MIN | GA | 1 | 2 | 3 | Saves |
| Adam Huska (L, 5-5-3) | 58:45 | 3 | 12 | 19 | 9 | 40 |
| Empty Net | 1:15 | 1 | | | | |
Maine headed to historic Fenway Park to complete their series against the University of Connecticut Huskies.
The Black Bears were hungry for a victory right out of the gate, and Maine looked to its leader, Senior Captain Cam Brown to get the scoring going. Brown received a puck behind the goal line from Blaine Byron and made a strong move scoring cross crease passed UConn goaltender Adam Huska. Goaltender Rob McGovern remained perfect through the frame, stopping all 11 shots he faced.
The second period saw the Black Bears stay hot. In a relentless play, Brendan Robbins drove the net, outracing an outstretched Huska keeping the puck in play. As fortune had it, the puck ended up on Rob Michel's stick. Faking a shot and using misdirection, Michel slid the puck backdoor to Blaine Byron, who did the rest, giving the Black Bears a 2-0 lead.
The Black Bears closed out UConn in the third, starting on a Rob Michel goal in a delayed penalty situation on assists from Cam Brown and Brendan Robbins. Nolan Vesey put the final nail in as he was able to win a race on a chip pucked by defenseman Keith Muehlbauer and hammer home the Black Bears fourth goal.
In total, Rob McGovern made 31 saves in his first career shutout for the Black Bears, as they motored to a 4-0 victory. The Black Bears now turn their attention to Boston University for a home and home matchup beginning at Boston University before Returning to Alfond Arena Saturday night for the series finale. Tickets are available by skating over to goblackbears.com or by phone at 207-581-BEAR.