Merrimack College Shut Out By Clarkson, 4-0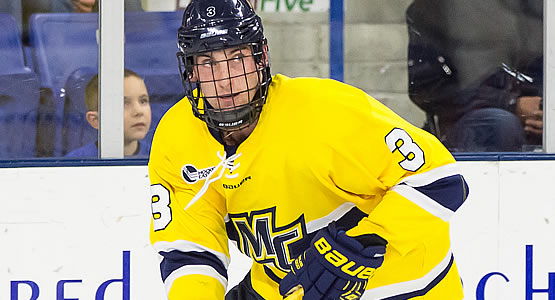 Merrimack College junior defenseman Aaron Titcomb (pictured)
| | | | | | | |
| --- | --- | --- | --- | --- | --- | --- |
| Prd | Time | Team | Score | Type | Scored By | Assists |
| 1st | 5:18 | CLK | 1-0 | PP GW | A.J. Fossen (1) | Kelly Summers/1, Devin Brosseau/1 |
| 1st | 7:14 | CLK | 2-0 | EV | Juho Jokiharju (1) | Nico Sturm/1, Devin Brosseau/2 |
| 1st | 11:53 | CLK | 3-0 | SH | Brett Gervais (1) | Sam Vigneault/2, Greg Moro/1 |
| 2nd | 15:53 | CLK | 4-0 | EV | Perry D'Arrisso (1) | Greg Moro/2, Troy Josephs/1 |
| | | | | |
| --- | --- | --- | --- | --- |
| Scoring | 1st | 2nd | 3rd | Final |
| Merrimack | 0 | 0 | 0 | 0 |
| Clarkson | 3 | 1 | 0 | 4 |
| | | | | |
| --- | --- | --- | --- | --- |
| Shots on Goal | 1st | 2nd | 3rd | SOG |
| Merrimack | 9 | 9 | 5 | 23 |
| Clarkson | 9 | 19 | 4 | 32 |
| | | | |
| --- | --- | --- | --- |
| Team Stats and Records | PP | PIM | SHGF |
| Merrimack (0-2-0) | 0/9 | 10/20 | 0 |
| Clarkson (2-1-0) | 1/9 | 11/36 | 1 |
| | | | | | | |
| --- | --- | --- | --- | --- | --- | --- |
| Merrimack Goaltending | MIN | GA | 1 | 2 | 3 | Saves |
| Collin Delia (L, 0-1-0) | 7:14 | 2 | 1 | 0 | 0 | 1 |
| Drew Vogler | 52:46 | 2 | 5 | 18 | 4 | 27 |
| | | | | | | |
| --- | --- | --- | --- | --- | --- | --- |
| Clarkson Goaltending | MIN | GA | 1 | 2 | 3 | Saves |
| Jake Kielly (W, 2-1-0) | 59:18 | 0 | 9 | 9 | 5 | 23 |
| Empty Net | 0:42 | 0 | | | | |
POTSDAM, N.Y. - The Merrimack College men's ice hockey team was blanked, 4-0, at Clarkson University on Friday night at Cheel Arena.
The Basics
Score: Clarkson 4, Merrimack 0
Records: Merrimack (0-2-0, 0-0-0 HEA) | #RV/-- Clarkson (2-1-0, 0-0-0 ECAC)
Location: Cheel Arena | Potsdam, N.Y.
Attendance: 2461
Game Duration: 2:21
How It Happened
- Each team was awarded an early power play, but Clarkson converted at the tail end of its second man advantage after A.J. Fossen tipped in a shot from the right point to give the hosts an early 1-0 lead at 5:18 of the first.
- Less than two minutes later, the Knights doubled that lead off a giveaway in the defensive zone led to a 2-on-1 rush that ended with Juho Jokiharju finishing off the sequence at 7:14 to make it 2-0 Clarkson.
- Starting goaltender junior Collin Delia (Rancho Cucamonga, Calif.) was replaced after that goal due to an injury, giving way to sophomore Drew Vogler (Florissant, Mo.).
- Another miscue helped the Golden Knights make it a 3-0 game, as Brett Gervais scored the second shorthanded marker againast Merrimack in as many games at the 11:53 mark of the first to push the lead to three.
- The Warriors had a full five-minute major power play in their favor midway through the second but couldn't capitalize; Clarkson then had nearly four minutes of extended power play time, including two full minutes of a 5-on-3 advantage, but also came up short.
- Clarkson did, however, net its fourth goal of the game after Perry D'Arrisso scored off a turnaround shot from a tough angle at 15:53, giving the home side a 4-0 edge after two periods.
- Despite having another full five-minute major bolstered by 56 seconds of 5-on-3 time during that sequence, Merrimack could not light the lamp in the early goings of the third period.
- Penalties mucked up the later portions of the contest, but the Warriors were kept off the board the rest of the way to suffer their first shutout of the season and first loss against Clarkson in five tries.
Goal Descriptions
CU #1 (Fossen/Summers/Brosseau) | P1 5:18 (PP) - Redirected in front at the right side of the crease off a shot from the right point.
CU #2 (Jokiharju/Sturm/Brosseau) | P1 7:14 - Giveaway led to a 2-on-1 in front, finished off on the right wing side of the crease.
CU #3 (Gervais/Vigneault) | P1 11:53 (SH) - Errant pass from the corner of the defensive zone led to a 2-on-0 in front.
CU #4 (D'Arriso/Vigneault) | P2 15:53 - Initial shot was blocked and landed between the bottom of the far circle and the red line; turnaround one-timer shot.
MERRIMACK LINEUP
Hennig | Petti | Foget
Coomes | Kramer | Drevitch
L. Larsson | Gustafsson | Irvine
Seney | Babcock| Tavernier
Biega | Kovacevic
Kolquist | Titcomb
Spaxman | Lashyn
Delia
Vogler
Pantano
Game Leaders (MC // CU)
Points: -- // Devin Brosseau/Greg Moro (2)
Goals: -- // Four players (1)
Assists: -- // Devin Brosseau/Greg Moro (2)
Shots: Three players (3) // Brett Gervais (8)
Faceoffs Won: Michael Babcock (10) // Nico Sturm (11)
Saves: Drew Vogler (27-for-29) / Collin Delia (1-for-3) // Jake Kielly (23-for-23)
Facts and Figures (MC // CU)
Power Plays: 0-7 // 1-7
Penalties: 10 Penalties - 20 Minutes // 11 Penalties - 36 Minutes
Faceoffs: 29 // 36
SOG: 9-9 // 9-19 // 5-4 // 23-32
Up Next
Merrimack concludes its weekend trip in North Country tomorrow night at No. 15 Saint Lawrence University. Puck drop from Appleton Arena is set for 7 p.m.