Saturday, October 22, 2016
Three Unanswered Goals Send Merrimack Past Colgate, 5-2
Junior forward Brett Seney scores goal and assist for Warriors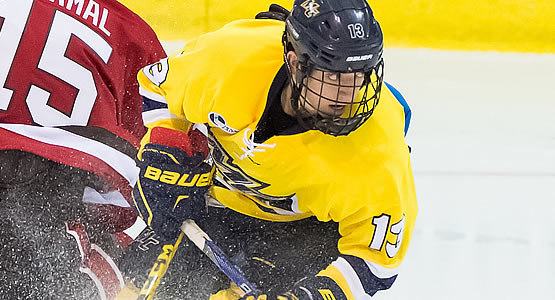 Junior forward Brett Seney had a goal and an assist for the Warriors
| | | | | | | |
| --- | --- | --- | --- | --- | --- | --- |
| Prd | Time | Team | Score | Type | Scored By | Assists |
| 1st | 3:35 | MER | 1-0 | EV | Hampus Gustafsson (3) | Jonathan Lashyn/1, Jace Hennig/1 |
| 1st | 19:51 | CLG | 1-1 | PP | Adam Dauda (1) | John Snodgrass/1, Bobby McMann/1 |
| 2nd | 12:49 | MER | 2-1 | PP | Ethan Spaxman (1) | Jared Kolquist/1, Jace Hennig/2 |
| 2nd | 16:59 | CLG | 2-2 | PP | Adam Dauda (2) | Jake Kulevich/3, John Snodgrass/2 |
| 2nd | 18:32 | MER | 3-2 | EV GW | Brett Seney (1) | - |
| 3rd | 15:31 | MER | 4-2 | EV | Tyler Irvine (1) | Aaron Titcomb/2, Ludvig Larsson/2 |
| 3rd | 16:38 | MER | 5-2 | EV | Alfred Larsson (1) | Brett Seney/3, Mathieu Tibbet/1 |
| | | | | |
| --- | --- | --- | --- | --- |
| Scoring | 1st | 2nd | 3rd | Final |
| Colgate | 1 | 1 | 0 | 2 |
| Merrimack | 1 | 2 | 2 | 5 |
| | | | | |
| --- | --- | --- | --- | --- |
| Shots on Goal | 1st | 2nd | 3rd | SOG |
| Colgate | 9 | 8 | 6 | 23 |
| Merrimack | 6 | 12 | 19 | 37 |
| | | | |
| --- | --- | --- | --- |
| Team Stats and Records | PP | PIM | SHGF |
| Colgate (0-3-2) | 2/8 | 7/14 | 0 |
| Merrimack (2-3-0) | 1/7 | 10/31 | 0 |
| | | | | | | |
| --- | --- | --- | --- | --- | --- | --- |
| Colgate Goaltending | MIN | GA | 1 | 2 | 3 | Saves |
| Bruce Racine (L, 0-1-0) | 59:50 | 5 | 5 | 10 | 17 | 32 |
| Empty Net | 0:10 | 0 | | | | |
| | | | | | | |
| --- | --- | --- | --- | --- | --- | --- |
| Merrimack Goaltending | MIN | GA | 1 | 2 | 3 | Saves |
| Drew Vogler (W, 2-2-0) | 60:00 | 2 | 8 | 7 | 6 | 21 |
NORTH ANDOVER, Mass. - Five different skaters lit the lamp to lead the Merrimack College men's ice hockey team to a Homecoming Weekend sweep with a 5-2 victory against Colgate University on Saturday night at Lawler Rink.
The Basics
Score: Merrimack 5, Colgate 2
Records: Merrimack (2-3-0, 0-0-0 HEA) | Colgate (0-3-2, 0-0-0 ECAC)
Location: Lawler Rink | North Andover, Mass.
Attendance: 2549
Game Duration: 2:30
How It Happened
- Senior Hampus Gustafsson (Ljungby, Sweden) scored for the third straight game and second time this weekend to give the Warriors an early lead, carrying the puck toward the net from the bottom of the far circle before roofing a snap shot from close range to push the hosts ahead at 3:35 of the first.
- Colgate would get even with only nine seconds left in the opening frame, as Adam Dauda picked up a loose puck in the crease area, one that had ricocheted off a teammate's skate, and snuck it home to level the ledger heading into the middle stanza.
- Each team alternated power play opportunities over the first 10 minutes of the second period, but it was sophomore Ethan Spaxman (Brantford, Ontario) who finally broke through with time expiring on Merrimack's seventh man advantage of the night after his point shot banked off a Colgate defender's skate and through netminder Bruce Racine's pads to restore the Warriors' lead at 12:49 of the period.
- Merrimack dug itself back into trouble with back-to-back penalties, and Dauda converted for his - and his team's - second power play tally of the evening to make it a 2-2 contest with just over three minutes to go.
- Junior Brett Seney (London, Ontario), however, broke that tie about 90 seconds later after stealing the puck away in the Colgate zone and getting a 1-on-1 shot against Racine to go, handing the Warriors a 3-2 lead entering the final frame.
- Merrimack withheld back-to-back penalty kills in the third period before putting the game away with two tallies in the span of a minute from freshman Tyler Irvine (Livonia, Mich.) and junior Alfred Larsson (Malmo, Sweden).
Goal Descriptions
MC #1 (Gustafsson/Lashyn/Hennig) | P1 3:35 - Puck played along the far wing half boards, chopped to Jonathan Lashyn above the circle who dropped a through pass to Hampus Gustafsson below the dot; Gustafsson fires a wrist shot over Racine's glove.
CU #1 (Dauda/Snodgrass/McMann) | P1 19:51 (PP) -
MC #2 (Spaxman/Kolquist/Hennig) | P2 12:49 (PP) - Puck around the perimeter with time expiring on the power play; Spaxman lets go a wrist shot with no traffic in front of him that takes a funny bounce off a Colgate defenseman's skate and through the pads of Racine.
CU #2 (Dauda/Kulevich/Snodgrass) | P2 16:59 (PP) - Kulevich throws a shot toward the net from the goal right wing goal line extended, rebound picked up by Dauda who deposits it past an outstretched Vogler.
MC #3 (Seney) | P3 18:32 - Seney steals the puck from a Colgate skater above the far circle and skates in alone on Racine before beating him over the glove.
MC #4 (Irvine/Titcomb/L. Larsson) | P3 15:31 - Scrum near the end of the Merrimack blue line in front of the Colgate bench leads to Logan Coomes coming away with the puck, who feeds Tyler Irvine on an outlet pass collected at the Colgate blue line; Irvine skates in 1-on-1 against a defender and unleashes a quick, bouncing snap shot from the slot beats Racine five-hole.
MC #5 (A. Larsson/Seney/Tibbet) | P3 16:38 - Brett Seney takes the puck down the left wing, cuts through the near circle and dishes a 2-on-1 feed to Alfred Larsson who one-times it home from the far hash marks.
MERRIMACK LINEUP
Seney | A. Larsson | Tibbet
Hennig | Gustafsson | Irvine
Coomes | L. Larsson| Tavernier
Babcock | Petti | Foget
Biega | Kovacevic
Kolquist | Titcomb
Spaxman | Lashyn
Vogler
Pantano
Game Leaders (MC // CU)
Points: Jace Hennig/Brett Seney (2) // Adam Dauda/John Snodgrass (2)
Goals: Five tied (1) // Adam Dauda (2)
Assists: Jace Hennig (2) // John Snodgrass (2)
Shots: Derek Petti (4) // Adam Dauda/Willie Brooks (4)
Faceoffs Won: Alfred Larsson (10) // Adam Dauda (12)
Saves: Drew Vogler (21-for-23) // Bruce Racine (32-for-37)
Facts and Figures (MC // CU)
Power Plays: 1-7 // 2-8
Penalties: 10 Penalties - 31 Minutes // 7 Penalties - 14 Minutes
Faceoffs: 30 // 35
SOG: 6-9 // 12-8 // 19-6 // 37-23
Up Next
Merrimack has a quick turnaround after this weekend as it meets Boston College on Tuesday (Oct. 25) night at home in its first Hockey East matchup of the 2016-17 season. Puck drop is set for 7 p.m.