Wednesday, December 28, 2016
Merrimack College Shut Out By Colorado College, 3-0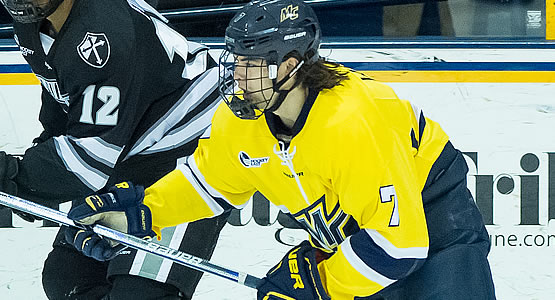 Merrimack College senior defenseman Jonathan Lashyn (pictured)
| | | | | | | |
| --- | --- | --- | --- | --- | --- | --- |
| Prd | Time | Team | Score | Type | Scored By | Assists |
| 1st | 2:56 | CC | 1-0 | PP GW | Mason Bergh (8) | Tanner Ockey/7, Matt Hansen/2 |
| 3rd | 7:14 | CC | 2-0 | PP | Mason Bergh (9) | Matt Hansen/3, Luc Gerdes/2 |
| 3rd | 17:22 | CC | 3-0 | EV | Kade Kehoe (2) | Luc Gerdes/3, Matt Hansen/4 |
| | | | | |
| --- | --- | --- | --- | --- |
| Scoring | 1st | 2nd | 3rd | Final |
| Colorado College | 1 | 0 | 2 | 3 |
| Merrimack | 0 | 0 | 0 | 0 |
| | | | | |
| --- | --- | --- | --- | --- |
| Shots on Goal | 1st | 2nd | 3rd | SOG |
| Colorado College | 13 | 3 | 9 | 25 |
| Merrimack | 11 | 5 | 10 | 26 |
| | | | |
| --- | --- | --- | --- |
| Team Stats and Records | PP | PIM | SHGF |
| Colorado College (4-12-1) | 2/4 | 3/6 | 0 |
| Merrimack (6-9-3) | 0/3 | 4/8 | 0 |
| | | | | | | |
| --- | --- | --- | --- | --- | --- | --- |
| Colorado College Goaltending | MIN | GA | 1 | 2 | 3 | Saves |
| Alex Leclerc (W, 2-9-1) | 60:00 | 0 | 11 | 5 | 10 | 26 |
| | | | | | | |
| --- | --- | --- | --- | --- | --- | --- |
| Merrimack Goaltending | MIN | GA | 1 | 2 | 3 | Saves |
| Collin Delia (L, 1-3-0) | 57:50 | 3 | 12 | 3 | 7 | 22 |
| Empty Net | 2:10 | 0 | | | | |
ESTERO, Fla. - Colorado College potted a pair of power play goals to upend the Merrimack College men's ice hockey team, 3-0, in the opening round of the 2016 Florida College Hockey Classic on Wednesday night at Germain Arena.
The Basics
Score: Colorado College 3, Merrimack 0
Records: Merrimack (6-9-3, 1-4-3 HEA) | Colorado College (4-12-1, 1-6-1 NCHC)
Location: Germain Arena | Estero, Fla.
Attendance: 3812
Game Duration: 2:01
How It Happened
1st Period
- Despite ranking 56th nationally on the power play coming into the contest, it was Colorado College that would net the first goal of the night, as Mason Bergh cleaned up a rebound with just three seconds left on the Tigers' first man advantage to give C.C. a 1-0 lead at the 2:56 mark of the first period.
2nd Period
- That score went unchanged in the second, as each team combined for only eight shots on goal (5-8 Merrimack) and came up empty on their one respective power play to send the Warriors into the final intermission trailing by that same 1-0 margin.
3rd Period
- The Tigers doubled their lead by means of the power play at 7:14 of the third, as Bergh netted his second of the game off a broken play to push Colorado College ahead, 2-0.
- Colorado College's Kade Kehoe netted an additional late goal at 17:22 to punch the Tigers' ticket to the tournament's championship game, where they will meet Cornell tomorrow night.
Notes & Notables
- Merrimack has come up empty on its last 35 power play chances and is the only team in the country without a power play goal dating back to Nov. 11.
- The shutout loss was only Merrimack's second of the season and first since a 4-0 setback at Clarkson on Oct. 14.
- The loss also means Merrimack will see its in-season tournament title drought extend at least another year, as the Warriors' last in-season tournament title came in November 2004 in the Dunkin Donuts Coffee Pot Tournament hosted by Providence.
Goal Descriptions
CC #1 (Bergh/Ockey/Pierre) | P1 2:56 (PP) - Shot through traffic from center point is saved initially by Delia, but Mason Bergh punches in the loose puck blocker side.
CC #2 (Bergh/Hansen/Gerdes) | P3 7:14 (PP) - Puck worked into the slot before an unintentional deflection sent the puck to the back post where Mason Bergh was waiting to put it into an open net.
CC #3 (Kehoe/Gerdes/Hansen) | P3 17:22 - Wrist shot from just inside the top of the left circle.
MERRIMACK LINEUP
Hennig | Gustafsson | Irvine
Seney | L. Larsson | Tavernier
Babcock | A. Larsson | LeBlanc
Petti | Kramer | Tibbet
Biega | Kovacevic
Kolquist | Titcomb
Lashyn| Carle
Delia
Vogler
Pantano
Game Leaders (MC // CC)
Points: None // Matt Hansen (3)
Goals: None // Mason Bergh (2)
Assists: None // Matt Hansen (3)
Shots: Marc Biega (4) // Tanner Ockey/Matt Hansen (3)
Faceoffs Won: Alfred Larsson (12) // Sam Rothstein (11)
Saves: Collin Delia (22-for-25) // Alex Leclerc (26-for-26)
Facts and Figures (MC // CC)
Power Plays: 0-3 // 2-4
Penalties: 4 Penalties - 8 Minutes // 3 Penalties - 6 Minutes
Faceoffs: 31 // 28
SOG: 11-13 // 5-3 // 10-9 // 26-25
Up Next
Merrimack will face first-time opponent Northern Michigan tomorrow afternoon in the Florida College Hockey Classic consolation game. Puck drop against the Wildcats is set for 4 p.m.