Saturday, November 12, 2016
Greenway's Three Points Lead Boston University Past Michigan, 4-2
Sophomore forward Jordan Greenway has game-winning goal and two assists for Terriers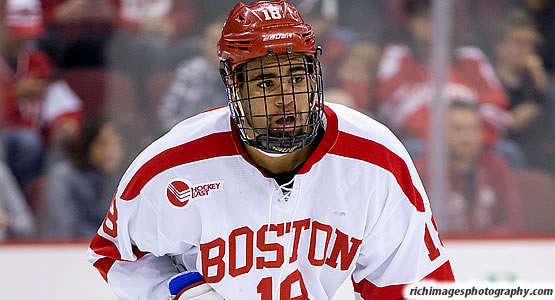 Sophomore forward Jordan Greenway had the game-winning goal and two assists forthe Terriers
| | | | | | | |
| --- | --- | --- | --- | --- | --- | --- |
| Prd | Time | Team | Score | Type | Scored By | Assists |
| 1st | 2:11 | MIC | 1-0 | EV | Brendan Warren (1) | James Sanchez/2, Nolan De Jong/2 |
| 2nd | 5:28 | BU | 1-1 | PP | Dante Fabbro (2) | Patrick Harper/8, Charlie McAvoy/7 |
| 3rd | 9:04 | BU | 2-1 | EV | Charlie McAvoy (1) | Jordan Greenway/6, Patrick Harper/9 |
| 3rd | 10:25 | MIC | 2-2 | EV | Dexter Dancs (1) | - |
| 3rd | 12:37 | BU | 3-2 | EV GW | Jordan Greenway (5) | Jakob Forsbacka Karlsson/7, Charlie McAvoy/8 |
| 3rd | 15:03 | BU | 4-2 | EV | Patrick Harper (5) | Bobo Carpenter/4, Jordan Greenway/7 |
| | | | | |
| --- | --- | --- | --- | --- |
| Scoring | 1st | 2nd | 3rd | Final |
| Boston University | 0 | 1 | 3 | 4 |
| Michigan | 1 | 0 | 1 | 2 |
| | | | | |
| --- | --- | --- | --- | --- |
| Shots on Goal | 1st | 2nd | 3rd | SOG |
| Boston University | 6 | 10 | 18 | 34 |
| Michigan | 14 | 7 | 8 | 29 |
| | | | |
| --- | --- | --- | --- |
| Team Stats and Records | PP | PIM | SHGF |
| Boston University (5-3-1) | 1/4 | 3/6 | 0 |
| Michigan (5-4-1) | 0/2 | 5/10 | 0 |
| | | | | | | |
| --- | --- | --- | --- | --- | --- | --- |
| Boston University Goaltending | MIN | GA | 1 | 2 | 3 | Saves |
| Jake Oettinger (W, 5-3-1) | 59:57 | 2 | 13 | 7 | 7 | 27 |
| Empty Net | 0:03 | 0 | | | | |
| | | | | | | |
| --- | --- | --- | --- | --- | --- | --- |
| Michigan Goaltending | MIN | GA | 1 | 2 | 3 | Saves |
| Jack LaFontaine (L, 1-2-1) | 60:00 | 4 | 6 | 9 | 15 | 30 |
ANN ARBOR, Mich. - Thanks to a three-goal third period, the No. 4 Boston University men's ice hockey team earned a 4-2 victory over No. 18 Michigan on Saturday evening to earn a weekend split with the Wolverines.
THE RUNDOWN
Final Score: #4 Boston University 4, #18 Michigan 2
Records: BU (5-3-1), Michigan (5-4-1)
Location: Yost Ice Arena - Ann Arbor, Mich.
HOW IT HAPPENED
- Sophomores Jordan Greenway and Charlie McAvoy and freshman Patrick Harper all had a goal and two assists apiece to help the Terriers earn their first win at Yost Ice Arena in seven tries.
- McAvoy broke a 1-1 tie midway through the third before Greenway gave the Terriers the lead for good at 3-2 with 7:23 left in regulation.
- Harper added an insurance goal on a perfect redirect with just under five minutes to play.
- After Michigan dominated the play in the opening period and took a 1-0 lead into the first intermission, freshman Dante Fabbro potted a power-play goal at 5:28 of the second to make it a 1-1 contest.
- Brendan Warren opened the scoring for Michigan and Dexter Dancs provided the other goal for the Wolverines.
- In goal, freshman Jake Oettinger made 27 saves to pick up his fifth win of the year for Terriers while fellow rookie Jack LaFontaine stopped 30 BU shots for the Wolverines.
GAME NOTES
- The Terriers outshot the Wolverines, 34-29, and went 1-of-4 on the power play while successfully killing off both of Michigan's chances with the man advantage.
- BU committed a season-low three penalties.
- Greenway had a hand in all three third-period goals and now has 11 points (4g, 7a) over the past six games.
- Sophomores Jakob Forsbacka Karlsson and Bobo Carpenter each recorded an assist.
- Fabbro recorded a game-high five blocked shots.
NEXT UP
- The Terriers will return to action on Friday (Nov. 18) when they open up a weekend home-and-home series with Connecticut in Hartford, Conn.
- Game time at the the XL Center is set for 7 p.m.