Tuesday, January 24, 2017
Merrimack College Upends Boston University, 3-1
Junior defenseman Jared Kolquist posts three assists for Warriors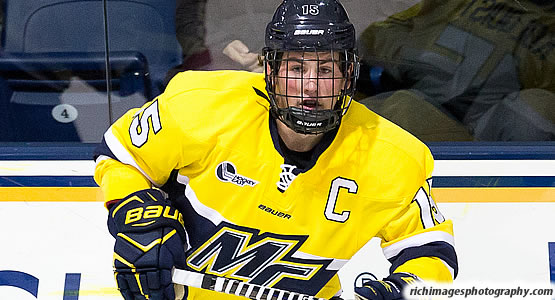 Junior defenseman Jared Kolquist had three assists for the Warriors
| | | | | | | |
| --- | --- | --- | --- | --- | --- | --- |
| Prd | Time | Team | Score | Type | Scored By | Assists |
| 1st | 3:20 | BU | 1-0 | EV | Chad Krys (3) | Clayton Keller/13, Patrick Harper/16 |
| 1st | 15:46 | MER | 1-1 | EV | Mathieu Tibbet (4) | Ludvig Larsson/6, Jared Kolquist/5 |
| 2nd | 14:00 | MER | 2-1 | PP GW | Logan Coomes (2) | Jared Kolquist/6 |
| 3rd | 2:19 | MER | 3-1 | PP | Hampus Gustafsson (10) | Jared Kolquist/7, Sami Tavernier/3 |
| | | | | |
| --- | --- | --- | --- | --- |
| Scoring | 1st | 2nd | 3rd | Final |
| Boston University | 1 | 0 | 0 | 1 |
| Merrimack | 1 | 1 | 1 | 3 |
| | | | | |
| --- | --- | --- | --- | --- |
| Shots on Goal | 1st | 2nd | 3rd | SOG |
| Boston University | 8 | 5 | 18 | 31 |
| Merrimack | 10 | 15 | 11 | 36 |
| | | | |
| --- | --- | --- | --- |
| Team Stats and Records | PP | PIM | SHGF |
| Boston University (16-6-2) | 0/3 | 6/23 | 0 |
| Merrimack (9-13-3) | 2/4 | 5/10 | 0 |
| | | | | | | |
| --- | --- | --- | --- | --- | --- | --- |
| Boston University Goaltending | MIN | GA | 1 | 2 | 3 | Saves |
| Connor LaCouvee (L, 3-1-0) | 57:08 | 3 | 9 | 14 | 10 | 33 |
| Empty Net | 2:52 | 0 | | | | |
| | | | | | | |
| --- | --- | --- | --- | --- | --- | --- |
| Merrimack Goaltending | MIN | GA | 1 | 2 | 3 | Saves |
| Collin Delia (W, 3-5-0) | 60:00 | 1 | 7 | 5 | 18 | 30 |
NORTH ANDOVER, Mass. - A pair of power play goals helped the Merrimack College men's ice hockey team claw out of an early deficit, and the hosts would hang on to hand top-ranked Boston University its first lost in eight games, as the Warriors earned their second-ever win over a team ranked No. 1 in the country thanks to a 3-1 victory on Tuesday night at Lawler Rink.
The Basics
Score: Merrimack 3, Boston U. 1
Records: Merrimack (9-13-3, 3-7-3 HEA) | #1/2 Boston U. (16-6-2, 9-3-2 HEA)
Location: Lawler Rink | North Andover, Mass.
Attendance: 2386
Game Duration: 2:15
How It Happened
- BU grabbed a 1-0 lead just over three minutes into the contest after defenseman Chad Krys netted his third from the slot off a feed from classmates Clayton Keller and Patrick Harper.
- Merrimack would draw even late in the opening stanza after junior Mathieu Tibbet (Dover, Del.) tipped in a slick centering pass from sophomore Ludvig Larsson (Malmo, Sweden), while junior Jared Kolquist (Hermantown, Minn.) also figured into the equalizer at 15:46, and that sent both sides into the first intermission level at a goal apiece.
- Early on in the second, a major penalty and game misconduct was levied against BU's Charlie McAvoy to give the Warriors an extended power play, but they were unable to capitalize.
- But the hosts would take advantage of their third man advantage of the night, as freshman Logan Coomes (Northville, Mich.) tipped in a point shot from Kolquist to give the Warriors their first lead of the evening (2-1) at the 14:00 mark of the second.
- Merrimack made it a two-goal game after senior Hampus Gustafsson (Ljungby, Sweden) punched in his team-leading 10th tally of the season following a wild scramble in front, as Kolquist and freshman Sami Tavernier (Morzine, France) each helped set up the sequence, with the former earning his third assist of the night on the play.
- From there on out, Merrimack goaltender Collin Delia (Rancho Cucamonga, Calif.) would turn away all 18 shots he saw in the final period to preserve Merrimack's victory and break up the Terriers' nation-long eight-game winning streak.
Notes & Notables
- Merrimack's only other win against a team ranked No. 1 in either major weekly poll was, coincidentally enough, against BU in the quarterfinal round of the 1998 Hockey East Tournament. That year, as the No. 8 seed, Merrimack defeated top-seeded BU, 4-1 and 5-4 in Games 1 and 3, respectively, for their only other victories against a top-ranked team.
- The win was also Merrimack's second of the year against any ranked team (4-2 vs. Notre Dame, Jan. 14, 2017).
- Kolquist set a new single-game high in scoring with this three helpers; it was his first multi-point game this season and fourth of his career. His most recent multi-point outing was last year in a 5-5 tie against Boston College (Feb. 13, 2016).
- After going eight straight games without a power play goal, Merrimack now has at least one in five of its last seven games.
Merrimack Lineup
Seney| Gustafsson | Tavernier
Hennig| L. Larsson | LeBlanc
Babcock | A. Larsson | Tibbet
Coomes | Kramer | Irvine
Biega | Carle
Kolquist | Kovacevic
Lashyn | Cook
Delia
Vogler
Pantano
Game Leaders (MC // BU)
Points: Jared Kolquist (3) // Three players (1)
Goals: Three players (1) // Chad Krys (1)
Assists: Jared Kolquist (3) // Patrick Harper/Clayton Keller (1)
Shots: Chris LeBlanc (6) // Three players (5)
Faceoffs Won: Hampus Gustafsson (11) // Clayton Keller/Jacob Forsbacka Karlsson (10)
Saves: Collin Delia (30-for-31) // Connor LaCouvee (33-for-36)
Facts and Figures (MC // BU)
Power Plays: 2-4 // 0-3
Penalties: 5 Penalties - 10 Minutes // 6 Penalties - 23 Minutes
Faceoffs: 34 // 32
SOG: 10-8 // 15-5 // 11-18 // 36-31
Up Next
Merrimack and BU will conclude the season series on Friday at Agganis Arena at 7:30 p.m.