Saturday, October 8, 2016
Harper Scores Two Goals As Boston University Tops Colgate, 6-1
Freshman forward Patrick Harper scores two goals for Terriers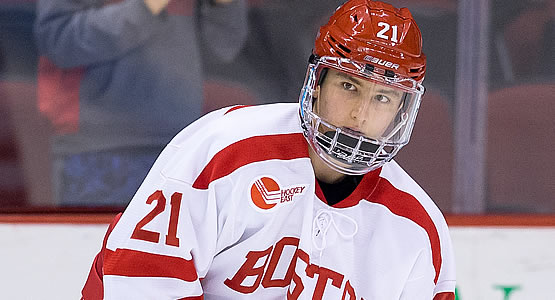 Freshman forward Patrick Harper scored two goals for the Terriers
| | | | | | | |
| --- | --- | --- | --- | --- | --- | --- |
| Prd | Time | Team | Score | Type | Scored By | Assists |
| 1st | 15:11 | BU | 1-0 | PP | Patrick Harper (1) | Bobo Carpenter/1, Charlie McAvoy/1 |
| 1st | 17:27 | BU | 2-0 | SH GW | Nick Roberto (1) | Nikolas Olsson/1 |
| 2nd | 5:28 | BU | 3-0 | EV EA | Patrick Harper (2) | Clayton Keller/1, Brandon Hickey/1 |
| 3rd | 5:12 | BU | 4-0 | EV | Tommy Kelley (1) | Gabriel Chabot/1, Johnny McDermott/1 |
| 3rd | 7:06 | BU | 5-0 | EV | Clayton Keller (1) | Brandon Hickey/2, Kieffer Bellows/1 |
| 3rd | 7:25 | BU | 6-0 | EV | Jakob Forsbacka Karlsson (1) | Bobo Carpenter/2, Doyle Somerby/1 |
| 3rd | 11:47 | CLG | 1-6 | EV | Mike Panowyk (1) | Tim Harrison/1 |
| | | | | |
| --- | --- | --- | --- | --- |
| Scoring | 1st | 2nd | 3rd | Final |
| Boston University | 2 | 1 | 3 | 6 |
| Colgate | 0 | 0 | 1 | 1 |
| | | | | |
| --- | --- | --- | --- | --- |
| Shots on Goal | 1st | 2nd | 3rd | SOG |
| Boston University | 10 | 8 | 12 | 30 |
| Colgate | 7 | 9 | 14 | 30 |
| | | | |
| --- | --- | --- | --- |
| Team Stats and Records | PP | PIM | SHGF |
| Boston University (1-0-0) | 1/7 | 10/20 | 1 |
| Colgate (0-1-1) | 0/8 | 8/16 | 0 |
| | | | | | | |
| --- | --- | --- | --- | --- | --- | --- |
| Boston University Goaltending | MIN | GA | 1 | 2 | 3 | Saves |
| Jake Oettinger (W, 1-0-0) | 59:38 | 1 | 7 | 9 | 13 | 29 |
| Empty Net | 0:22 | 0 | | | | |
| | | | | | | |
| --- | --- | --- | --- | --- | --- | --- |
| Colgate Goaltending | MIN | GA | 1 | 2 | 3 | Saves |
| Charlie Finn (L, 0-1-1) | 49:20 | 6 | 8 | 7 | 7 | 22 |
| Bruce Racine | 10:38 | 0 | 0 | 0 | 2 | 2 |
| Empty Net | 0:02 | 0 | | | | |
HAMILTON, N.Y. - Freshman Patrick Harper picked up where he left off in the preseason, scoring a pair of goals to help the No. 3/4 Boston University men's ice hockey team earn a 6-1 triumph in its season opener at Colgate on Saturday evening.
THE RUNDOWN
Final Score: #3/4 Boston University 6, Colgate 1
Records: BU (1-0-0), Colgate (0-1-1)
Location: Class of 1965 Arena - Hamilton, N.Y.

HOW IT HAPPENED
- Boston University got the start to the season it was looking for, lighting the lamp six times in a 6-1 rout at Colgate.
- Freshman Patrick Harper opened the scoring on his first official shot as a Terrier - a well-placed shot from the high slot - and added another goal in second period.
- Playing in his first game since the 2015 national championship, senior Nick Roberto recorded a shorthanded goal with 2:33 remaining in the opening period to give the Terriers a 2-0 lead entering the first intermission.
- Rookie Clayton Keller also notched his first collegiate goal in addition to assisting on Harper's second tally, which came on a delayed penalty at the 5:28 mark of the middle stanza to push the lead to 3-0.
- The Terriers scored three goals in a span of 2:13 early in the third period to put the game away.
- The fourth line produced BU's fourth goal of the night as freshman Gabriel Chabot found senior Tommy Kelley at the right post at 5:12 of the third. Chabot and fellow freshman Johnny McDermott each picked up their first collegiate point with assists on the goal.
- Keller got his goal at the left crease, finishing off a great pass by junior Hickey from the right corner at the 7:06 mark.
- Just 19 seconds later, sophomore Jakob Forsbacka Karlsson potted a goal of a rebound in front to create a 6-0 cushion and cap the three-goal spurt.
- Colgate spoiled freshman Jake Oettinger's shutout bid with 8:13 remaining in the contest on a goal by Mike Panowyk.
- Oettinger finished the night with 29 saves while Charlie Finn (22) and Bruce Racine (2) combined for 24 stops for the Raiders.
GAME NOTES
- BU killed off all eight of Colgate's power-play chances and went 1-for-7 with the man advantage with the conversion coming on the first goal of the night, which was a 5-on-3 opportunity.
- Both teams recorded 30 shots on the night.
- Hickey and sophomore Bobo Carpenter each tallied two assists.
- Freshman Kieffer Bellows earned his first point as a Terrier with an a assist on Keller's marker.
- Sophomore Charlie McAvoy, junior Nikolas Olsson and senior Doyle Somerby all found the scoresheet with an assist.
- In all, 13 Terriers registered at least one point in the contest.
- The Terriers have now won five of their past six season openers.
- BU was the second opponent to take on Colgate in its new arena, as the Raiders tied Army West Point, 2-2, in their opener on Oct. 1.
- Oettinger was the first American goaltender to start for BU in 315 games, a streak dating back to the beginning of the 2008-09 season.
- In the second period with the Terriers leading 3-0, Oettinger made a stop on a penalty shot taken by Tyler Penner.
NEXT UP
- BU will continue its road stretch to start the season when it travels to face No. 4/3 Denver in a weekend series on Oct. 14-15.
- Friday's contest will start at 9:30 ET while Saturday's will begin at 9:00 ET.
- Both games will be televised on Altitude (DirecTV 681, Dish 413).