Brown Nets Hat Trick As Boston College Defeats Wisconsin, 8-5
Sophomore forward Chris Brown scores hat trick and assist for Eagles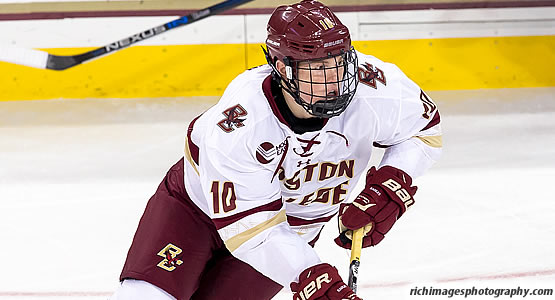 Sophomore forward Chris Brown had a hat trick and an assist for the Eagles
| | | | | | | |
| --- | --- | --- | --- | --- | --- | --- |
| Prd | Time | Team | Score | Type | Scored By | Assists |
| 1st | 0:10 | BC | 1-0 | EV | David Cotton (2) | Christopher Brown/3, Casey Fitzgerald/1 |
| 1st | 11:53 | BC | 2-0 | EV | Christopher Brown (1) | David Cotton/1, Austin Cangelosi/1 |
| 1st | 19:37.9 | WIS | 1-2 | PP | Trent Frederic (2) | Seamus Malone/4, Tim Davison/4 |
| 2nd | 3:00 | WIS | 2-2 | EV | JD Greenway (1) | Trent Frederic/2, Dan Labosky/2 |
| 2nd | 7:10 | BC | 3-2 | EV | Matthew Gaudreau (1) | Chris Calnan/2, Connor Moore/1 |
| 2nd | 12:21 | BC | 4-2 | EV | Christopher Brown (2) | Connor Moore/2 |
| 2nd | 14:39 | BC | 5-2 | EV | Julius Mattila (1) | Matthew Gaudreau/1, Chris Calnan/3 |
| 2nd | 14:59 | BC | 6-2 | EV GW | Christopher Brown (3) | David Cotton/2, Jesper Mattila/1 |
| 2nd | 17:06 | WIS | 3-6 | EV | Cameron Hughes (1) | Grant Besse/3 |
| 3rd | 5:11 | WIS | 4-6 | EV | Ryan Wagner (2) | Trent Frederic/3, Tim Davison/5 |
| 3rd | 10:09 | WIS | 5-6 | EV | Grant Besse (2) | Trent Frederic/4, Peter Tischke/1 |
| 3rd | 18:32 | BC | 7-5 | EV EN | Ryan Fitzgerald (1) | - |
| 3rd | 19:35.2 | BC | 8-5 | EV EN | Colin White (1) | Ryan Fitzgerald/2, Julius Mattila/1 |
| | | | | |
| --- | --- | --- | --- | --- |
| Scoring | 1st | 2nd | 3rd | Final |
| Boston College | 2 | 4 | 2 | 8 |
| Wisconsin | 1 | 2 | 2 | 5 |
| | | | | |
| --- | --- | --- | --- | --- |
| Shots on Goal | 1st | 2nd | 3rd | SOG |
| Boston College | 13 | 15 | 5 | 33 |
| Wisconsin | 12 | 6 | 9 | 27 |
| | | | |
| --- | --- | --- | --- |
| Team Stats and Records | PP | PIM | SHGF |
| Boston College (2-2-0) | 0/6 | 6/23 | 0 |
| Wisconsin (2-2-0) | 1/6 | 6/12 | 0 |
| | | | | | | |
| --- | --- | --- | --- | --- | --- | --- |
| Boston College Goaltending | MIN | GA | 1 | 2 | 3 | Saves |
| Joseph Woll (W, 2-2-0) | 59:54 | 5 | 11 | 4 | 7 | 22 |
| Empty Net | 0:06 | 0 | | | | |
| | | | | | | |
| --- | --- | --- | --- | --- | --- | --- |
| Wisconsin Goaltending | MIN | GA | 1 | 2 | 3 | Saves |
| Matt Jurusik (L, 2-2-0) | 34:59 | 6 | 11 | 8 | 0 | 19 |
| Jack Berry | 23:49 | 0 | 0 | 3 | 3 | 6 |
| Empty Net | 1:12 | 2 | | | | |
MADISON, Wisc. - Sophomore forward Chris Brown had a hat trick and an assist and six other Eagles had multiple-point games as Boston College skated to Sunday afternoon's 8-5 win against Wisconsin at Kohl Center.
SCORE
No. 6/9 Boston College - 8 / Wisconsin - 5
LOCATION
Kohl Center / Madison, Wisc.
RECORDS
No. 6/9 Boston College - (2-2-0) / Wisconsin - (2-2-0)
BC HIGHLIGHTS & GAME NOTES
- Christopher Brown scored Boston College's 339th hat trick in program history with three tallies in 34:59 minutes of action. Before Sunday's affair, Brown never scored more than once in 44 career games and had posted three multi-point games. Brown also added an assist for a four-point performance.
- Brown's goal that marked his hat trick also stood as the game-winning tally. It's the sophomore center's first game winner since donning the maroon and gold.
- The last time an Eagle turned in a four-point performance is when Ian McCoshen did so against BU on Jan. 15, 2016 with two goals and two assists. Colin White (3-1-4) and Ryan Fitzgerald (1-3-4) also turned the trick against Providence last season on Jan. 8, 2016.
- The last time Boston College scored eight goals on the road is when it found the back of the net that many times when Jerry York won his 1,000th game at UMass Amherst on Jan. 22, 2016.
- David Cotton's goal 10 seconds into the game is Boston College's fastest goal since at least 2008 when Matt Price scored 11 seconds in against Northeastern on March 7, 2008.
- Cotton notched his first-career three-point performance with a goal and two helpers in BC's win on Sunday.
- Freshman center Julius Mattila scored his first-career goal and added an assist on Colin White's empty-net goal for his first-career multi-point performance. Connor Moore and Jesper Mattila also recorded their first-career points as Eagles. Moore notched a pair of helpers for his first-career multi-point performance as well.
- Starting with Boston College's shutout if the Badgers, 5-0, to claim its fourth NCAA title in Detroit, the Eagles have outscored Wisconsin, 29-10.
GOAL DESCRIPTIONS
FIRST GOAL (1-0 - BC) FIRST PERIOD - David Cotton -00:10 - EVEN STRENGTH
- Boston College wasted no time attack the scoreboard immediately as David Cotton duped Wisconsin's Matt Jurusik with a quick snapshot 10 seconds into the contest. The Eagles won the game's opening draw and Casey Fitzgerald quickly gathered it and put it on Christopher Brown's stick. Brown hit Cotton in stride and with a Badger on his back, Cotton immediately released a snapshot above the circles through Jurusik's legs for the quick 1-0 strike.
SECOND GOAL (2-0 - BC) FIRST PERIOD - Christopher Brown -11:53 - EVEN STRENGTH
- The Eagles suffocated Wisconsin's end the entire first period and it gave way to BC's second goal at 11:53 in the frame. Boston College possessed, firing at Jurusik from all angles. Cotton had the puck off the far post and sought out Brown without anyone near him on the other side. Cotton dished the puck through the crease and Brown tapped it on the backhand to give BC a two-goal cushion.
THIRD GOAL (2-1 - UW) FIRST PERIOD - Trent Frederic -19:37 - POWER PLAY
- Freshman forward Ron Greco was assessed a five-minute major (hitting from behind) and game misconduct at 17:12 of the first period and the Badgers attacked in the three-minute mark of their extended window. Seamus Malone possessed the puck on the far side and flung it to Trent Frederic who was parked in between the circles. Frederic got his stick on the puck at the right angle and deflected it over Joe Woll's shoulder to cut into BC's lead, 2-1, with the power play tally.
FOURTH GOAL (2-2 - UW) SECOND PERIOD - JD Greenway -3:00 - EVEN STRENGTH
- Wisconsin came away with a rare 4-on-1 opportunity after Dan Labosky induced a turnover in the neutral zone. Frederic gathered it, and patiently waited for JD Greenway to get behind Woll. Frederic timed the pass perfect and Greenway knocked it behind Woll to tie it up, 2-2.
FIFTH GOAL (3-2 - BC) SECOND PERIOD - Matthew Gaudreau -7:10 - EVEN STRENGTH
- BC was able to negate Wisconsin's momentum after Connor Moore tossed a shot on net from the point. Chris Calnan was in front to deflect it to the side of the goalmouth. Matthew Gaudreau was situated in the right circle and crashed the net and shoved the puck over the line at 7:10 to reclaim a one-goal lead, 3-2.
SIXTH GOAL (4-2 - BC) SECOND PERIOD - Christopher Brown -12:21 - EVEN STRENGTH
- Moore's forechecking was strong on BC's fourth goal but it was Brown's finishing touch that put the exclamation point on recapturing a two-goal lead. Moore broke up a Wisconsin breakout and connected with Brown in motion. Brown streaked down the left side of the UW's zone, crafted a couple dekes and completely fooled Jurusik with a nifty backhander up top to make it a 4-2 Eagle lead.
SEVENTH GOAL (5-2 - BC) SECOND PERIOD - Julius Mattlia -14:39 - EVEN STRENGTH
- Gaudreau and Calnan both set up Julius Mattila with his first-career with crisp passing that yielded an open look at the top of the left circle. Calnan was able to provide Jul. Mattila with an open look and the newcomer took his chance and whizzed it through traffic and to the back of the net at 14:39 to give the Eagles a 5-2 advantage.
EIGHTH GOAL (6-2 - BC) SECOND PERIOD - Christopher Brown -14:59 - EVEN STRENGTH
- The flood gates opened for the Eagles after Brown capped off the hat trick with a laser from the slot juts 20 seconds after Jul. Mattila's tally. Cotton hit Brown with a look at the top of the right circle and Brown took advantage of a vulnerable Jurusik and found the back of the net at 14:59 to chase the Badger netminder to the bench. UW coach Tony Granato opted for freshman Jack Barry after BC's sixth strike.
NINTH GOAL (6-3 - UW) SECOND PERIOD - Cameron Hughes -17:06 - EVEN STRENGTH
- Cameron Hughes sliced into BC's lead with an incredible play out front. Grant Besse made the play through the zone and hit his left winger with an incredible pass in the slot Hughes eluded a pair of Eagles and went between his legs to put it past Woll at 17:06 to make it 6-3.
TENTH GOAL (6-4 - UW) THIRD PERIOD - Ryan Wagner -5:11 - EVEN STRENGTH
- Ryan Wagner corralled a pass from Frederic and managed to get a quick shot off on Woll. The freshman netminder made the initial stop but Wagner followed up his rebound and managed to roof it over Woll's glove a he was crashing to his knees to make it a two-goal game again, 6-4, 5:11 into the third stanza.
ELEVENTH GOAL (6-5 - UW) THIRD PERIOD - Grant Besse -10:09 - EVEN STRENGTH
- Trent Frederic earned his third helper of the evening after taking an outlet pass from Peter Tischke. Frederic found Besse on the far side and Besse let loose a slow backhander than trickled through Woll's pads with 9:51 to go in regulation to make it a one-goal game, 6-5.
TWELFTH GOAL (7-5 - BC) THIRD PERIOD - Ryan Fitzgerald -18:32 - EMPTY NETTER
- Ryan Fitzgerald was relentless on the forecheck and wrangled the puck off Wisconsin while the Badgers had an empty net and an extra attacker. Fitzgerald quickly carried it to the side and stuffed it into the unguarded net at 18:32 to ice the contest, 7-5.
THIRTEENTH GOAL (7-5 - BC) THIRD PERIOD - Colin White -19:35 - EMPTY NETTER
- After a lot of back and forth in neutral zone, Colin White came away with the puck near the red line and shoveled it into the back of another unguarded care with 25 seconds left to add the Eagles' second empty netter of the night to seal the scoring, 8-5.
BOSTON COLLEGE GAME LEADERS
Points: Christopher Brown (3 - 1 - 4)
Goals: Christopher Brown (3 - 1 - 4)
Assists: David Cotton (1 - 2 - 3) / Chris Calnan (0 - 2 - 2) / Connor Moore (0 - 2 - 2)
Shots: Chris Calnan (5) / Ryan Fitzgerald (5)
Faceoffs Won: Austin Cangelosi (22 - of - 32)
SPECIAL TEAMS
Boston College: 0 - for - 6
Wisconsin: 1 - for - 6 PENALTIES
Boston College: 6 - of - 23
Wisconsin: 6 - of - 12
BOSTON COLLEGE LINES
R. Fitzgerald - White - Dudek
Cotton - Cangelosi - Brown
Gaudreau - Jul. Mattila - Calnan
McPhee - Greco - Booth
Kim - C. Fitzgerald
McInnis - Savage
Jes. Mattila - Moore
Woll
Edquist
UP NEXT
Boston College will finally make its 2016-17 home debut Friday, Sept. 21 against Colorado College. Kelley Rink's first puck drop of the season will take place at 7 p.m. The following night, BC will head out to the DCU Center in Worcester to take on Holy Cross on Saturday, Sept. 22 at 7 p.m.