Friday, February 17, 2017
Hamilton Lifts Vermont Into 3-3 Tie With Boston College
Senior defenseman Rob Hamilton scores two goals for Catamounts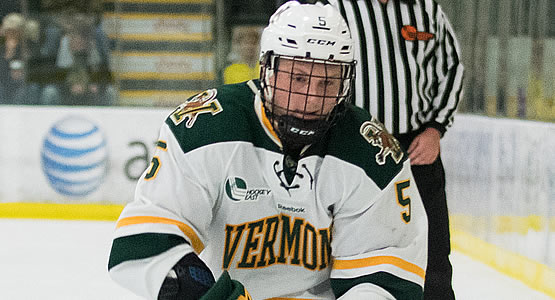 Senior defenseman Rob Hamilton scored two goals for the Catamounts
| | | | | | | |
| --- | --- | --- | --- | --- | --- | --- |
| Prd | Time | Team | Score | Type | Scored By | Assists |
| 1st | 1:37 | BC | 1-0 | EV | Ryan Fitzgerald (8) | Austin Cangelosi/13, Michael Kim/12 |
| 1st | 3:48 | BC | 2-0 | EV | Austin Cangelosi (15) | Matthew Gaudreau/22 |
| 1st | 10:21 | BC | 3-0 | EV | David Cotton (10) | Scott Savage/15, JD Dudek/7 |
| 1st | 11:17 | VER | 1-3 | EV | Rob Hamilton (6) | Brian Bowen/11, Mario Puskarich/9 |
| 3rd | 8:21 | VER | 2-3 | EV | Brian Bowen (9) | Mario Puskarich/10 |
| 3rd | 16:37 | VER | 3-3 | EV GT | Rob Hamilton (7) | Jake Massie/6, Drew Best/3 |
| | | | | | |
| --- | --- | --- | --- | --- | --- |
| Scoring | 1st | 2nd | 3rd | OT | Final |
| Vermont | 1 | 0 | 2 | 0 | 3 |
| Boston College | 3 | 0 | 0 | 0 | 3 |
| | | | | | |
| --- | --- | --- | --- | --- | --- |
| Shots on Goal | 1st | 2nd | 3rd | OT | SOG |
| Vermont | 7 | 4 | 10 | 6 | 27 |
| Boston College | 10 | 12 | 7 | 4 | 33 |
| | | | |
| --- | --- | --- | --- |
| Team Stats and Records | PP | PIM | SHGF |
| Vermont (17-10-4) | 0/6 | 4/8 | 0 |
| Boston College (18-12-3) | 0/4 | 6/12 | 0 |
| | | | | | | | |
| --- | --- | --- | --- | --- | --- | --- | --- |
| Vermont Goaltending | MIN | GA | 1 | 2 | 3 | OT | Saves |
| Stefanos Lekkas (T, 15-7-4) | 64:39 | 3 | 7 | 12 | 7 | 4 | 30 |
| Empty Net | 0:21 | 0 | | | | | |
| | | | | | | | |
| --- | --- | --- | --- | --- | --- | --- | --- |
| Boston College Goaltending | MIN | GA | 1 | 2 | 3 | OT | Saves |
| Joseph Woll (T, 14-10-2) | 65:00 | 3 | 6 | 4 | 8 | 6 | 24 |
CHESTNUT HILL, Mass. - Senior defenseman Rob Hamilton scored his second goal of the game with 3:32 remaining in the third period to lift Vermont into a 3-3 tie against Boston College on Friday at Kelley Rink.
SCORE
No. 16 Vermont - 3 / No. 11 Boston College - 3
LOCATION
Kelley Rink at Conte Forum / Chestnut Hill, Mass.
RECORDS
Vermont (17-10-4 / 9-7-3) / No. 7 Boston College - (18-12-3 / 13-4-2)
BC HIGHLIGHTS & GAME NOTES
- Austin Cangelosi posted his eighth multi-point game of the season as the senior dressed in his 150th-career game Friday night against Vermont. The Estero, Fla. native possesses 51 goals and 60 assists in 150 games on The Heights.
- Freshman David Cotton netted his 10th goal of the season and is now third on the team in goals score this year. The Parker, Texas native has accounted for 22 points (10-12-22) so far this season.
- Ryan Fitzgerald scored his 62nd-career goal on Friday night against UVM. The North Reading, Mass, native is now tied with Jack Leetch (1960-63) and Ray Chaisson (1939-41) for 34th all-time at Boston College in career goals scored.
- Boston College scored three goals in the first period tonight against Vermont. That marks the third time this season the Eagles lit the lamp thrice in the opening 20 minutes (UMass - Jan. 20 • UMass - Oct. 29).
- Boston College is 0-0-3 in overtime affairs.
GOAL DESCRIPTIONS
FIRST GOAL (1-0 - BC) FIRST PERIOD - Ryan Fitzgerald - 1:37 - EVEN STRENGTH
- Boston College generated an early goal, 1:37 into regulation, after Austin Cangelosi charged the puck out of the neutral zone with Michael Kim chasing behind. Cangelosi dumped it off for Kim a top the left circle and he blasted it into Stefanos Lekkas. Lekkas could not handle the initial shot and Ryan Fitzgerald pounced on the doorstep, swatting it in from the goalmouth to give Boston College the quick 1-0 lead.
SECOND GOAL (2-0 - BC) FIRST PERIOD - Austin Cangelosi - 3:48 - EVEN STRENGTH
- Cangelosi kept it rolling, adding to the Eagles' edge just over two minutes later on a great pass from Matthew Gaudreau. Vermont attempted to gain BC's zone but could not get it across the blue line and the puck was thrown errantly into the neutral zone. Gaudreau scooped it up, yielding a two-on-one with Cangelosi. Gaudreau perfectly timed his pass, splitting the Catamount defenseman and connected with Cangelosi on the near post at 3:48 for the 2-0 lead.
THIRD GOAL (3-0 - BC) FIRST PERIOD - David Cotton - 10:21 - EVEN STRENGTH
- The Eagles tripled their lead on a David Cotton tip midway through the first period. Boston College cycled the puck through the Catamounts' zone a couple times before JD Dudek set up Scott Savage with a big slap shot just within the blue line. Savage hammered the puck into traffic and Cotton swirled around between the circles and redirected the puck through Lekkas at 10:21 of the first period for a 3-0 BC advantage.
FOURTH GOAL (3-1 - UVM) FIRST PERIOD - Rob Hamilton - 11:17 - EVEN STRENGTH
- Vermont got on the board 56 seconds later to make it a 3-1 game after the Catamounts forced BC netminder Joseph Woll out of position. Mario Puskarich skated the puck into BC's end and ripped it at Woll. The puck bobbled around the crease and Brian Bowen swatted it out to Rob Hamilton who had a wide-open look at the net and converted at 11:17 of the first period to make it 3-1.
FIFTH GOAL (3-2 - UVM) THIRD PERIOD - Brian Bowen - 8:21- EVEN STRENGTH
- The Catamounts trimmed Boston College's lead to one after Puskarich capitalized off of a Casey Fitzgerald turnover midway through the third frame. Puskarich snared a puck from C. Fitzgerald and swatted it out to a streaking Bowen. He broke free, settled the puck down just before getting to Woll and beat him with the high backhander in tight to make it a 3-2 contest.
SIXTH GOAL (3-3 - UVM) THIRD PERIOD - Rob Hamilton - 16:37 - EVEN STRENGTH
- With 3:23 left in regulation, Vermont tied it up on a one-timer play to Hamilton for his second of the night. Drew Best triggered the initial shot on Woll and it jutted out to Jake Massie in between the circles. Massie quickly slid it over to Hamilton as Woll was trying to get back to his bases and Hamilton snuck it by just in time at 16:37 to tie things up, 3-3.
BOSTON COLLEGE GAME LEADERS
Points: Austin Cangelosi (1 - 1 - 2)
Goals: Austin Cangelosi (1 - 1 - 2) / Ryan Fitzgerald (1 - 0 - 1) / David Cotton (1 - 0 - 1)
Assists: Austin Cangelosi (1 - 1 - 2) / Michael Kim / JD Dudek (0 - 1 - 1) / Scott Savage (0 - 1 - 1) / Matthew Gaudreau (0 - 1 - 1)
Shots: Colin White ( 5 )
Faceoffs Won: Austin Cangelosi (18 - of - 20)
SPECIAL TEAMS
Vermont: 0 - for - 6
Boston College: 0 - for - 4
PENALTIES
Vermont: 4 - of - 8
Boston College: 6 - of - 12
BOSTON COLLEGE LINES
R. Fitzgerald - Cangelosi - Gaudreau
Cotton - White - Dudek
McPhee - Jul. Mattila - Calnan
Greco - Booth - Walker
McInnis - Savage
Kim - Moore
Jes. Mattila - C. Fitzgerald
Woll
Edquist
Milosz
UP NEXT
Boston College will close out the regular season series with Vermont tomorrow night at 7 p.m. at Kelley Rink. Senior Night will prelude Saturday's contest with a short ceremony honoring our senior members. Following Saturday, the Eagles have only two regular-season games left. BC hosts No. 9 UMass Lowell on Thursday, Feb. 23 and then closes the regular season at Tsongas Center against Lowell at 8:30 p.m. live on NESN and TSN.