Tuesday, November 29, 2016
Late Kim Goal Sends Boston College Past Northeastern, 2-1
Sophomore defensmen Michael Kim scores game-winner at 19:37 of third period for Eagles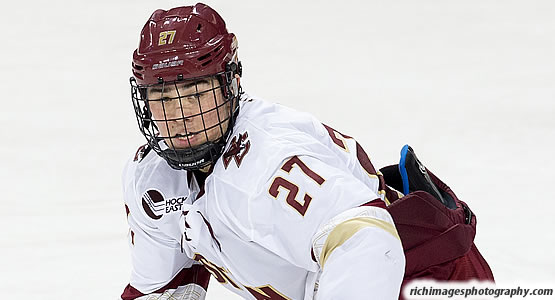 Sophomore defensmen Michael Kim scored the game-winning goal for the Eagles
| | | | | | | |
| --- | --- | --- | --- | --- | --- | --- |
| Prd | Time | Team | Score | Type | Scored By | Assists |
| 2nd | 19:27 | BC | 1-0 | EV | Colin White (9) | JD Dudek/3, Matthew Gaudreau/13 |
| 3rd | 1:56 | NOE | 1-1 | PP | Zach Aston-Reese (11) | Garret Cockerill/9, Dylan Sikura/14 |
| 3rd | 19:37.1 | BC | 2-1 | SH GW | Michael Kim (1) | - |
| | | | | |
| --- | --- | --- | --- | --- |
| Scoring | 1st | 2nd | 3rd | Final |
| Boston College | 0 | 1 | 1 | 2 |
| Northeastern | 0 | 0 | 1 | 1 |
| | | | | |
| --- | --- | --- | --- | --- |
| Shots on Goal | 1st | 2nd | 3rd | SOG |
| Boston College | 14 | 9 | 6 | 29 |
| Northeastern | 4 | 11 | 9 | 24 |
| | | | |
| --- | --- | --- | --- |
| Team Stats and Records | PP | PIM | SHGF |
| Boston College (12-4-1) | 0/2 | 8/16 | 1 |
| Northeastern (5-6-4) | 1/7 | 3/6 | 0 |
| | | | | | | |
| --- | --- | --- | --- | --- | --- | --- |
| Boston College Goaltending | MIN | GA | 1 | 2 | 3 | Saves |
| Joseph Woll (W, 9-4-1) | 60:00 | 1 | 4 | 11 | 8 | 23 |
| | | | | | | |
| --- | --- | --- | --- | --- | --- | --- |
| Northeastern Goaltending | MIN | GA | 1 | 2 | 3 | Saves |
| Ryan Ruck (L, 5-5-3) | 59:22 | 2 | 14 | 8 | 5 | 27 |
| Empty Net | 0:38 | 0 | | | | |
BOSTON - Despite 27 saves from sophomore Ryan Ruck and a tying goal early in the third period from Zach Aston-Reese, a Michael Kim shorthanded tally with 22.9 seconds remaining in regulation was the difference as No. 3/4 Boston College (12-4-1, 7-0-1) topped the Northeastern men's hockey team (5-6-4, 1-5-2) on Tuesday night at Matthews Arena, 2-1.
Goaltending was the story for most of the evening as Ruck and Eagle netminder Joe Woll (23 stops) went save-for-save, keeping a pair of potent offenses at bay. It wasn't until the final minute of the second period when Boston College took a 1-0 lead on a goal from Colin White. Northeastern would respond less than two minutes into the third period as Aston-Reese tallied his team-leading 11th goal of the year on a redirection in front.
After the Huskies were awarded a power play opportunity with less than two minutes to go in the final frame, instead it was the Eagles who cashed in as Kim picked off an entry pass from Northeastern, sped the other way and beat Ruck bar down for the game-winner.
Boston College held a 29-24 edge in shots in the game while winning 31-of-54 face-offs. The Huskies were able to draw seven power play opportunities in the game, going 1-of-7, and holding BC to an 0-of-2 showing.
Goal descriptions:
- It took nearly 40 minutes, but Boston College got on the board first with 33 seconds remaining in the second period on White's ninth of the year. After the Eagles won a face-off in the defensive zone, Casey Fitzgerald cleared the puck off Matthew Gaudreau's stick and over to White. White then tossed it across to JD Dudek entering the attacking zone before Dudek sent it right back for a redirect past Ruck for the score.
- Northeastern tied the game at one just 1:56 into the third period with a power play tally from Aston-Reese. Controlling the puck in the attacking zone, John Stevens sent a pass across the zone to Dylan Sikura at the right dot. Sikura then fed it up to Garret Cockerill at the point, who ripped a one-timer that caught the stick of Aston-Reese before getting past Woll to make it 1-1.
- Boston College went ahead for good with 22.9 seconds remaining in regulation on Kim's first career goal. With Northeastern on the power play, the Eagles were able to clear the puck out to the neutral zone. But before NU could turn and head back up ice, Kim picked off an entry pass and flew the other way, tearing down the left side before rocketing a shot over the glove of Ruck, off the crossbar and in.
Stats of the game:
- Northeastern is now 49-164-16 all-time against Boston College
- Aston-Reese moved into a tie for 37th all-time in career scoring at Northeastern with 108 points (46 goals, 62 assists)
- Sikura has 10 points (five goals, five assists) in his last four games. He also has at least one assist in each of his last four games, tying a career-long assist streak.
- Cockerill has one goal and five assists in his last four games
The road ahead:
- The Huskies and Eagles will meet again next Tuesday night at Conte Forum. Puck drop is slated for 7 p.m.