Tuesday, December 6, 2016
Dudek Scores Twice As Boston College Downs Northeastern, 5-3
Sophomore forward JD Dudek nets two goals for Eagles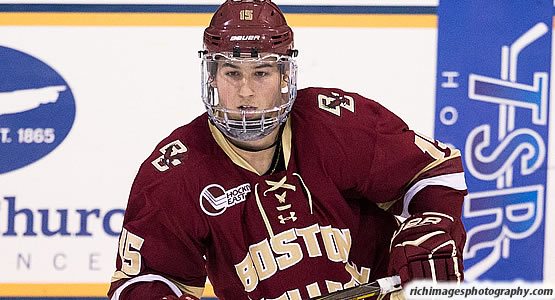 Sophomore forward JD Dudek had two goals for the Eagles
| | | | | | | |
| --- | --- | --- | --- | --- | --- | --- |
| Prd | Time | Team | Score | Type | Scored By | Assists |
| 1st | 1:17 | BC | 1-0 | EV | JD Dudek (7) | Matthew Gaudreau/14, Colin White/6 |
| 1st | 7:30 | BC | 2-0 | EV | Zach Walker (2) | - |
| 1st | 10:29 | NOE | 1-2 | EV | Dylan Sikura (10) | Zach Aston-Reese/13, John Stevens/5 |
| 2nd | 9:01 | BC | 3-1 | EV | JD Dudek (8) | Matthew Gaudreau/15, Michael Kim/11 |
| 2nd | 9:56 | BC | 4-1 | EV GW | David Cotton (5) | Jesper Mattila/6, Christopher Brown/10 |
| 2nd | 12:49 | NOE | 2-4 | PP | Jeremy Davies (3) | Dylan Sikura/15, John Stevens/6 |
| 3rd | 10:31 | NOE | 3-4 | EV | John Stevens (2) | Zach Aston-Reese/14, Eric Williams/4 |
| 3rd | 15:26 | BC | 5-3 | EV | Scott Savage (3) | Matthew Gaudreau/16, Colin White/7 |
| | | | | |
| --- | --- | --- | --- | --- |
| Scoring | 1st | 2nd | 3rd | Final |
| Northeastern | 1 | 1 | 1 | 3 |
| Boston College | 2 | 2 | 1 | 5 |
| | | | | |
| --- | --- | --- | --- | --- |
| Shots on Goal | 1st | 2nd | 3rd | SOG |
| Northeastern | 6 | 9 | 16 | 31 |
| Boston College | 11 | 13 | 11 | 35 |
| | | | |
| --- | --- | --- | --- |
| Team Stats and Records | PP | PIM | SHGF |
| Northeastern (5-7-4) | 1/6 | 7/14 | 0 |
| Boston College (13-5-1) | 0/5 | 7/14 | 0 |
| | | | | | | |
| --- | --- | --- | --- | --- | --- | --- |
| Northeastern Goaltending | MIN | GA | 1 | 2 | 3 | Saves |
| Ryan Ruck (L, 5-6-3) | 57:46 | 5 | 9 | 11 | 10 | 30 |
| Empty Net | 2:14 | 0 | | | | |
| | | | | | | |
| --- | --- | --- | --- | --- | --- | --- |
| Boston College Goaltending | MIN | GA | 1 | 2 | 3 | Saves |
| Joseph Woll (W, 10-5-1) | 60:00 | 3 | 5 | 8 | 15 | 28 |
CHESTNUT HILL, Mass. - Sophomore forward JD Dudek scored two goals and senior forward Matthew Gaudreau had three assists to lead Boston College to Tuesday evening's 5-3 win against Northeastern at Kelley Rink.
SCORE
Northeastern - 3 / No. 4 Boston College - 5
LOCATION
Kelley Rink / Chestnut Hill, Mass.
RECORDS
Northeastern (5-7-4 / 1-6-2) / No. 4 Boston College - (13-5-1 / 8-0-1)
BC HIGHLIGHTS & GAME NOTES
- Boston College has remained unbeaten in Hockey East play in nine outings, accruing an 8-0-1 record. This officially marks the best start in Eagles' history in conference play since the dawn of Hockey East. The Eagles are six points clear of second-place New Hampshire (5-1-1).
- Matthew Gaudreau assisted on JD Dudek's goal 1:17 into the game to give the senior his second-career eight-game point streak. The Carneys Point, N.J. native also assembled an eight-game point streak from Oct. 30 to Nov. 28, 2015 last year. Over this recent stretch, Gaudreau has pieced together 12 points (3-9-10). Gaudreau also added his second-career playmaker (three assists), his first since tallying one against RIT on Nov. 28, 2015. The Carneys Point, N.J. native leads the Eagles in scoring 22 points (6-16-22).
- JD Dudek scored two goals in Tuesday's victory over Northeastern, marking his fifth goal in four outings. The Auburn, N.H. native has accounted for eight goals on the season and is tied for second on the team in goals scored with Austin Cangelosi.
- David Cotton netted his fifth goal as an Eagle. Sixty percent of Cotton's goals have stood as game winners as the Parker, Texas native tallied his third game-winning goal of the season at 9:56 of the second period.
GOAL DESCRIPTIONS
FIRST GOAL (1-0 - BC) FIRST PERIOD - JD Dudek - 1:17 - EVEN STRENGTH
- Boston College jumped on the board just over a minute into the game, capitalizing on a draw to NU goaltender Ryan Ruck's right. Colin White won the draw back to JD Dudekon the far wall and Dudek backhanded down behind the net to Matthew Gaudreau. Dudek wheeled around through the slot, gathered Gaudreau's no-look dish and had the perfect angle to wrist it past Ruck at 1:17 for the 1-0 lead.
SECOND GOAL (2-0 - BC) FIRST PERIOD - Zach Walker - 7:30 - EVEN STRENGTH
- The Eagles doubled their lead on a heads up play by Zach Walker deep in Northeastern's end. Boston College gained the zone, but the puck slipped from and Northeastern attempted to reset its breakout. NU's Dylan Sikura gathered the puck off the far wall and attempted to zip it across his own zone, but Walker was right on his heels, stripped the pass in the slot and roofed it between the circles with no one around him at 7:30 for the 2-0 lead.
THIRD GOAL (2-1 - NU) FIRST PERIOD - Dylan Sikura - 10:29 - EVEN STRENGTH
- Northeastern got one back at 10:29 on a strong breakout from its own end. The Huskies lofted the puck out of their own end to John Stevens on the Eagles' blue line. Stevens one-touched it off to Zach Aston-Reese in motion and both he and Dylan Sikura gained the zone for the 2-on-1. Aston-Reese drew his defenseman and connected with Sikura on the crease and he beat Joseph Woll with the tight backhander to make it 2-1.
FOURTH GOAL (3-1 - BC) SECOND PERIOD - JD Dudek - 9:01 - EVEN STRENGTH
- Dudek added his second of the night with another firm wrister from the slot. Michael Kim and Dudek help break the puck out of Boston College's end and Dudek linked up with Gaudreau on Northeastern's blue line. Gaudreau held onto the puck, waited for Dudek to catch up to the play, and released the disc right on his tape between the circles. Dudek took two strides and snapped it past Ruck to make it 3-1 at 9:01 of the second.
FIFTH GOAL (4-1 - BC) SECOND PERIOD - David Cotton - 9:56 - EVEN STRENGTH
- David Cotton extended the lead by three after Jesper Mattila and Christopher Brown worked the puck around at the top of the zone. Brown fished the puck off the near wall and kicked it up to Jes. Mattila steps within the blue line. Mattila ripped the puck on net but Cotton disrupted the trajectory and maneuvered the puck around Ruck to BC's second goal in 55 seconds to make it a 4-1 game.
SIXTH GOAL (4-2 - BC) SECOND PERIOD - Jeremy Davies - 12:49 - POWER PLAY
- Gaudreau was cited for holding at 12:22 and the Huskies cashes in 27 seconds later. John Stevens quarterbacked the play from the left side of the zone and zipped it over to Sikura, wheeling around the left circle. The Huskies drew BC's penalty kill to the right and Sikura dropped it off for Jeremy Davies on the other side. Davies accepted the pass and buried the shot with no one around for the power play tally to cut into BC's lead, 4-2.
SEVENTH GOAL (4-3 - NU) THIRD PERIOD - John Stevens - 10:31 - EVEN STRENGTH
- The Huskies inched to within a goal after Stevens banged home a pass of the boards from the slot. Stevens raced the puck out of NU's end and slid a crossing pass to Zach Aston-Reese on the opposite side. Eric Williams tipped the puck in the slot and it popped up into the air. Aston-Reese snared it, tossed it into the corner and connected with Stevens in the slot for bang-bang play at 10:31 to make it 4-3.
EIGHTH GOAL (5-3 - BC) THIRD PERIOD - Scott Savage - 15:26 - EVEN STRENGTH
- With under five minutes to go, Scott Savage added an insurance goal with a laser from the top of the left circle at 15:26. White forced the puck loose as Northeastern attempted to clear it and Gaudreau was coming the other way. Gaudreau pilfered it, skated into the zone and made a patient pass to Savage skating into the play. Savage grabbed it and went bar down on Ruck to make it 5-3.
BOSTON COLLEGE GAME LEADERS
Points: Matthew Gaudreau (0 - 3 - 3)
Goals: JD Dudek (2 - 0 - 2)
Assists: Matthew Gaudreau (0 - 3 - 3)
Shots: David Cotton ( 6 )
Faceoffs Won: Austin Cangelosi (15 - of - 27)
SPECIAL TEAMS
Northeastern: 1 - for - 6
Boston College: 0 - for - 5
PENALTIES
Northeastern: 7 - of - 14
Boston College: 7 - of - 14
BOSTON COLLEGE LINES
Cotton - Cangelosi - Brown
Gaudreau - White - Dudek
McPhee - Jul. Mattila - Calnan
Booth - Greco - Walker
Jes. Mattila - C. Fitzgerald
Campoli - Savage
Kim - Moore
Woll
Edquist
Milosz
UP NEXT
Boston College will close out the first half of the season in South Bend on Saturday night. Game time at Compton Family Ice Arena is scheduled for 7 p.m.