Saturday, January 28, 2017
Boston College Scores Final Four Goals To Upend Notre Dame, 6-4
Senior forward Chris Calnan scores two goals for Eagles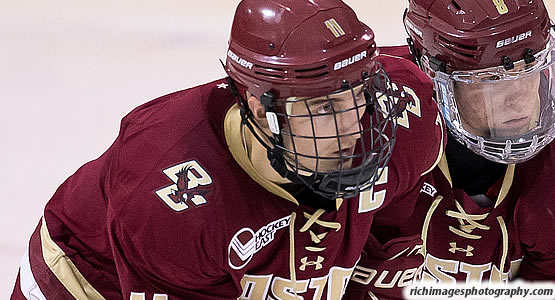 Senior forward Chris Calnan scored two goals for the Eagles
| | | | | | | |
| --- | --- | --- | --- | --- | --- | --- |
| Prd | Time | Team | Score | Type | Scored By | Assists |
| 1st | 1:04 | NDM | 1-0 | EV | Anders Bjork (16) | Tory Dello/6, Dennis Gilbert/10 |
| 1st | 4:58 | BC | 1-1 | EV | Chris Calnan (4) | David Cotton/10, Colin White/9 |
| 1st | 6:10 | NDM | 2-1 | EV | Andrew Oglevie (13) | Dennis Gilbert/11, Jake Evans/17 |
| 2nd | 4:48 | BC | 2-2 | EV | Christopher Brown (7) | Casey Fitzgerald/11, Ryan Fitzgerald/14 |
| 2nd | 6:35 | NDM | 3-2 | EV | Felix Holmberg (1) | Jake Evans/18, Jordan Gross/15 |
| 2nd | 8:36 | NDM | 4-2 | SH | Andrew Oglevie (14) | Anders Bjork/22, Jordan Gross/16 |
| 2nd | 15:20 | BC | 3-4 | EV | Colin White (12) | Matthew Gaudreau/18, JD Dudek/5 |
| 3rd | 1:59 | BC | 4-4 | EV | Julius Mattila (5) | David Cotton/11, Casey Fitzgerald/12 |
| 3rd | 15:59 | BC | 5-4 | EV GW | Chris Calnan (5) | David Cotton/12, Julius Mattila/7 |
| 3rd | 18:53 | BC | 6-4 | SH EN | Ryan Fitzgerald (6) | Casey Fitzgerald/13 |
| | | | | |
| --- | --- | --- | --- | --- |
| Scoring | 1st | 2nd | 3rd | Final |
| Notre Dame | 2 | 2 | 0 | 4 |
| Boston College | 1 | 2 | 3 | 6 |
| | | | | |
| --- | --- | --- | --- | --- |
| Shots on Goal | 1st | 2nd | 3rd | SOG |
| Notre Dame | 9 | 15 | 9 | 33 |
| Boston College | 13 | 17 | 14 | 44 |
| | | | |
| --- | --- | --- | --- |
| Team Stats and Records | PP | PIM | SHGF |
| Notre Dame (14-9-3) | 0/4 | 4/8 | 1 |
| Boston College (17-9-2) | 0/3 | 5/10 | 1 |
| | | | | | | |
| --- | --- | --- | --- | --- | --- | --- |
| Notre Dame Goaltending | MIN | GA | 1 | 2 | 3 | Saves |
| Cal Petersen (L, 14-9-3) | 58:48 | 5 | 12 | 15 | 11 | 38 |
| Empty Net | 1:12 | 1 | | | | |
| | | | | | | |
| --- | --- | --- | --- | --- | --- | --- |
| Boston College Goaltending | MIN | GA | 1 | 2 | 3 | Saves |
| Joseph Woll (W, 13-8-1) | 60:00 | 4 | 7 | 13 | 9 | 29 |
CHESTNUT HILL, Mass. - Boston College scored the final four goals of the contest - including the game-winner from senior forward Chris Calnan - to notch a 6-4 win against Notre Dame on Saturday night at Kelley Rink.
SCORE
No. 15 Notre Dame - 4 / No. 13 Boston College - 6
LOCATION
Kelley Rink at Conte Forum / Chestnut Hill, Mass.
RECORDS
Notre Dame (14-9-3 / 7-5-2) / No. 10 Boston College - (17-9-2 / 12-3-1)
BC HIGHLIGHTS & GAME NOTES
- Boston College avenged Notre Dame's recent success in thrilling fashion on Saturday night, coming from behind in front of a sold-out crowd of 7,884 strong. Julius Mattila scored the game-tying goal 1:59 into the third period and Chris Calnan won it at the 15:59 mark before Ryan Fitzgerald tallied an empty netter with 67 seconds to play. It marked Boston College's first win in eight tries heading into the third period with a deficit.
- Boston College came away with the win in the last-ever regular season meeting between the Eagles and Notre Dame. The Fighting Irish will depart Hockey East for the Big Ten Conference next season.
- The Eagles surrendered a pair of goals in the first period against Notre Dame. It marks the first time all season Boston College has given up one or more goals through 20 minutes of play.
- Chris Calnan turned in his fourth-career multi-goal performance with a pair in the Notre Dame victory, including his sixth-career game-winning goal. For Calnan, it was his first game-winning goal of the season, curbing a 14-game goal-scoring drought.
- Both Casey Fitzgerald and David Cotton turned in a playmaker in the win, each stockpiling three assists. They were the sixth and seventh playmakers for BC this season. For Cotton, it marked a career best as the Parker, Texas native posted a pair of two-assist performances prior to Saturday. C. Fitzgerald also tallied his first-career three-assist performance, including his first-career three-point showing in 64 games as an Eagle.
- Julius Mattila accounted for his fifth multi-point performance as an Eagle in Saturday's win over Notre Dame. The Tampere, Finland native scored the game-winning goal and assists on Calnan's game-winning goal as well.
- Colin White scored his team-leading 12th goal on Saturday night, stopping up a three-game scoreless drought. The Hanover, Mass. native notched his 20th and 21st points tonight (12-9-21) with the tally and an assist on Calnan's first goal.
- Christopher Brown found the back of the net for the first time in nine games (Dec. 3 vs. North Dakota) to elevate his point total to 22 (7-15-22) thus far.
- Ryan Fitzgerald found the back of the net on an empty-netter for the first time since returning back from injury on Jan. 8 against Providence at Fenway Park.
- Saturday's amazing crowd marked the Eagles' second sellout in four games.
GOAL DESCRIPTIONS
FIRST GOAL (1-0 - ND) FIRST PERIOD - Anders Bjork - 1:04 - EVEN STRENGTH
- The Fighting Irish took a page out of Boston College's book of scoring early after Anders Bjork beat Joseph Woll between the circle 64 seconds into the game. Tory Dello accepted a pass atop the zone from Dennis Gilbert and Dello tossed it towards the Eagles' net. Bjork got a piece of it in front and it leaped over Woll to the back of the net for a 1-0 Notre Dame lead 1:04 into the first period.
SECOND GOAL (1-1 - BC) FIRST PERIOD - Chris Calnan - 4:58 - EVEN STRENGTH
- Boston College responded a few minutes later triggered by a great play along the wall from Michael Campoli. The freshman defenseman wriggled the puck free as Notre Dame was charging up ice and got it back into the Irish zone. Colin White scooped in and backhanded it to David Cotton charging down the slot. Chris Calnan crashed the play and beat ND goalie Cal Petersen on the doorstep following a perfect pass through the circles from Cotton at 4:58 to tie it up, 1-1.
THIRD GOAL (2-1 - ND) FIRST PERIOD - Andrew Oglevie - 6:10 - EVEN STRENGTH
- The opponent reclaimed the 2-1 edge just a minute and 12 seconds after Calnan's goal at 6:10 of the first period. Jake Evans wheeled the puck through the neutral zone and handed it off to Gilbert who gained the zone. Gilbert handed it off to Andrew Oglevie and he skated it through the circles and caught Woll off guard with a backhand shot from the right dot to take back the one-goal lead, 2-1.
FOURTH GOAL (2-2 - BC) SECOND PERIOD - Christopher Brown - 4:48 - EVEN STRENGTH
- BC knotted it once again to maintain the back-and-forth pace at 4:48 of the second period. Christopher Brown tossed the puck off the near wall to try and connected with Casey Fitzgerald in the corner. Elder brother, Ryan Fitzgerald, tipped the puck to have it land softly on C. Fitgerald's tape. Brown chased his own feed behind the play and potted the perfect dish from Fitzgerald on the goalmouth to make it 2-2.
FIFTH GOAL (3-2 - ND) SECOND PERIOD - Felix Holmberg - 6:35 - EVEN STRENGTH
- As the trend continued, Notre Dame took back its one-goal edge a minute and 47 seconds later. Jordan Gross dumped the puck into Evans on BC's blue line. Evans kept the puck in play, carried it in and triggered on Woll deep from above the right circle. Woll kick saved the original shot but the puck caromed out to the slot and Felix Holmberg came streaking through the circles and pounded the puck back in at 6:35 for the 3-2 Fighting Irish lead.
SIXTH GOAL (4-2 - ND) SECOND PERIOD - Andrew Ogleview - 8:36 - SHORT HANDED
- ND's Tory Dello was called for hooking at 7:36 of the second period but it was the Irish that cashed in on the following two-minute window a minute into their penalty kill. Gross jostled the puck loose from BC's cycle along the near wall up to Bjork on the blue line. Bjork tapped it to Oglevie and they were off the races for a two-on-one. Bjork snapped one from the right dot and ND converted in similar fashion as its third goal on and Oglevie netted his third at 8:36 to make it a 4-2 game.
SEVENTH GOAL (4-3 - BC) SECOND PERIOD - Colin White - 15:20 - EVEN STRENGTH
- Matthew Gaudreau was the catalyst for Boston College's third goal, throwing the puck at Petersen deep from beyond the zone. Petersen played the puck out to the far boards and JD Dudek made the play to keep it in and get it back to Gaudreau behind the net. Colin White saw the play developing, tore in from the seam and buried Gaudreau's one-timer feed at 15:20 to close the gap back to one, 4-3.
EIGHTH GOAL (4-4 - BC) THIRD PERIOD - Julius Mattila - 1:59 - EVEN STRENGTH
- Right out of the chute, Boston College tied it up for the second time of the night with a rip from Julius Mattila between the circles 1:59 into third third period. C. Fitzgerald hammered a shot from within the blue line, off of Petersen to the far corner. Cotton sprinted to the corner to gobble up the loose puck and linked up with Jul. Mattila between the circles to cinch it up, 4-4.
NINTH GOAL (5-4 - BC) THIRD PERIOD - Chris Calnan - 15:59 - EVEN STRENGTH
- Boston College took its first lead of the night on beautiful goal from the line of Calnan - Cotton - Jul. Mattila. Cotton got the puck out of the neutral zone, touch -passed it to Jul. Mattila and corralled it back onsides. Cotton weaved through a pair of Irish defensemen, spilt another with a pass through the skates to Calnan waiting atop the right circle. Calnan gathered the pick and rifled it through traffic, going top shelf on Petersen at 15:59 to give BC the 5-4 advantage.
TENTH GOAL (6-4 - BC) THIRD PERIOD - Ryan Fitzgerald - 18:53 - SHORT-HANDED
- The Eagles iced it down three men after Notre Dame had a 5-on-3 advantage with 1:34 left in regulation. The Fighting Irish opted to pull Petersen for the extra skater, giving ND a 6-3 advantage. C. Fitzgerald poked a puck free from Notre Dame's cycle and his brother, Ryan, did the rest. R. Fitzgerald fought off a defenseman and skated it the distance to put it into the unguarded net at 18:53 to seal the 6-4 win.
BOSTON COLLEGE GAME LEADERS
Points: Casey Fitzgerald (0 - 3 - 3) / David Cotton (0 - 3 - 3)
Goals: Chris Calnan (2 - 0 - 2)
Assists: Casey Fitzgerald (0 - 3 - 3) / David Cotton (0 - 3 - 3)
Shots: Ryan Fitzgerald ( 9 )
Faceoffs Won: Austin Cangelosi (9 - of - 18)
SPECIAL TEAMS
Notre Dame: 0 - for - 3
Boston College: 0 - for - 3
PENALTIES
Notre Dame: 4 - of - 8
Boston College: 5 - of - 10
BOSTON COLLEGE LINES
Gaudreau - White - Dudek
R. Fitzgerald - Cangelosi - Brown
Cotton - Jul Mattila - Calnan
McPhee - Booth - Walker
McInnis - Savage
Campoli - C. Fitzgerald
Kim - Moore
Woll
Edquist
Milosz
UP NEXT
The Eagles concluded their four-game home stand and will close out the regular-season series at New Hampshire on Friday night, Feb. 3, at New Hampshire. Game time at the Whittemore Center is scheduled for 7 p.m. The following Monday, Boston College seeks revenge against archrival Boston University in the first round of the 65th annual Beanpot on Monday, Feb. 6 at 8 p.m. That game will be broadcast live on New England Sports Network (NESN).