Saturday, October 8, 2016
Bjork Leads Notre Dame Past Arizona State, 4-2
Junior forward Anders Bjork has two goals and two assists for Fighting Irish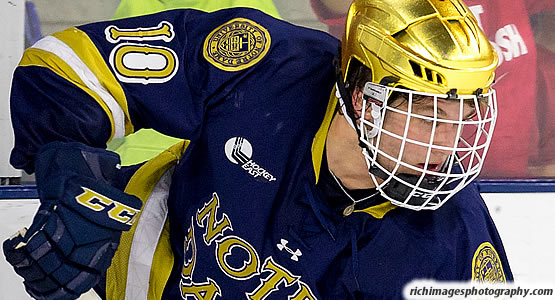 Junior forward Anders Bjork had two goals and two assists for the Fighting Irish
| | | | | | | |
| --- | --- | --- | --- | --- | --- | --- |
| Prd | Time | Team | Score | Type | Scored By | Assists |
| 1st | 1:02 | NDM | 1-0 | EV | Connor Hurley (1) | Anders Bjork/2, Dylan Malmquist/2 |
| 1st | 1:20 | ASU | 1-1 | EV | Jakob Stridsberg (1) | Brett Gruber/1, Brinson Pasichnuk/1 |
| 2nd | 0:48 | NDM | 2-1 | PP | Anders Bjork (3) | Bobby Nardella/2, Jordan Gross/3 |
| 2nd | 7:13 | ASU | 2-2 | PP | Tyler Busch (2) | David Norris/1, Wade Murphy/2 |
| 3rd | 1:42 | NDM | 3-2 | EV GW | Anders Bjork (4) | Dylan Malmquist/3, Connor Hurley/3 |
| 3rd | 19:00 | NDM | 4-2 | EV EN | Dylan Malmquist (2) | Anders Bjork/3, Connor Hurley/4 |
| | | | | |
| --- | --- | --- | --- | --- |
| Scoring | 1st | 2nd | 3rd | Final |
| Arizona State | 1 | 1 | 0 | 2 |
| Notre Dame | 1 | 1 | 2 | 4 |
| | | | | |
| --- | --- | --- | --- | --- |
| Shots on Goal | 1st | 2nd | 3rd | SOG |
| Arizona State | 9 | 11 | 5 | 25 |
| Notre Dame | 9 | 13 | 15 | 37 |
| | | | |
| --- | --- | --- | --- |
| Team Stats and Records | PP | PIM | SHGF |
| Arizona State (0-2-0) | 1/4 | 12/32 | 0 |
| Notre Dame (2-0-0) | 1/9 | 5/10 | 0 |
| | | | | | | |
| --- | --- | --- | --- | --- | --- | --- |
| Arizona State Goaltending | MIN | GA | 1 | 2 | 3 | Saves |
| Robert Levin (L, 0-1-0) | 59:44 | 3 | 8 | 12 | 13 | 33 |
| Empty Net | 0:16 | 1 | | | | |
| | | | | | | |
| --- | --- | --- | --- | --- | --- | --- |
| Notre Dame Goaltending | MIN | GA | 1 | 2 | 3 | Saves |
| Cal Petersen (W, 2-0-0) | 59:34 | 2 | 8 | 10 | 5 | 23 |
| Empty Net | 0:26 | 0 | | | | |
NOTRE DAME, Ind. -- Tied 2-2 with after two periods of play, the No. 8/9 University of Notre Dame hockey team came out of the second intermission and scored 1:42 into the third period en route to a 4-2 win over Arizona State on Saturday night at the Compton Family Ice Arena (3,554).
The teams traded goals for the first two periods of play and then Anders Bjork knocked home what proved to be the game winner early in the third period before Dylan Malmquist iced the game with an empty net tally late in the final frame.
Bjork had a hand in each of Notre Dame's four goals, finishing with two goals and two assists, while Connor Hurley added the other Irish tally as well as two assists.
In net, junior captain Cal Petersen made 23 saves, while Arizona State's Robert Levin totaled 33 on the night.
The Irish finished 1-for-9 on the power play, while Arizona State was 1-for-4.
COACH JACKSON'S THOUGHTS

On the Sun Devils ...
"I'll give them credit, that was what we expected to see from them. I'm glad, the way they played hard tonight forced us to elevate in the third (period) and that helps us heading into next weekend. They made adjustments too and were much better on the penalty kill."
On turning things around in the third period ...
"I thought we moved our feet better and I thought our conditioning showed up. I started with only 11 forwards so playing basically three lines for the third we needed that. But I also thought we got the puck in behind their defensmen more, which was important for us to establish any offensive zone play."
On the play of Anders Bjork ...
"When the game was on the line at the end, he was the difference maker so that's what you hope for with a player of that caliber."
KEY TO VICTORY: SCORING EARLY IN EACH PERIOD
The Irish scored within the first two minutes of each period in Saturday's win, including 1:02 of the first (Hurley), 00:48 of the second (Bjork) and 1:42 of the third (Bjork).
FIRST STAR
Bjork once again earned first star honors after posting his first career four-point game on two goals and two assists. He finished weekend series with four goals and three assists for seven points. He notched the game winner in each win over the Sun Devils.
Bjork on his weekend...
"My linemates played really well and set me up for those goals, I just had the finish - they made me look good. We were energized and ready to prove ourselves this weekend."
STAT OF THE NIGHT: 2-0
Notre Dame has started the season 2-0-0 for the first time since opening 2013-14 with five consecutive wins.
SERIES NOTES
- In Friday night's game one win (9-2), Notre Dame scored at least nine goals for the first time since a 10-2 victory over Canisius on Dec. 29, 2010 and the Irish tallied six power-play goals for the first time since a 9-5 win over Northern Michigan on Feb. 13, 2009.
- In Friday night's win, Bobby Nardella recorded his first career two-goal game and Andrew Oglevie recorded his first career two-assist game.
- On Saturday, with a goal and two assists, Connor Hurley posted his second career three-point game.
- Notre Dame took an early 1-0 lead in both games as Anders Bjork scored 33 seconds into Friday's contest and Connor Hurley scored at 1:02 of the first period on Saturday night.
- Bjork posted a career-high four points on two goals and two assists in Saturday night's win. For the weekend he totaled four goals and three assists for seven points and moved his multi-point game total to 13 in his Irish career.
UP NEXT
Notre Dame hits the the road for the first time next weekend when the Irish play a weekend series at No. 5/6 Minnesota Duluth (Oct. 14-15). The Bulldogs skated to a pair of overtime ties at No. 7/8 UMass Lowell this weekend (Oct. 7-8).