Sunday, November 13, 2016
Boston College Topples Arizona State, 3-1
Senior forward Ryan Fitzgerald posts two assists for Eagles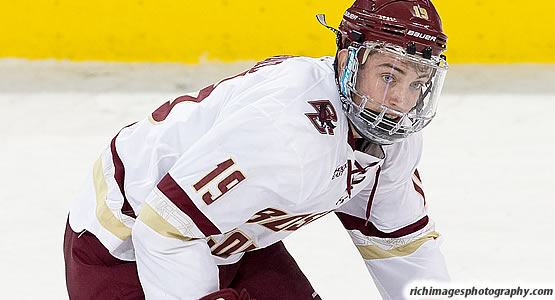 Senior forward Ryan Fitzgerald registered two assists for the Eagles
| | | | | | | |
| --- | --- | --- | --- | --- | --- | --- |
| Prd | Time | Team | Score | Type | Scored By | Assists |
| 1st | 1:44 | BC | 1-0 | PP | Colin White (7) | Ryan Fitzgerald/8, Matthew Gaudreau/9 |
| 1st | 16:47 | ASU | 1-1 | EV | Jordan Masters (2) | Nicholas Gushue/4, David Norris/4 |
| 2nd | 5:15 | BC | 2-1 | PP GW | David Cotton (4) | Michael Kim/9, Scott Savage/6 |
| 3rd | 17:07 | BC | 3-1 | EV | Chris Calnan (3) | Connor Moore/6, Ryan Fitzgerald/9 |
| | | | | |
| --- | --- | --- | --- | --- |
| Scoring | 1st | 2nd | 3rd | Final |
| Arizona State | 1 | 0 | 0 | 1 |
| Boston College | 1 | 1 | 1 | 3 |
| | | | | |
| --- | --- | --- | --- | --- |
| Shots on Goal | 1st | 2nd | 3rd | SOG |
| Arizona State | 5 | 6 | 13 | 24 |
| Boston College | 15 | 17 | 9 | 41 |
| | | | |
| --- | --- | --- | --- |
| Team Stats and Records | PP | PIM | SHGF |
| Arizona State (2-9-0) | 0/5 | 4/8 | 0 |
| Boston College (10-2-1) | 2/4 | 5/10 | 0 |
| | | | | | | |
| --- | --- | --- | --- | --- | --- | --- |
| Arizona State Goaltending | MIN | GA | 1 | 2 | 3 | Saves |
| Joey Daccord (L, 1-6-0) | 57:45 | 3 | 14 | 16 | 8 | 38 |
| Empty Net | 2:15 | 0 | | | | |
| | | | | | | |
| --- | --- | --- | --- | --- | --- | --- |
| Boston College Goaltending | MIN | GA | 1 | 2 | 3 | Saves |
| Ryan Edquist (W, 3-0-0) | 59:49 | 1 | 4 | 6 | 13 | 23 |
| Empty Net | 0:11 | 0 | | | | |
CHESTNUT HILL, Mass. - Senior forward Ryan Fitzgerald dished out a pair of assists as Boston College skated to a 3-1 win against Arizona State on Sunday afternoon at Kelley Rink.
SCORE
Arizona State - 1 / No. 3 Boston College - 3
LOCATION
Kelley Rink / Chestnut Hill, Mass.
RECORDS
Arizona State (2-9-0) / No. 3 Boston College - (10-2-1 / 5-0-1)
BC HIGHLIGHTS & GAME NOTES
- Colin White scored his fourth power play goal of the season and is now one of 18 skaters in all of college hockey with that many power play tallies thus far. The Hanover, Mass. has already matched last year's power play goal total with four this year.
- David Cotton tallied his fourth goal of the season and second power play goal of the year. The Parker, Texas native scored his first-career power play goal in Portland against Maine on Nov. 4. Cotton's power play goal also stood as the game-winning tally, marking the second of his career. He scored Boston College's game-winner in the Eagles first win of the season over Denver.
- Ryan Fitzgerald was Sunday's only multi-point scorer after doling out a pair of assists in BC's victory. The North Andover, Mass. native turned the same trick at home against New Hampshire and has now accrued four assists in his last two outings. In all, Fitzgerald has 13 (4-9-13) points on the season.
- Julius Mattila returned to the lineup after suffering a lower body injury against Colorado College on Oct. 21.
- Sunday's afternoon contest marked the first-ever game against Arizona State.
GOAL DESCRIPTIONS
FIRST GOAL (1-0 - BC) FIRST PERIOD - Colin White - 1:44 - POWER PLAY
- Boston College made quick work of an early Arizona State interference call on Joe Lappin at 1:20. Matthew Gaudreau and Ryan Fitzgerald worked the puck down low to the left of Sun Devil netminder Joey Daccord and popped it out to the slot where Colin White was stationed. White corralled Fitzgerald's dish and wristed it over Daccord's blocker from the right circle to make it a 1-0 game at 1:44.
SECOND GOAL (1-1 - ASU) FIRST PERIOD - Jordan Masters - 16:47 - EVEN STRENGTH
- The Sun Devils tied it up on a broken play in ASU's end. David Norris and Nicholas Gushue crashed an Eagle on the wall and ripped the puck away. Jordan Masters broke free from the pack and accepted Gushue's dish through the seam. Masters had a breakaway on Ryan Edquist and beat him with the backhand to tie it up, 1-1, at 16:47.
THIRD GOAL (2-1 - BC) SECOND PERIOD - Jordan Masters - 5:15 - POWER PLAY
- The Eagles cashed in on another power play opportunity early in the second period after Robert Levin went off for a slash. As the power play waned, Boston College rushed it out of its zone as Scott Savage quarterbacked the play. Savage flew down the left side and shifted over to Michael Kim on the other wing. Kim dumped it in hard off the backboards from the red line and puck took a fortuitous bounce after Daccord misplayed the carom. David Cotton carved in from the slot and took advantage of the unguarded net at 5:15 for a 2-1 advantage.
FOURTH GOAL (3-1 - BC) THIRD PERIOD - Chris Calnan - 17:07 - EVEN STRENGTH
- Chris Calnan iced the victory for the Eagles with nice work off the wall from his linemate. Ryan Fitzgerald swooped in and wrangled the puck off the near wall and backhanded it out to Connor Moore in the neutral zone. Calnan joined up with him and the two rushed into Sun Devil territory. Moore attempted the first shot and Calnan connected on the carom in front to seal the 3-1 win with 2:53
BOSTON COLLEGE GAME LEADERS
Points: Ryan Fitzgerald (0 - 2 - 2)
Goals: Colin White (1 - 0 - 1) / David Cotton (1 - 0 - 1) / Chris Calnan (1 - 0 - 0)
Assists: Ryan Fitzgerald (0 - 2 - 2)
Shots: Colin White ( 5 )
Faceoffs Won: Austin Cangelosi (13 - of - 23)
SPECIAL TEAMS
Arizona State: 0 - for - 5 Boston College: 2 - for - 3
PENALTIES
Arizona State: 4 - of - 8 Boston College: 5 - of - 10
BOSTON COLLEGE LINES
R. Fitzgerald - White - Calnan
Cotton - Cangelosi - Brown
Gaudreau - Jul. Mattila - Dudek
McPhee - Greco - Booth
Jes. Mattila - Moore
Campoli - Savage
Kim - C. Fitzgerald
Edquist
Woll
Milosz
UP NEXT
The Eagles keep going with their non-conference slate and will head across the Charles to take on cross-town adversary No. 10 Harvard Friday, Nov. 18 at 7 p.m. for Boston College's lone game of the week. The following week, BC will head to UConn on Tuesday, Nov. 22 before Thanksgiving and then come back to host No. 8 Minnesota on Sunday, Nov. 27 at 1 p.m. That afternoon, Boston College will retire the jersey of Mike Mottau.