Saturday, October 8, 2016
UConn Sweeps Alabama Huntsville With 4-0 Shutout
Senior goaltender Rob Nichols makes 23 saves for Huskies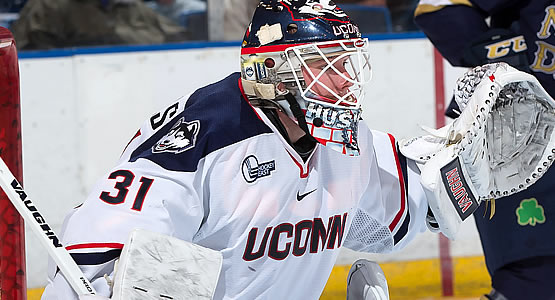 Senior goaltender Rob Nichols made 23 saves for the Huskies
| | | | | | | |
| --- | --- | --- | --- | --- | --- | --- |
| Prd | Time | Team | Score | Type | Scored By | Assists |
| 1st | 3:50 | CON | 1-0 | EV GW | Tage Thompson (3) | - |
| 1st | 18:52 | CON | 2-0 | EV | Spencer Naas (1) | Kasperi Ojantakanen/2, Corey Ronan/1 |
| 3rd | 13:09 | CON | 3-0 | EV | Evan Richardson (3) | Karl El-Mir/2, Max Kalter/2 |
| 3rd | 16:21 | CON | 4-0 | EV | Spencer Naas (2) | Miles Gendron/1 |
| | | | | |
| --- | --- | --- | --- | --- |
| Scoring | 1st | 2nd | 3rd | Final |
| Alabama Huntsville | 0 | 0 | 0 | 0 |
| Connecticut | 2 | 0 | 2 | 4 |
| | | | | |
| --- | --- | --- | --- | --- |
| Shots on Goal | 1st | 2nd | 3rd | SOG |
| Alabama Huntsville | 10 | 7 | 6 | 23 |
| Connecticut | 14 | 11 | 7 | 32 |
| | | | |
| --- | --- | --- | --- |
| Team Stats and Records | PP | PIM | SHGF |
| Alabama Huntsville (2-2-0) | 0/5 | 4/19 | 0 |
| Connecticut (2-0-0) | 0/2 | 6/12 | 0 |
| | | | | | | |
| --- | --- | --- | --- | --- | --- | --- |
| Alabama Huntsville Goaltending | MIN | GA | 1 | 2 | 3 | Saves |
| Matt Larose (L, 2-2-0) | 60:00 | 4 | 12 | 11 | 5 | 28 |
| | | | | | | |
| --- | --- | --- | --- | --- | --- | --- |
| Connecticut Goaltending | MIN | GA | 1 | 2 | 3 | Saves |
| Rob Nichols (W, 2-0-0) | 60:00 | 0 | 10 | 7 | 6 | 23 |
HARTFORD, Conn. - The UConn men's hockey team posted back-to-back shutouts, beating Alabama Huntsville Saturday afternoon at the XL Center, 4-0, to earn a series sweep over the Chargers on the opening weekend of the season. Senior goaltender Rob Nichols (Dallas, Texas) was back in net again on Saturday to make 23 saves and turn in his second-consecutive clean sheet as the Huskies open the year at 2-0-0.
Junior Spencer Naas (Minnetonka, Minn.) scored a pair of goals in the win, matching his career-high and giving him his third multi-goal game. Senior Evan Richardson (Nanaimo, British Columbia) and sophomore Tage Thompson (Orange, Conn.) each scored in the win and finished the weekend with three total goals.
It was just the second time in school history that the Huskies posted back-to-back shutouts, both times with Nichols in net. The senior posted a pair of road shutouts last season, blanking Arizona State, 3-0, and Maine, 1-0, where he stopped a career-high 44 shots.
The Huskies held the edge in shots, 32-23, and also killed off all five UAH power play opportunities. Over the weekend, the Huskies killed off a nine penalties.
Quotes:
Head Coach Mike Cavanaugh - "We had a lot of great performances by a lot of players. I thought penalty killing was outstanding; it probably won us the game. I was happy with the weekend sweep."
Junior David Drake - "I think we're really stressing getting the puck out of our zone quick. I think if we can keep moving the puck well, getting it out of our zone, we'll have no problems there - especially with Rob (Nichols) behind us."
Spender Naas - "It's definitely a point of emphasis to play consistently every night. Like Coach said, if we can be consistent in practice, that's usually a good sign. "
NOTES:
The sweep over UAH marks the first series sweep for UConn over a team from the WCHA. The Huskies are now 8-36-0 all-time versus the conference and 5-9-0 all-time vs. UAH.
For Naas it was his fifth career multi-point game and the Huskies are 5-0-0 in those contests. Naas is the Huskies current leading career goal scorer with 24 over three seasons.
Thompson scored his second even strength goal of the season, eclipsing his total from last year when he finished with 14 goals but 13 coming on the power play.
Freshman Justin Howell (Saint Paul, Minn.) made his collegiate debut on Saturday afternoon and finished with a blocked shot. Sophomore Joseph Masonius (Spring Lake, N.J.) made his season debut and had a pair of penalties and blocked shots.
The Huskies will hit the road for three-straight and eight of their next nine games starting next weekend at Colgate and RIT.
1st Period:
The Huskies got an early goal from Thompson at 3:50 and one late from Naas at 18:52, his first on the season.
Thompson picked off a UAH pass in the UConn zone and buried a wrist shot bar down for his third goal on the weekend.
Naas finished off a rebound on a wide open net after Corey Ronan (Franklin, Mass.) fired on net with Kasperi Ojantakanen (Helsinki, Finland) getting a tip on goal in front. Naas was there to clean up the rebound.
Nichols made 10 of his 23 saves in the first period Saturday afternoon.
2nd Period:
The second period saw no scoring while UAH killed off a five-minute major. Richard Buri was called for a five-minute major and a game misconduct for hitting from behind at 8:47.
3rd Period:
The Huskies killed off two more penalties in the third period, finishing the game five-of-five on the penalty kill.
Richardson gave the Huskies a 3-0 lead at 13:09, stuffing the puck past Matt Larose at the right post.
Naas finished out the scoring at 16:21, taking a long feed from sophomore Miles Gendron (Shrewsbury, Mass.) up the left wing and beating Larose right in front, five-hole.
Up Next:
UConn will head to upstate New York for a weekend against Colgate of the ECAC and former Atlantic Hockey foe RIT.