Boston College Falls To Air Force In Ice Breaker, 2-1
Senior forward Austin Cangelosi scores goal for Eagles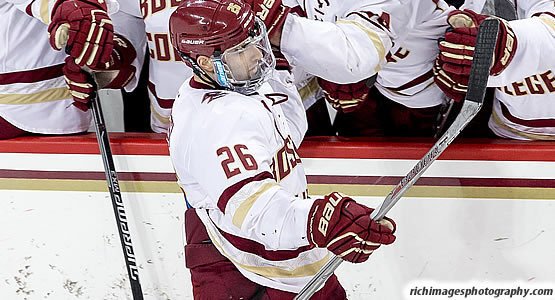 Senior forward Austin Cangelosi scored a goal for the Eagles
| | | | | | | |
| --- | --- | --- | --- | --- | --- | --- |
| Prd | Time | Team | Score | Type | Scored By | Assists |
| 2nd | 14:12 | BC | 1-0 | PS | Austin Cangelosi (1) | - |
| 3rd | 6:17 | AFA | 1-1 | EV | Matt Serratore (1) | Phil Boje/1 |
| 3rd | 11:38 | AFA | 2-1 | PP GW | Ben Kucera (1) | Matt Koch/1, Johnny Hrabovsky/1 |
| | | | | |
| --- | --- | --- | --- | --- |
| Scoring | 1st | 2nd | 3rd | Final |
| Air Force | 0 | 0 | 2 | 2 |
| Boston College | 0 | 1 | 0 | 1 |
| | | | | |
| --- | --- | --- | --- | --- |
| Shots on Goal | 1st | 2nd | 3rd | SOG |
| Air Force | 5 | 8 | 13 | 26 |
| Boston College | 12 | 16 | 10 | 38 |
| | | | |
| --- | --- | --- | --- |
| Team Stats and Records | PP | PIM | SHGF |
| Air Force (1-0-0) | 1/7 | 7/14 | 0 |
| Boston College (0-1-0) | 0/6 | 8/27 | 0 |
| | | | | | | |
| --- | --- | --- | --- | --- | --- | --- |
| Air Force Goaltending | MIN | GA | 1 | 2 | 3 | Saves |
| Shane Starrett (W, 1-0-0) | 60:00 | 1 | 12 | 15 | 10 | 37 |
| | | | | | | |
| --- | --- | --- | --- | --- | --- | --- |
| Boston College Goaltending | MIN | GA | 1 | 2 | 3 | Saves |
| Joseph Woll (L, 0-1-0) | 59:01 | 2 | 5 | 8 | 11 | 24 |
| Empty Net | 0:59 | 0 | | | | |
DENVER, Colo. - Senior forward Austin Cangelosi scored a goal but Boston College dropped a 2-1 decision to Air Force in the opening game of the annual Ice Breaker Tournament at Magness Arena.
SCORE: Air Force - 2 / No. 5 Boston College - 1
LOCATION: Magness Arena / 20th Ice Breaker Tournament / Denver
RECORDS: Air Force (1-0-0) / No. 5 Boston College (0-1-0)
BC HIGHLIGHTS & GAME NOTES
- Austin Cangelosi got the Eagles on the board for the first tally of the season in a bit of an unorthodox way: a penalty shot. The Estero, Fla. native drew a call on a run through the crease and tallied BC's first goal of the season on a penalty shot.
- Air Force took the lead with a two-man advantage at 11:28 of the third period thanks to a Ben Kucera power play tally. The Eagles had a late power play opportunity at 17:02 of the third period, but could not convert.
GOAL DESCRIPTIONS
FIRST GOAL (1-0 - BC) SECOND PERIOD - Austin Cangelosi - 14:12 - PENALTY SHOT
- Austin Cangelosi drew a hooking call down the slot yielding a penalty shot at 14:12 of the second period. With the one-on-one opportunity, Cangelosi's quick hands duped Shane Starrett as the senior centerman went right down the chute and beat Air Force's goaltender five-hole.
SECOND GOAL: (1-1 AIR FORCE) SECOND PERIOD - Matt Serratore - 13:45 - EVEN STRENGTH
- The Falcons forced a 2-on-1 in the neutral zone and turned it up ice towards Joe Woll. Matt Serratore had a flank to his right, but deferred the pass and snapped up high past Joe Woll.
THIRD GOAL: (2-1 AIR FORCE) SECOND PERIOD - Ben Kucera - 13:45 - 5-on-3 POWER PLAY GOAL
- Air Force was granted a two-man advantage for 1:22 at the 11:28 mark of the third period and on the ensuing draw, Ben Kucera buried a one-timer pass on the near right post over Woll's outstretched glove.
BOSTON COLLEGE LEADERS
Points: Austin Cangelosi (1 - 0 - 1)
Goals: Austin Cangelosi (1 - 0 - 1
Assists: - -
Shots: Julius Mattlia (5)
Faceoffs Won: Austin Cangelosi (10 - of - 18)
SPECIAL TEAMS
Boston College: 0 - for - 6
Air Force: 1 - of - 7
PENALTIES
Boston College: 8 - of - 27
Air Force: 7 - of - 14
BOSTON COLLEGE LINES
R. Fitzgerald - White - Dudek
McPhee - Cangelosi - Brown
Gaudreau - Jul. Mattila - Calnan
Cotton - Greco - Walker
Jes. Mattila - C. Fitzgerald
McInnis - Savage
Kim - Moore
Woll
Edquist
Milosz
UP NEXT
No. 5 Boston College will take on the loser of the Denver - Air Force contest tomorrow evening. Time of puck drop is TBD.