Saturday, November 21, 2015
Ellis, Providence Earn 3-0 Shutout Win At Northeastern
Junior goaltender Nick Ellis made 21 saves for the Friars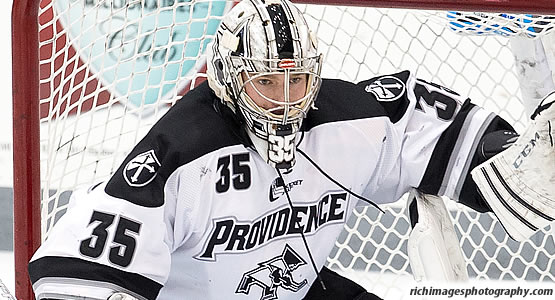 Junior goaltender Nick Ellis made 21 saves for the Friars
| | | | | | | |
| --- | --- | --- | --- | --- | --- | --- |
| Prd | Time | Team | Score | Type | Scored By | Assists |
| 1st | 1:40 | PRV | 1-0 | EV GW | Mark Jankowski (7) | Garrett Gamez/2, Jake Walman/8 |
| 1st | 10:09 | PRV | 2-0 | EV | Nick Saracino (4) | John Gilmour/6, Mark Jankowski/8 |
| 3rd | 18:08 | PRV | 3-0 | EV EN | Brandon Tanev (4) | Josh Monk/2, Brian Pinho/4 |
| | | | | |
| --- | --- | --- | --- | --- |
| Scoring | 1st | 2nd | 3rd | Final |
| Providence | 2 | 0 | 1 | 3 |
| Northeastern | 0 | 0 | 0 | 0 |
| | | | | |
| --- | --- | --- | --- | --- |
| Shots on Goal | 1st | 2nd | 3rd | SOG |
| Providence | 7 | 11 | 12 | 30 |
| Northeastern | 6 | 7 | 8 | 21 |
| | | | |
| --- | --- | --- | --- |
| Team Stats and Records | PP | PIM | SHGF |
| Providence (8-0-3) | 0/4 | 4/8 | 0 |
| Northeastern (1-10-2) | 0/4 | 4/8 | 0 |
| | | | | | | |
| --- | --- | --- | --- | --- | --- | --- |
| Providence Goaltending | MIN | GA | 1 | 2 | 3 | Saves |
| Nick Ellis (W, 7-0-3) | 60:00 | 0 | 6 | 7 | 8 | 21 |
| | | | | | | |
| --- | --- | --- | --- | --- | --- | --- |
| Northeastern Goaltending | MIN | GA | 1 | 2 | 3 | Saves |
| Ryan Ruck (L, 0-7-1) | 59:43 | 2 | 5 | 11 | 11 | 27 |
| Empty Net | 0:17 | 1 | | | | |
BOSTON - No. 1 Providence (8-0-3, 2-0-2) used a pair of first period tallies and 21 saves from Nick Ellis to skate to a 3-0 victory against the Northeastern men's ice hockey team on Saturday night at Matthews Arena.
Mark Jankowski and Nick Saracino both scored first period goals for the Friars, and Brandon Tanev added an empty netter late in regulation while freshman goaltender Ryan Ruck made 27 saves in goal for Northeastern.
Providence outshot the Huskies 30-21 in the game and won 34-of-62 face-offs. Neither team was able to capitalize on the power play, with both squads going 0-of-4.
Goal descriptions:
- Providence bolted out to a 1-0 lead just 1:40 into the game on Mark Jankowski's third goal of the weekend, and seventh of the season. After taking a pass from Jake Walman, Jankowski fired the puck up to Garrett Gamez in the neutral zone. Gamez then carried it across the blue line, waiting for Jankowski to join the play before returning the puck to the senior, who sent it past Ruck from the slot.
- Nick Saracino made it 2-0 Friars near the midway mark of the first period, receiving a pass from Adam Gilmour before flying around the back of the net to beat Ruck on a wraparound for Saracino's fourth of the year.
- With Ruck pulled in favor of the extra skater, Providence iced the game when Brandon Tanev created a turnover, sped down the right side of the ice and tucked one into the empty net for his fourth of the year.
Stats of the game:
- Northeastern is now 53-82-17 all-time against Providence, 14-30-2 all-time against the defending national champion, and 7-9-7 all-time when hosting the No. 1 team in the nation.
The road ahead:
- Northeastern will now head to Belfast, Northern Ireland for the first-ever Friendship Four tournament next weekend. NU will take on No. 5 UMass Lowell on Friday at 2:30 p.m. (ET), while Colgate and Brown will do battle in the early semifinal.